MRC's Graham Cynically Suggests He's Really Sincere About His Anti-Media Quest
Topic: Media Research Center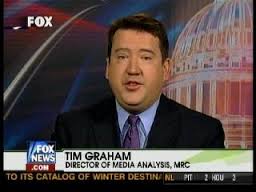 Tim Graham begins his Nov. 16 NewsBusters post with a complaint: "Can prominent liberal journalists ever get their brain around the idea that conservatives are sincere and not cynical when they protest liberal media bias?"
That's rich coming from a well-paid official at a eight-figure-budget organization whose entire purpose is to flog the "liberal media bias" narrative. Who wouldn't question sincerity when there's that kind of money at stake?
The answer to that question, if Graham wants to hear it, is that he and the MRC behave so cynically in promoting their anti-media narrative that there's no reason to believe they're sincere about it.
The most recent example: its treatement of allegations of bias in the Republican presidential debates. As we documented, when Donald Trump complained about liberal bias in the debate hosted by Fox News -- where MRC chief Brent Bozell has a weekly segment on Sean Hannity's show -- the MRC said and did nothing; similarly, Bozell couldn't say enough good things about a debate hosted by Fox Business while making an appearance on Fox Business.
But for CNBC's debate, the MRC cooked up a bogus "study" about how purportedly biased the questions were, and Bozell creepily declared that hearing Republican candidates complain about liberal media bias was "better than sex." Does that sound like someone who's sincere about protesting "liberal media bias"?
Other recent examples of the MRC's cynical attitude include:
Of course, the most concrete evidence comes from Bozell himself, who told Rush Limbaugh that his main goal is not to correct "bias" but to discredit the media -- and that the only thing Bozell has offered as a replacement for that discredited media is his even more biased and discredited "news" outlet, CNSNews.com.
If Bozell was really sincere about "liberal media bias," he'd be trying to repair things. He'd be working with liberal groups also concerned with media bias, like Media Matters, to address the issue. Instead, no MRC official has ever appeared in public or on TV with any Media Matters official. And as I know from my years working for Media Matters, it's not because anyone at Media Matters ever declined an invitation to do so.
No matter how much they try to deny it, Bozell, Graham and the MRC are working the refs (as Eric Alterman has put it) with the goal of knocking the refs out of the game.
That's not sincerity; that's cynicism, a desire to push the narrative, no matter how hackneyed, in order to keep the money train rolling.
Graham -- whose question about sincerity vs. cynicism was driven by New York Times editor Dean Baquet calling out Ben Carson for following the MRC's template in complaining about media bias -- displayed his own cynicism in pushing his view, huffing about "how the Clintons and their assorted 'correcting' organizations hammered the Times into submission on their story reporting [Hillary] was under criminal investigation on her e-mails. The Clintons are never cynical when they complain!"
Even though Graham is suggesting the motives of Bozell and himself are pure as the driven snow, he cynically bashes anyone who disagrees with him as pawns of the Clintons. (The MRC boys are rather obsessed with the Clintons.)
Also, the Times story claiming that Hillary Clinton "was under criminal investigation on her e-mails" was, in fact, false. Why shouldn't she request a correction? And why is the MRC so upset that she did so?
Claiming that someone has no right to correct false information in the media because you personally don't like them is the height of cynicism. And Graham is too cynical to recognize it.
Posted by Terry K. at 3:21 PM EST