MRC: How Dare Anyone Say Nice Things About Ted Koppel!
Topic: Media Research Center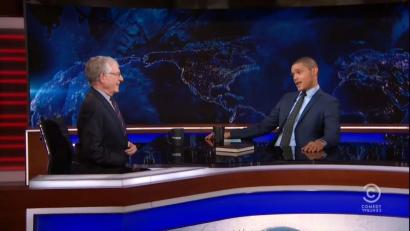 The Media Research Center has decided that merely saying nice things about retired ABC newsman Ted Koppel is "liberal media bias." In the past week, it has devoted not one but two posts to the idea.
Jeffrey Meyer whines in a Nov. 19 NewsBusters post:
On Wednesday night's Daily Show, host Trevor Noah gushed over veteran liberal ABC reporter Ted Koppel, proclaiming that there isn't "anybody in the news who can arguably say they have had a more accomplished career than you have had."

The liberal Comedy Central host proclaimed that the name Ted Koppel "is synonymous with great journalism, and not just great TV personality but great journalism" and despite Koppel's push back, Noah insisted "I'm very honest to say that. I'm very honest to say that."

After Noah finished sucking up to Koppel he wondered if "there's still journalism in the news or is it personality driven?" and the ABC veteran eagerly returned the favor by praising the role liberal comedians like Trevor Noah have in supposedly acting as journalists by mixing news and humor:
When Koppel appeared on Stephen Colbert's CBS show a few days later, Meyer was once again on it:
On Monday's Late Show, liberal comedian Stephen Colbert heaped praise on liberal journalist Ted Koppel, who hosted ABC's Nightline for 29 years, and called him "one of the most respected journalists of our time."

Colbert provided a fawning introduction of Koppel and touted how he "won eight Peabody awards, 11 Overseas Press Club awards 42 Emmys, you've been managing editor of the Discovery Channel, and news analyst for BBC America, a commentator right now on NPR."

Rather than ask Koppel about the embarrassing decline of Nightline, the CBS comedian instead sympathetically asked "[a]s someone who is been in journalism for a long time, what do you think of the state of today's journalism? How is it doing? And please give your answer in the form of a list of 17 casts that look like world leaders."

After Koppel explained that journalism is "so fragmented now, we have so much journalism" competing for "a tiny fragment of the audience" the veteran ABC reporter eagerly cheered how people like Colbert "end up doing more serious studies of serious subjects in a funny way than news people."
Meyer offered no evidence that "Nightline" is suffering an "embarrassing decline." But he did make sure to brand Koppel and everyone involved in saying nice things about him as "liberal." So much for labeling bias.
Posted by Terry K. at 2:23 PM EST