Politico Hires A Republican Operative -- And MRC's Bozell Still Isn't Happy
Topic: Media Research Center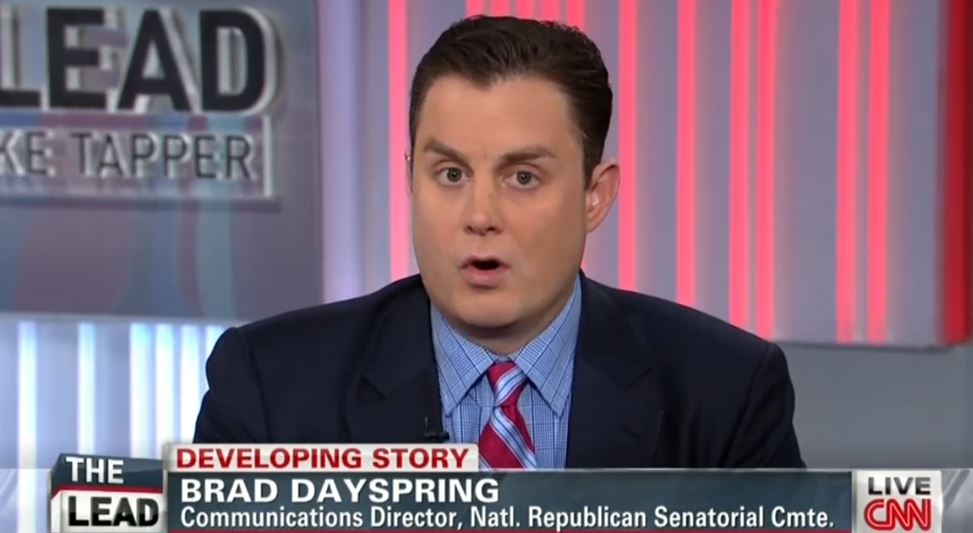 Right-wingers' insistence that Politico is a part of the "liberal media" has never had a basis in reality -- after all, it had a strategy to gain traction after its founding by doing stories the Drudge Report would promote.
Politico has taken it a step further by hiring an actual Republican operative, Brad Dayspring, as its VP of communications. He has an unambiguous partisan pedigree, serving as a top aide to former top Republican Eric Cantor and an adviser to Republican Gov. Scott Walker, as well as work with the National Republican Senatorial Committee.
You'd think such a clear step to the right as Politico's hire of Dayspring demonstrates would make Media Research Center chief Brent Bozell happy -- after all, a media with a right-wing bias is what he is spending millions of dollars a year to create. But it doesn't.
Why? The Republican isn't far enough to the right for him.
A Heathering-laden Nov. 20 MRC press release complains that Dayspring is a "beltway establishment Republican operative" with "a history of antagonizing conservatives, both on the national and grassroots level, smearing them on countless occasions." Bozell himself whines:
"Personnel is policy. Brad Dayspring has made his name by running to left-wing outlets to slime and disparage the Tea Party and grassroots conservatives. Some in the media and some in the GOP establishment have expressed enthusiasm for Politico's hiring of a Republican. That does nothing for conservatives but that's not what is most important here. What matters is that Dayspring not only holds conservatives in utter contempt but has a rich history of ugly, dishonest behavior against them. Dayspring is an unethical anti-conservative hitman for hire. And Politico hired him. It speaks volumes about Politico, none of it good."
But Bozell and the MRC are oddly short on particulars in its evidence against Dayspring. Here's what it cites:
At the NRSC, Dayspring repeatedly attacked Dr. Milton Wolf (challenger to Sen. Pat Roberts) with hit pieces filled with half-truths and smears.
Dayspring attacked Sen. Thad Cochran's primary challenger Chris McDaniel with a "dishonest, dishonorable, and disreputable campaign" that focused more in disparaging the Republican challenger than building up Cochran or attacking the Democrat.
To back up the allegations regarding Wolf -- the press release links to a Breitbart article that claims Dayspring "spread harsh stories about Wolf all over the place in the media," but only offers as proof links to an article about Wolf's "interest in sharing medical X-rays on the Internet" which does not mention Dayspring (and which resulted in an investigation by the medical licensing board in Kansas), and a Dayspring tweet promoting that article. That's hardly proof of anything.
Bozell and the MRC also don't mention Wolf's extremist views that include likening President Obama to both Hitler and Mussolini, or that it might be one major reason why the NRSC, where Dayspring was employed at the time, would choose Roberts as its preferred candidate.
The quote that Dayspring's campaign against McDaniel for the NRSC-backed Cochran was "dishonest, dishonorable, and disreputable" comes from a RedState article that calls Cochran "profoundly senile, corrupt, and adulterous," which apparently is not a dishonest, dishonorable, and disreputable thing to do.
Again, Bozell and the MRC ignore negative information regarding their preferred candidate -- notably, that the campaign was dominated by an incident in which a McDaniel supporter and three others were arrested for illegally shooting video of Cochran's infirm wife in a nursing home.
However, a more likely explanation of Bozell's hostility toward Dayspring is noted elsewhere in the RedState article, which complains that Dayspring "accused Mark Levin and the Senate Conservative[s] Fund of pay-to-play purchases of Levin's book." While RedState claims this is a "lie," the link it supplies on the controversy (from Politico, ironically) doesn't debunk the pay-to-play charge, but simply quotes Levin denying it, while also noting that the Senate Conservatives Fund spent a whopping $427,000 on copies of a Levin book to give to donors.
Bozell and the MRC are stenographers for, and protectors of, Levin.
It appears that Bozell is letting his personal grudge against Dayspring drive the MRC's agenda, refusing to acknowledge that a media organization hiring a partisan Republican is a victory for him. Not only is it very unprofessional behavior, it's self-defeating.
Posted by Terry K. at 4:16 PM EST
Updated: Tuesday, November 24, 2015 10:50 AM EST