MRC's Bozell Proves CNN Correct By Defending Carson, Whining About Obama
Topic: Media Research Center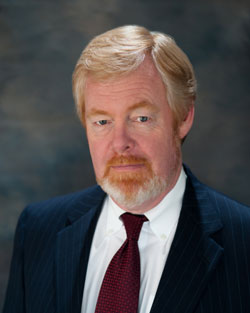 On CNN, host Chris Cuomo asked Republican strategist Matt Lewis: "Why are there those ironically on the right side of the media defending Ben Carson so zealously against routine vetting and planting all these seeds about they didn't talk about Obama that way." Lewis responded that Republicans are "defensive" about previous alleged bias: "I think there's an overreaction. I think there's a circling of the wagons. Whenever it's perceived that a Republican is being attacked, rather than ask whether or not it's fair, a lot of times conservatives reflexively push back. And I think that's sometimes counterproductive."
As if to illustrate what Cuomo and Lewis were talking about, Media Research Center chief Brent Bozell chose that very same day to issue a column -- so special it was published at Fox News instead of an MRC joint -- that does exactly what they discussed: zealously defend Carson against being vetted while also complaining that Obama wasn't. And we mean exactly:
This vetting process is not designed as a disinterested pathological examination of a pertinent statement or significant event.

No, the objective of the vetting process is to impair, even to fatally damage, the image of the conservative target du jour.

Dr. Ben Carson recently topped the charts in some national polls, and immediately the long knives came out.

In 96 hours there were three media bombshells:

1. CNN reported breathlessly that contrary to Carson's assertion that his youth was plagued by anger, it had located no less than nine acquaintances that maintain he was a nice kid a half century ago.

2. Politico published a national broadside suggesting Carson's campaign had admitted he'd "fabricated" a story about applying to West Point.

3. The Wall Street Journal disclosed it could find no records validating his anecdote about a Yale course called "Perceptions 310" and in fact there is no evidence of a course by that name taught.

Ben Carson is a fraud.

Except that he's not.

[...]

It continues to amaze me that the national "news" media believe anything, no matter how trite, or how old, is newsworthy -- if the author is a conservative Republican. If the author is a Democrat, everything is unimportant and anything in the past should remain there.

Consider Barack Obama's autobiographies "Dreams from My Father" and "The Audacity of Hope." During his 2008 campaign there was nothing but fawning praise for these books.

[...]

What if Cruz lied this way?

So what. Why vet when there's a president to elect?

So Obama was showered with accolades instead. According to Time magazine's Joe Klein: "'Dreams from My Father' may be the best-written memoir ever produced by an American politician."

MSNBC's Chris Matthews found it "unique" and "refreshing." "It's almost like Mark Twain. It's so American, it's so textured. It's picturesque."

Years later they're still at it. Matthews' MSNBC colleague Lawrence O'Donnell recently stated he believes "'Dreams from My Father' stands today as the finest literary work ever authored by a president of the United States. The book doesn't contain the whole truth of Barack Obama's life. Books can't do that, but it is, by far, the most honest and open book, an artful book, ever written by a president."
Of course, Bozell is lying when he claims Obama was never vetted before his election in 2008. As The Daily Show's Trevor Noah points out (with accompanying video), "they vetted Obama to the point where they questioned that he was a legitimate, natural-born American citizen." And as Paul Waldman details, in the 2008 campaign the supposedly liberal New York Times mentioned Jeremiah Wright "in no fewer than 419 stories in the Times. William Ayers was mentioned in a mere 130 Times stories in 2008."
Further, as Bozell and Tim Graham (who also probably actually wrote the above column as well, since he ghost-writes for his boss) admitted in their sour-grapes 2013 book "Collusion," Obama's 1995 memoir admitted that some people in it were composites and some conversations are "necessarily an approximation of what was actually said or relayed to me." So there was not an urgency to do anything.
Bozell is also silent on what happened on his own side -- specifically, how the right-wing media's "vetting" of Obama was even more inept than what he accuses the "liberal media" of doing to Carson. From claiming Obama went to school at a radical Islamic madrassa (he didn't) to pushing birther claims (and pretending they were never discredited), right-wing media so botched things that Americans assumed that every look into Obama's past would be similarly tainted. Bozell never took his fellow right-wingers to task for that; indeed, his MRC did little to shoot down birther claims it must have known were false.
Bozell could have chosen to counter the "liberal media" with a media outlet that was truly fair and balanced. Instead, he created CNSNews.com, which is, if nothing else, even more biased that the media he makes his living criticizing. But Bozell won't talk about that either.
Bozell must content himself with having just proven Chris Cuomo correct. Sad, really.
Posted by Terry K. at 2:28 PM EST