MRC Still Silent On Dershowitz Link to Epstein While Obsessing Over Clinton's
Topic: Media Research Center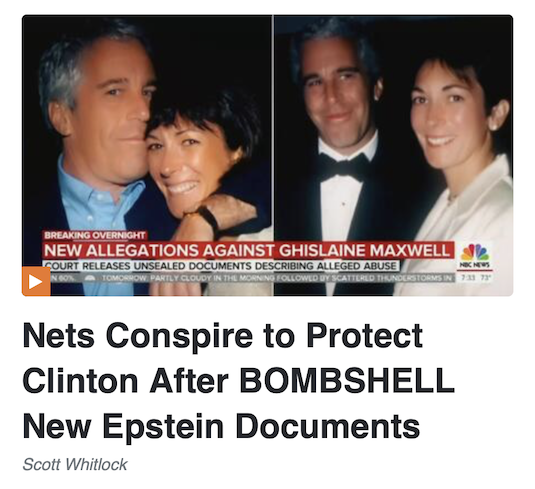 We've documented how the Media Research Center (and its "news" division, CNSNews.com) effectively censored the fact that Alan Dershowitz -- the "liberal" lawyer whose pro-Trump analysis during the impeachment of President Trump was absoultely adored by the MRC -- was not only a lawyer for notorious child sex trafficker Jeffrey Epstein, he has been accused by one of Epstein's victims, Virginia Giuffre, of having sex with her while she was underage.
With new Epstein-releated allegations popping up, the MRC went into full Clinton Derangement Syndrome mode by hyping claims that Bill Clinton was reportedly on Epstein's island. Duncan Schroeder enthused in a July 31 post:
On Friday's New Day, CNN co-host Alisyn Camerota and reporter Kara Scannell committed random acts of journalism in discussing the newly released documents from a 2015 civil lawsuit brought by Virginia Giuffre against Jeffrey Epstein.

The documents detailed the alleged sexual abuses perpetrated upon Guiffre by Epstein and some his powerful friends, which may help to clarify the relationship between Epstein and Ghislaine Maxwell. Shockingly, Camerota and Scannell acknowledged Giuffre's claim that Bill Clinton visited Epstein's Caribbean island where much of the sex trafficking purportedly occurred.

[...]

While CNN has helped to protect Clinton from accountability, it deserves a pat on the back for covering this story. Better late than never!
But when other channels failed to do the MRC's bidding, it threw a tantrum. Scott Whitlock huffed:
New documents in the Jeffrey Epstein sex abuse case dropped late on Thursday with a potential bombshell. A second person now places Bill Clinton at the pedophile's private sex island. The three networks on Friday devoted a total of 7 minutes and 26 seconds to the case and Ghislaine Maxwell in general, but NEVER mentioned that the former Democratic president has been named.

[...]

Yet, ABC, CBS and NBC explicitly skipped this part of the story. On NBC's Today, which offered four minutes, reporter Keir Simmons talked to Miami Herald reporter Kevin Hall. Hall vaguely explained, "They name very influential political types, business leaders. Some Hollywood A-listers. They are all mentioned in the documents."

Yet, while Clinton wasn't mentioned, Simmons managed to include Donald Trump's name: "Virginia Roberts Giuffre said she met Ghislaine Maxwell while working as a locker room attendant at President Trump's private estate Mar-a-Lago 20 years ago."
Adam Burnett ranted that MSNBC's "Morning Joe" was "complicit" in a "cover-up" Clinton's alleged involvement:
The mainstream media will go to any lengths to cover for a Democrat's misdoings, no matter if they are currently in office or not. They did it for Ted Kennedy, now they are doing it for Bill Clinton. Epstein accuser Virginia Giuffre is now the second person to place Clinton at Epstein's so-called sex island in the Caribbean. But instead of focusing on that, the media are currently covering it up by trying to create a connection between Epstein and President Trump.

Morning Joe is just the latest media program to be complicit in this cover-up, when on Thursday they brought on the authors of a new book about Trump's Mar-a-Lago resort to try and invent an Epstein connection, with co-host Willie Geist starting things off by turning it to Trump:

[...]

Despite the fact that Trump has never been to Epstein's island, never been pictured with young girls of any kind, Geist and Morning Joe are still trying to cover for Bill Clinton, who was allegedly there, according to Giuffre and a tech worker on the island. It is worth noting that Geist did not mention Clinton one time during this segment.

[...]

Not mentioning Clinton and Epstein, trying to cover it up by talking about Trump and NFL cheerleaders, smells like a cover-up in the making on behalf of Democrats, they did not mention that Trump said about Epstein "I'm not a fan of his." But the media will do whatever it takes to protect Democrats, even lie.
Note that both Whitlock and Burnett stated that the new accusations come from Giuffre. You know who else these new Giuffre documents implicate? Alan Dershowitz. They stated that ""Epstein required Jane Doe #3 [Giuffre] to have sexual relations with Dershowitz on numerous occasions while she was a minor, not only in Florida but also on private planes, in New York, New Mexico, and the U.S. Virgin Islands."
Meanwhile, the MRC is still touting Dershowitz's expertise. In a July 14 post attacking the New York Times for publishing a piece by Peter Beinart arguing that the idea of a "Jewish state" for Israel and that the goal in the regions should be "equal rights for Jews and Palestinians," Clay Waters highlighted how "Alan Dershowitz warned in Newsweek that Beinart's piece is willfully ignorant and fatally flawed." Waters made no mention of Dershowitz's ties to Epstein and Giuffre.
Now, Dershowitz has vehemently denied Giuffre's allegations. And there's the issue: If Giuffre is lying about Dershowitz, it arguably means she's also lying about Clinton. But if Guiffre is telling the truth about Clinton, that likely means she's telling the truth about Dershowitz. If the latter case prevails, the MRC gets an own on Clinton -- but also have to admit that they relied on a child molester as a pro-Trump legal expert.
Given that it's remained silent about Dershowitz's connection to Epstein and Giuffre, the MRC seems to be in fear of that possibility.
Posted by Terry K. at 9:23 AM EDT
Updated: Saturday, August 15, 2020 9:30 AM EDT