MRC's Philbin Mad That 'Grease' Prequel Has Blacks, Gays In It (Also: Did We Get Him Fired?)
Topic: Media Research Center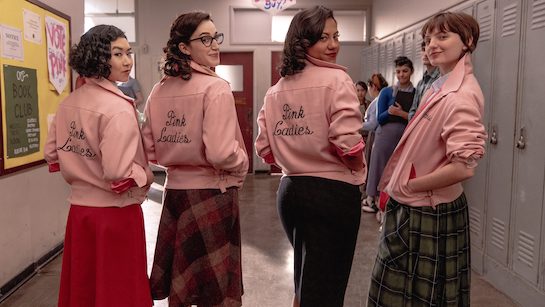 Following on his complaint that there weren't enough white people in the new "Peter Pan & Wendy" movie (also, there were girls among the Lost Boys), Matt Philbin spent an April 10 Media Research Center post complaining that the new "Grease" prequel series has a nonbinary character in it (also, black people):
Next time somebody complains about the lack of ideas in Hollywood, shut them up quick with five powerful words: Grease: Rise of the Pink Ladies. It takes amazing creativity to rehash a musical movie from 1978 that's set in 1958, and lard it up with all the obsessions and social diseases of 2023.

According to the Daily Mail and Fox News Digital, a "new woke TV show based on 'Grease' will reportedly feature a new song about White supremacy, with lyrics about the exclusion of those 'Jewish, Asian, brown or Black, single woman or gay, on the wrong side of they.'"

Yep. Pink Ladies is supposedly a prequel set at Rydell High four years before the story of Grease. So, early to mid 1950s. Was "gay" in common usage then or did it still mean "lighthearted?" Well, never mind. It sounds like anachronism is the least of this thing's problems.

The "stated purpose" of the show is to explore "sexual orientation, gender expression and racial identity." Do lefties know how to have fun or what? According to the Daily Mail, "Family favorite tunes will be re-sung alongside new musical numbers including one about white supremacy, while the 1950s student population at Rydell High School will be re-filled with a varied mix of LGBT and black high schoolers unseen in the 1978 hit."

And there's a (wait for it!) transgender storyline! "Gender nonconforming nonbinary trans actor Ari Notartomaso … plays Cynthia," described as "a non-binary tomboy who struggles to fit in alongside her multicultural band mates."

Wow. I'm sure they all end up embracing and enjoying some Bud Light (introduced 1982).
That last swipe, of course, is a reference to the trasnphobic right-wing freakout over Dylan Mulaney drinking a beer. Philbin didn't explain why he's apparently demanding historical reality in a show in which characters spontaneously break out into song.
An interesting aside: Our post on Philbin's racism-tinged complaint about the "Peter Pan" movie appeared on April 15. A few days later, Philbin -- who was the MRC's managing editor for its "Culture" division -- was gone from the MRC; his final post was April 19, a transphobic rant about Dylan Mulvaney. Did our pointing out his racism have anything to do with his abrupt departure? We wonder...
Of course, it's entirely possible that Philbin got the ax as part of a cost-cutting effort, since his departure occurred around the same time the MRC shut down its "news" operation, CNSNews.com, resulting in the firing of at least six other people. But we'll take credit for it anyway. (Which then raises the question of how the MRC could have ignored Philbin's racism for more than a month before we highlighted it.)
Meanwhile, Philbin has been reduced to being a "contributor" at right-wing website RedState, the kind of freelance gig from which nobody can make a living -- yes, Philbin's right-wing hate is apparently so toxic that even Fox News wouldn't take him as part of the parade of MRC staffers who went through that revolving door.
Philbin is slowly learning that hate and homophobia may get right-wing clicks, but it ultimately doesn't pay (also, that the MRC is not terribly loyal to its employees).
Posted by Terry K. at 1:51 PM EDT