MRC Melts Down Over Nonbinary Olympic Skater
Topic: Media Research Center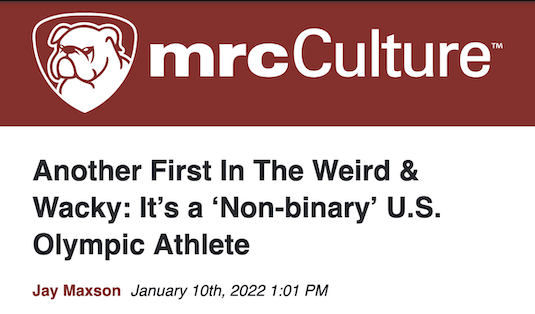 Once again, the Olympics are not heterosexual enough for the Media Research Center. After spending the 2018 Winter Olympics lashing out at figure skater Adam Rippon for being gay and disapproving of Republican anti-LGBT stances and last year's Summer Olympics actively rooting for the U.S. team to fail becuase there weren't enough right-wing heterosexuals on it, the MRC's coverage of the 2022 Winter Olympics kicked off on a similar note, with Jay Maxson spending a Jan. 10 post melting down over a nonbinary Olympic skater:
Can we ever have a gender-normal Olympiad again? Last summer in Tokyo, it was all about the transgenders. Next month in Beijing, the United States will feature its first-ever non-binary winter athlete.

Since this gender craze is all about the pronouns, we're about to see someone who looks an awful lot like a "he," but who goes by "they." Oh, for the good old days of the thrill of the sport and the agony of defeat again. When men were men and women were women!

Timothy "they" LeDuc is one of four persons named to the 2022 U.S. Olympic Figure Skating team Sunday morning. In 2019, he was one of the first openly homosexual athletes to win gold in a U.S. pairs' event. This year, LeDuc took gender confusion a step further by publicly coming out as a so-called "non-binary" and the first such U.S. athlete to win a championship in any discipline. In another four years, he'll probably compete as a house plant.
Maxson went on to complain: "LeDuc's Christian family is from a traditional evangelical church that tried to change their son, and the NBC story portrays them as the weird people." Maxson clearly doesn't see that as weird at all -- he (or she) seems to believe everyone must be forced to be heterosexual, given how much he (or she) hates LGBT people.
Actually, LeDuc's family's attempt to change them was much more harsh than the way Maxson
Maxson concluded by spewing more hate at LeDuc and the LGBT community in general:
At least today, LeDuc is fantasizing as outside the binary world. So naturally, he's going to be looked at as odd, as peculiar by the greater public. But the strange, the unusual is already acceptable to the wide, wacky media world. NBC and others that are so quick to give in and go along with anything LGBT, no matter how radical it is. No questions asked.
It's weird that a NewsBusters blogger whose presence is so devoid of basic details that we can't even determine what sex he (or she) is, lket alone if his (or her) name is genuine is so concerned about the sex and sexuality of others.
Posted by Terry K. at 1:32 PM EST