MRC Lashes Out At Facebook Whistleblower For Getting More Attention Than The MRC Has
Topic: Media Research Center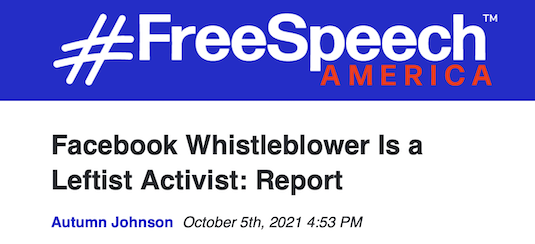 The Media Research Center has an issue with Facebook whistleblower Frances Haugen: She's been much more effective in drawing attention to issues with the company than the MRC has been, despite years of spreading its bogus partisan victimhood narrative. (Plus, the fact that the MRC brags about how well its biased conservative content does on Facebook further undermines that argument.) So rather than embrace Haugen, it's attacking her. Autumn Johnson complained about her effectiveness in an Oct. 4 post:
Facebook whistleblower Frances Haugen has called on the government to regulate social media–and the left is following suit.

In an interview with "60 Minutes," Haugen, a data scientist and former Facebook employee who worked to combat so-called "misinformation," said the platform bears some responsibility for the Jan. 6 riot.

"Facebook, over and over again, has shown it chooses profit over safety," Haugen said. She will testify before Congress this week and hopes that her testimony will propel the government to put regulations in place to govern Facebook.

After the interview, some media personalities on the left called on the government to force Facebook to censor more content in the name of "safety" and public health.

"The problem is this is the biggest platform. This is the platform where people get their news across the globe," Kara Swisher, podcast host and social commentator, told MSNBC. "They're the biggest and therefore, they have to be the best at safety. Not 'we tried.'"
The next day, Johnson lashed out at Haugen for not being conservative:
Frances Haugen, the Facebook whistleblower, is a far-left activist and AOC donor, The Daily Wire reported.

In an interview with "60 Minutes," Haugen, a data scientist and former Facebook employee who worked to combat so-called "misinformation," said the platform bears some responsibility for the Jan. 6 riot.

"Facebook, over and over again, has shown it chooses profit over safety," Haugen said. She said she hopes that her testimony will encourage the government to put more regulations on Facebook.

According to The Daily Wire, Haugen has a record of donating to far-left politicians like Alexandria Ocasio-Cortez.

"She is working with Democrat operatives to roll out her complaint and has the same lawyers as the anonymous Ukraine "whistleblower" whose allegations led to Donald Trump's impeachment, but who reportedly turned out to be then-Vice President Joe Biden's top advisor on the country."

She also seems to have a history of accusing her employers of being biased, saying "if we don't build with an eye towards inclusion, we can end up enshrining bias."

In 2015, she reportedly accused Google of not being inclusive enough of women in the workplace.
Of course, the MRC prefers its "big tech" whistleblowers to be right-wing nutjobs whose backgrounds actively undermine their claims. By contrast, the MRC hasn't proven Haugen wrong about anything.
Another Oct. 5 post, by Catherine Salgado, complained that Haugen's testimony at a congressional hearing gave "another opportunity for the left to call for online censorship." Salgado also complained that Democratic Sen. Amy Klobuchar claimed at the hearing "that lack of censorship by Facebook during the 2020 election process facilitated the 'Jan. 6 insurrection' at the Capitol." Note the scare quotes around "insurrection," as if the MRC no longer believes what happened that day was even remotely serious.
Mark Finkelstein contributed yet another Oct. 5 post that sought to get the right-wing Facebook narrative back on track:
An ironic political dynamic surrounds Facebook. On the one hand, the company and its leaders tilt hard to the left. More than 91% of employee contributions during the 2020 cycle went to Democrats. Going back to 2018, CEO Mark Zuckerberg donated $100 million to a "pro-immigration" group. And COO Sheryl Sandberg donated $400,000 to the Hillary Victory Fund.

But while conservatives have their beefs with Facebook, by far the fiercest criticism of Facebook comes from the left, which accuses the platform of not having done enough to censor pro-Trump postings and what it sees as right-wing conspiracy theories.

Within the liberal media, Morning Joe has been a leader of the anti-Facebook gang. The show renewed its crusade this morning, prompted by allegations by former Facebook employee Frances Haugen, who testified before a Senate committee Tuesday.
It's so cute how Finkelstein isn't pretending his fellow right-wingers aren't as "anti-Facebook" as "the left."
Tim Graham rehashed those same talking points in his Oct. 6 column, as if trying to demonstrate that right-wingewrs were anti-Facebook before being anti-Facebook was made cool by Haugen:
It does not matter one iota that Facebook employees donated 90 percent of their political money to the Democrats in the last cycle. Or that Zuckerberg donated $400 million to a "civic integrity" group that funded election monitors and health measures at the polls in 2020. It doesn't matter how many Facebook posts they censored to please the Left before the election. The outcomes weren't favorable enough to the Democrats

Liberal journalists compared the harm of Facebook to smoking, and Zuckerberg to a tobacco CEO. The team at Morning Joe used the CEO analogy after touting a poll that Zuckerberg now is less popular than Donald Trump and Donald Trump Jr.

Both sides are angry. Conservatives don't like how much they are censored on Facebook. Liberals don't like how conservatives are never censored enough for their tastes.

[...]

CNN has gone so fiercely after Facebook in recent days you might think Facebook was somehow like Fox News Channel multiplied by 100. They went live to a hearing on October 5 where Facebook whistleblower Frances Haugen ripped her ex-employer as "one of the most urgent threats to the American people," that they drive children to suicide, stoke division, and weaken democracy.

The Democrats want a dramatic content crackdown.
Graham is lying of course. Nobody is trying to censor "conservative" content -- unless he's claiming that election fraud conspiracy theories and COVID vaccine misinformation are mainstream "conservatrve" values. But the MRC has a narrative to push, however fraudulent, and Salgado did her duty in trying to advance it in an Oct. 6 post:
Facebook "whistleblower" Frances Haugen is being treated by the left and media as a hero. But The Wall Street Journal, Glenn Greenwald and Ben Shapiro, to name a few, have blasted Haugen's push against free speech online.

Haugen's critics see this social media scandal as the Democrats' latest ploy to arrogate more censorship power to themselves. New revelations reported that Haugen donated to multiple leftist groups and was a member of the team that censored the Hunter Biden laptop story while at Facebook.

An opinion piece in The Wall Street Journal, the very source of The Facebook Files, and written by The Editorial Board, is titled, "Facebook Needs to Empower Parents, Not Censor Political Speech." The Journal agreed with Haugen's critiques, but added, "This is a problem that can't be solved by government." The Journaladvocated instead giving users and parents more control. The Journal objected to the Democrat focus on alleged "misinformation." "They've proposed eliminating Section 230 liability protection for algorithms or requiring Facebook to submit its algorithms to regulators for review. Just what we need—a Bureau of Algorithms," The Journal observed drily.

Glenn Greenwald slammed both Haugen and her leftist, anti-free speech fans in his newsletter. " Much is revealed by who is bestowed hero status by the corporate media," Greenwald warned.

[...]

Facebook's civic integrity team, of which Haugen was a part, censored the Hunter Biden laptop reports during the 2020 election. The team was dissolved after Biden was declared president, when Haugen reportedly became discontented with her job. Furthermore, White House Press Secretary Jen Psaki's PR firm is reportedly representing Haugen. Bill Burton, former Obama deputy press secretary, and his consulting firm are also reportedly giving Haugen "strategic guidance." Haugen is purportedly a leftist activist and AOC donor whose lawyers also worked with the "whistleblower" who was the catalyst for Donald Trump's impeachment. The Senate hearing wherein Haugen testified included multiple calls from Democrats for more online censorship.
By the way, the MRC had no problem with Haugen's revelations as reported by the Journal before it was revealed that Haugen was the source. A Sept. 16 post by Salgado, for instance, hyped how the Journal "reviewed Facebook research and documentation and said the social media giant 'knows' Instagram is toxic for teen girls, and a Sept. 20 post by Johnson noted Facebook's response to the Journal's "deep-dive investigation into the platform and some of its practices."
Johnson took another stab at reclaiming the narrative from Haugen in an Oct. 9 post: "While much of the recent media attention regarding Facebook whistleblowers has gone to former employee and liberal donor Frances Haugen, it's worth noting that she wasn't the first former employee who has warned about the company."
Posted by Terry K. at 9:22 PM EST