Did The MRC Get Played By Facebook To Attack Facebook Whistleblower?
Topic: Media Research Center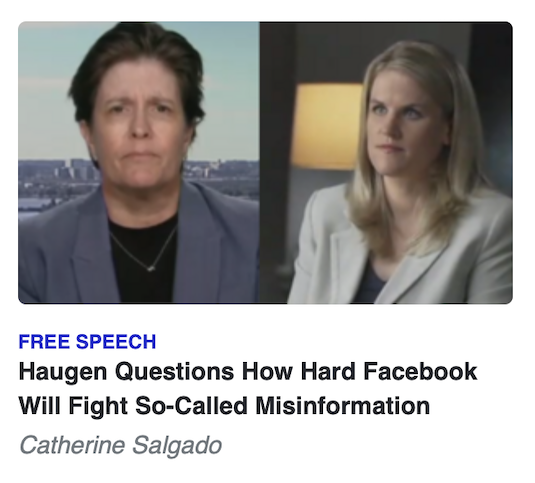 The Media Research Center's recurring meltdown over Facebook whistleblower Frances Haugen for getting more attention than the MRC has -- repeatedly lashing out at her for supposedly being a "leftist" -- has continued apace:
Catherine Salgado put "whistleblower" in scare quotes when referencing Haugen in a Dec. 9 post. Brian Bradley did the same the next day, adding:
But was Haugen really a whistleblower? After she resigned from Facebook in May, The Wall Street Journal revealed a trove of files, provided by Haugen, which she portrayed as evidence of Facebook's indifference to so-called right-wing "misinformation" that she perceived, according to Time magazine, as implicating national elections and contributing to the Jan. 6 Capitol Hill Riot. Haugen also called for increased online censorship during a recent Senate hearing.

The public emergence of Haugen's left-skewed, Orwellian talking points could motivate more whistleblowers to exhibit faux-courage by resigning from their companies and peddling the liberal narrative that curbing free speech is necessary for Americans' safety. The introduction of financial incentives in Rep. Jan Schakowsky's (D-IL) FTC Whistleblower Act could also motivate more "whistleblowers" like Haugen to cast blame on social media companies for supposed pro-right-wing bias.
Salgado more fully lashed out at Haugen in a scare-quote-laden Dec. 21 post, pushing her "leftist" talking points and suggesting she came forward for the money:
When Facebook "whistleblower" Frances Haugen came on as a guest of leftist, pro-censorship New York Times podcast host Kara Swisher's show, Haugen had one core question related to Facebook's "misinformation" efforts: "Will they go far enough?"

Swisher claimed that Facebook shouldn't be "choking people in the dark," which Haugen agreed to, during the podcast. Haugen also advocated for a "free market of ideas" online. In contrast, Haugen said that Facebook subsidizes hate to make money. Her solution? More censorship.

"Facebook has done a really good job of distracting us with the censorship debate," Haugen complained. She doesn't appear to be all too concerned about Facebook's biased censorship, believing discussion of the issue is an obstacle to the changes for which she advocates.

[...]

Haugen admitted to Swisher that members of her "comms team" had previously worked for Democratic campaigns and that the nonprofit Luminate, a network member of leftist eBay founder and billionaire Pierre Omidyar, had paid "operational" expenses for her. Yet Swisher mocked reports pointing to the questionable nature of Haugen's politically leftist advisors.

Haugen also denied that she was incentivized by a potentially large financial reward for her "whistleblowing," though Haugen then mused over how she would invest the money if she received it. The "whistleblower" even said that she would work for Facebook again if offered, because she still believes its work is important. Haugen wants to start a movement of young people who drive "rituals of governance" around Big Tech.
But it appears that the MRC's repeated "leftist" attacks on Haugen were not only playing into Facebook's agenda, they may have been done at Facebook's request. The Wall Street Journal reported:
The day after former Facebook employee and whistleblower Frances Haugen went public in October, the company's team in Washington started working the phones.

To lawmakers and advocacy groups on the right, according to people familiar with the conversations, their message was that Ms. Haugen was trying to help Democrats. Within hours, several conservative news outlets published stories alleging Ms. Haugen was a Democratic activist.

Later, Facebook lobbyists warned Democratic staffers that Republicans were focused on the company's decision to ban expressions of support for Kyle Rittenhouse, the teenager who killed two people during unrest in Kenosha, Wis., and who was later acquitted of homicide and other charges.

The company's goal, according to Republicans and Democrats familiar with the company's outreach, was to muddy the waters, divide lawmakers along partisan lines and forestall a cross-party alliance that was emerging to enact tougher rules on social-media companies in general and Facebook in particular.
The Journal further reported that after Haugen's "60 Minutes" appearance, "the company and its representatives spread word among lawmakers' offices, advocacy groups and others that she had partisan motives, according to the people familiar with those conversations," and that the Haugen-bashing articles that appeared in right-wing media "variously called Ms. Haugen 'the frontwoman of a PR campaign pushed by the Democratic party,' a 'leftist activist' and someone who is 'part of a broader Democratic initiative.'" That's pretty much how the MRC portrayed her. The Journal also noted that "Facebook representatives alleged in conversations with reporters that she was a proxy for" Omidyar -- which sounds a lot like Salgado's above-noted attack.
Salgado wrote a Dec. 30 post on the Journal article exposing Facebook's use of right-wing media to attack Haugen. But rather than admitting the MRC got played by the organization it's trying to destroy, Salgado simply summarized the Journal's bombshell quickly and without comment, while still repeating those Facebook-directed attack lines:
Facebook has done everything since "whistleblower" Frances Haugen's revelations except apologize. The company changed its name, denied massive problems, and reportedly even sold different narratives to politicians from different ends of the political spectrum.

The Wall Street Journal, which originally broke the "Facebook Files" revelations from leftist "whistleblower" Frances Haugen, in a new piece that Facebook had intentionally depicted Haugen as a leftist activist to rouse Republicans.
Salgado uniroinically linked to two earlier attack pieces on Haugen's purported "leftist" sympathies, seemingly unaware that this was evidence of the MRC's active participation in Facebook's smear campaign.
And then -- even knowing she's doing Facebook's bidding by making political attacks on Haugen -- Salgado still continued to hype that tainted "leftist" narrative. She huffed in a Jan. 7 post that "Leftist activist turned Facebook 'whistleblower' Frances Haugen has been touring the world to advise lawmakers." She then rehashed the Omidyar talking point in a Jan. 18 post:
Recently, leftist activist turned Facebook "whistleblower" Frances Haugen admitted that she had received monetary aid from the nonprofit Luminate, an Omidyar Network member. While the Tech Oversight Project reportedly strongly opposes Big Tech-funded groups and lobbyists, and seeks antitrust action from lawmakers, the project's ties to Omidyar should raise concerns for pro-free speech advocates.
Salgado is clearly not afraid to look like a slave to manufactured talking points -- even after they've been exposed as manufactured.
Posted by Terry K. at 7:35 PM EST
Updated: Tuesday, February 1, 2022 9:59 PM EST