MRC Tries, Fails To Bash Another Fact-Checker As 'Liberal'
Topic: Media Research Center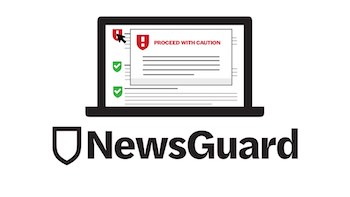 The Media Research Center's mission to falsely identify fact-checkers who aren't explicitly right-wing as "liberal" as a weay of defending President Trump's history of lies is continuing.
In a May 15 post, Alexander Hall huffed that "Liberal website ratings firm NewsGuard has expanded its partnership with Microsoft in order to spread "news literacy."You mighr remember NewsGuard from that time WorldNetDail's Joseph Farah had a meltdown when a NewsGuard tried to ask him basic questions about WND's notoriously unreliable "news" operation.
Hall offered no actual evidence that NewsGuard is "liberal"; instead he complainws that co-CEO Steven Brill "has reportedly given four times more money to Democrats than to Republicans and added:
NewsGuard has a history of political partisanship. It has slimed figures like Rush Limbaugh and mischaracterized a post on Limbaugh's Facebook page. NewsGuard highlighted "a link to Limbaugh's site with false claims that the coronavirus was created in a lab as a bioweapon and that it is similar to the common cold." NewsGuard was neither accurate about what he actually said, nor even the date of the post.
Let's take a look at that accusation, made in an April 21 post by Corinne Weaver, in which she wrote:
A new report from liberal Microsoft partner NewsGuard, " Tracking Facebook's COVID-19 Misinformation 'Super-spreaders,'" went after large Facebook pages that "repeat, share, and amplify these myths" about COVID-19. The second example on the list was Rush Limbaugh's Facebook page, which had shared "a link to Limbaugh's site with false claims that the coronavirus was created in a lab as a bioweapon and that it is similar to the common cold."

That's not what the page said at all. NewsGuard wasn't even accurate about the date of the post. NewsGuard claimed the posting happened on Feb. 24, but linked to Limbaugh's Facebook post, published on Feb. 29, 2020. That Limbaugh item stated, "I think dealing with the Chinese, there are any number of things that are possible." The link led to a transcript of Limbaugh's February 26 episode, when a caller asked on his show if COVID-19 was meant to be a response to the United States' economic sanctions. Limbaugh's response began with, "I don't know."
Both Weaver and NewsGuard are confusing here. Because NewsGuard is focusing on misinformation on Facebook, its initial focus is on Limbaugh's Facebook post, which was made on Feb. 29 and links to a transcript from Limbaugh's Feb. 24 show. NewsGuard has appended a correction (which Weaver has not acknowledged) fixing the date issues.
Weaver, however, is misleading about which Limbaugh said. The question to which she refers that Limbaugh answered with an "I don't know" occurs toward the end of a lengthy rant in which Limbaugh did,in fact, declare that he was "dead right" that "The coronavirus is the common cold, folks." and that "It probably is a ChiCom laboratory experiment that is in the process of being weaponized."
Even the Feb. 26 transcript that was apparently originally linked by NewsGuard is more problematic that Weaver will admit. Limbaugh falsely claimed that "This is the 19th coronavirus" (the number represents 2019, the year it was discovered), again claimed Coronavirus is a respiratory virus like flu, like the common cold. I'm not wrong about this," and did very much argue that the virus was released by China in retaliation.
Weaver tried to make her own specious allegation that NewsGuard is "liberal," largely through guilt by association, citing not only Brill's alleged political donations but also money donated to it by Poynter and the Knight Foundation, which she dismissed as a "liberal journalism institute" and a "liberal foundation for journalism," respectively. Her proof that Poynter is "liberal" is that it identified the MRC as biased.
That's extremely thin gruel to make such accusations. But the MRC will keep making that gruel because a narrative must be maintained.
Posted by Terry K. at 4:36 PM EDT