MRC Turns Djokovic Into An Anti-Vaxxer Hero
Topic: Media Research Center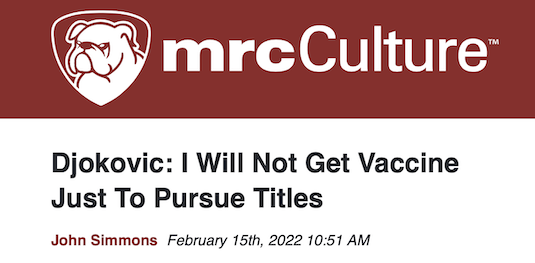 Last fall, the Media Research Center was cheering tennis player Novak Djokovic as "the hero in a greater cause" because of his refusal to get a COVID vaccine in preparation for the Australian Open tournament, even though Australia was requiring all visitors to be vaccinated. The tourney's ultimate decision to allow unvaccinated players in as long as they undergo a two-week quarantine period was declared by MRC sports blogger John Simmons to be a victory and a "convicted stance against tyranny." But as the tournament neared and auestions were raised about the medical exemption Djokovic claimed to have received, Simmons rushed to his defense again in a Jan. 5 post:
Tennis player Novak Djokovic has received a medical exemption from taking the COVID vaccine, allowing him to play in the prestigious Australian Open tournament. However, Australia's Prime Minister Scott Morrison is attempting to intimidate the star beforehand, threatening that Djokovic will be sent home if his medical exemption does not meet Australia's standards.

Both Morrison and Home Affairs Minister Karen Andrews expressed that they will not be afraid to enforce their tyrannical vaccine mandates, even if that means sending the world's best tennis player back to his native Serbia:
Simmons went on to laud Djokovic becaise "he has already won the fight against medical tyranny in several ways" by finagling his way into the tournament without being vaccinated" and declaring him a "rebel" fighting against the island's "draconian ways."
A Jan. 8 post by Clay Waters ranted about the New York Times' "judgmental hysteria over vaccines"in writing about Djokovic. He went on to proclaim that "As the world's No. 1 tennis player, he's presumably in above-average physical condition, in relatively little danger from the virus," and that "the Omicron variant is significantly less deadly than the Delta variant it is replacing." He didn't mention that Omicron is far more contagious than Delta.
Jay Maxson used a Jan. 12 post to complain that Howard Stern argued Djokovic should be banned from tennis for not being vaccinated. Maxson retorted: "Well, guess what, Howard? Djokovic already had COVID-19. How many more times does Stern think he'll catch it without the vaccine that needs multiple booster shots to actually finish the job and prevent COVID-19 forever?"
Simmons hyperventilated in a Jan. 14 post:
Novak Djokovic's intense battle to have his visa approved by the Australian government took a turn for the worse when Immigration Minister Alex Hawke revoked the tennis star's visa and threatened him with deportation, even though Djokovic has done nothing wrong.

[...]

So far, Djokovic's legal team has shown that he has sufficiently met every requirement necessary for a medical exemption and even had an Australian judge say that he would be cleared to stay in Australia and participate in the Australian Open (which begins Monday). So how in the world does overriding a judge's ruling just so you can flex your power benefit anyone?
In fact, Djokovic did do something wrong: he messed up his visa paperwork, and he never disclosed what exactly the reason is for his medical exemption -- and then it was revealed that Djokovic had caught COVID the month before, which had not been previously disclosed.
Rather than tell his readers those relevant facts, Simmons raged that Australian Prime Minister Scott Morrison is someone "many rightly consider a tyrant," then praised Djokovic again as a hero against the purported hellscape that is Australia:
The result of those sacrifices has created a world in which policemen can fire rubber bullets into a crowd of protestors and get away with it and where police have the authority to separate a child from its mother. Australians are not free, the government is in full control over everyone and everything, and that's how people like Morrison and Hawke want to keep it.

So when a high-profile, widely respected individual who is not bowing down and groveling to Australia's vaccine tyranny steps onto the scene (potentially inspiring millions of others to stand up), it would only make sense that Australia's officials would do what they can to not let Djokovic into their country.
Djokovic loast his appeals and was barred from playing at the Australian Open. Simmons returend to cheer again in a Jan. 26 post when player Daniil Medvedev said he was losing a match until he asked himself, "What would Novak do?" (Unmentioned was the fact that Medvedev did something Djokovic didn't do: he had his visa papers in order and he didn't try to deceive Australian officials.) Simmons went into full gush mode again:
It is quite comical to see that Djokovic has caused quite the stir Down Under, even when he was deported back to Serbia for "not having a legitimate enough reason" to be in Australia to compete in the Australian Open. The man is not even in the country, and he's still living rent-free in the minds of those who are mad that he had the nerve to stand against Australia's pervasive and restrictive vaccine mandates.

He's even influencing the tournament despite not being in it!
But Simmons still wasn't done fawning over Djokovic, upgrading him to full-blown martyr in a Feb. 15 post:
Novak Djokovic was crucified by the media and deported by the Australian government after not providing "sufficient enough information" to receive a vaccine exemption so he could participate in the Australian Open. Despite all the trials he has had to endure because of his stance, his resolve to defy medical tyranny has not wavered.

Djokovic told the BBC that trophies are not as important to him as the freedom to choose what goes into his body. He currently sits tied for second all-time in the men's division with Roger Federer for most Grand Slam titles won with 20, just one behind his contemporary Rafael Nadal (who won the Australian Open Djokovic was forbidden from playing in). But if he is forced to get the vaccine to pursue becoming (statistically) the greatest men's player ever, Djokovic will not chase that illustrious achievement.

[...]

The majority of celebrities today will sacrifice any of their convictions just to roll with the flow of the political and social environment as long as it does not affect their livelihood. But Djokovic's rigid determination is a reminder that there are still people who value freedom and their beliefs over material gain and who understand that life is more than money, trophies, and fame if you have to compromise who you are to get there.
In reality, Djokovic exposed himself as a selfish jerk who cares only about himself and not about the society in which he lives. No wonder conservatives like Simmons love the guy.
Posted by Terry K. at 8:27 PM EST