The MRC's Abrupt Flip-Flop On Elon Musk
Topic: Media Research Center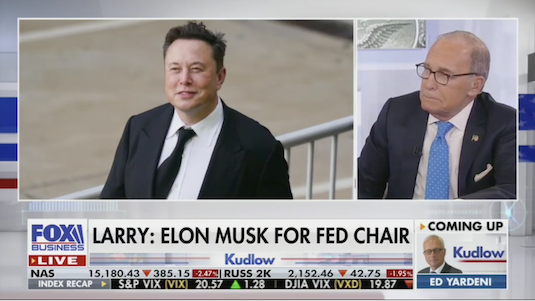 The Media Research Center -- specifically writer Joseph Vazquez -- spent a good part of late last year slobbering over Elon Musk for saying all the proper right-wing things.
Joseph Vazquez used an Oct. 28 post to gush over how "the world's richest man ... dismantled the logic behind the Democratic Party's latest class warfare tax-the-rich scheme." On Nov. 1, Vazquez wrote that "CNN tried to sell a false headline alleging that a fraction of the world's richest man's wealth could solve world hunger" but got the math wrong.
Vazquez used a Dec. 14 post to cheer how Musk was named Time magazine's person of the year:
Too bad for the left, they can't mandate who wins "Person of the Year." So TIME magazine decided to give the world's richest man Elon Musk that honor, though he's become a vocal critic of vaccine mandates and the left.

In TIME's write-up of its decision to christen Musk, the outlet stated that "Musk has spent a lifetime defying the haters; now, it seems, he's finally in position to put them in their place." Musk certainly has been ruffling leftist feathers as of late. He slapped down the idea of government-imposed vaccine mandates as the "'erosion of freedom in America,'" according to Yahoo! Finance.

In addition, Musk repudiated President Joe Biden's leftist infrastructure plan during the Wall Street Journal's CEO Council Summit: "'Honestly, I would just can this whole bill. Don't pass it.'" He continued to hammer the left's spending spree: "'In general, if we don't cut government spending something really bad is going to happen. This is crazy. Our spending is so far in excess of revenue it's insane.'"
The selection of Musk would seem to blow a hole in the MRC's longtime portrayal of Time as irredeemably liberal, but Vazquez decided that drooling over Musk was more important than ideological inconsistency.
The next day, Vazquez touted a supposedly sick burn from Musk:
Elon Musk used his Twitter account like a battering ram to troll the left for their hypocritical pontificating about class warfare.

Sen. Elizabeth Warren (D-MA) took to Twitter Dec. 13 to express disgust at the world's richest man being chosen as TIME magazine's 2021 "Person of the Year." Warren spewed, "Let's change the rigged tax code so The Person of the Year will actually pay taxes and stop freeloading off everyone else."

Musk clapped back: "[I]f you opened your eyes for 2 seconds, you would realize I will pay more taxes than any American in history this year." Then Musk dropped the truth bomb: "Don't spend it all at once … oh wait you did already." Ouch.
Vazquez concluded by trying to loop Time back into the MRC narrative: "Warren's complaining perfectly illustrates how the left can't handle the fact that a notoriously liberal magazine decided to think for itself and honor a billionaire who doesn't genuflect to the leftist hive-mind." He seems to have forgotten that Time has named numerous conservatives as person of the year, including Donald Trump after he won the presidency in 2016, so this is not the huge leap that Vazquez wants you to think it is.
Vazquez then devoted a Dec. 17 post to right-wing talking heads Steve Forbes and Larry Kudlow proclaiming that Musk should be named chairman of the Federal Reserve because he has been "mocking the left's nonsensical multitrillion-dollar economic agenda."
With all that fawning over Musk, one would think the MRC's Musk-fluffing would go on forever, right? Well, it seems to have come to a screeching halt thanks to a Jan. 11 post by Jay Maxson:
Last week, China fanboy/parasite Elon Musk got verbally slapped down by NBA player Enes Freedom Kanter for sucking up to China. Completely overlooking China's innumerable human rights abuses, Musk opened up a Tesla showroom in China's Xinjiang province, drawing the ire of the Boston Celtics' center Kanter, who has been waging an ongoing campaign against China.

Those monster profits from China evidently look just as good to Musk as they do to LeBron James, Nike and the NBA. All of whom enjoy doing business with China, despite one of the world's worst human rights records.

[...]

Buddying up with China is nothing new for Musk, as Breitbart's Warner Todd Huston pointed out. In 2019, the nutty Musk declared China the future for humanity. Which humanity he was talking about was a mystery because the words China and humanity don't belong in the same sentence.

[...]

Not only did Musk unveil his autos in China, he also engaged in bizarre dance moves on the showroom floor, which he found quite hysterical. Maybe acting like a crazy bat constitutes some of the China version of happiness.
As Vazquez might say, ouch. Kanter has been a cause celebre for Maxson, touting his criticism of the NBA's willingness to overlook China's human rights record to promote the sport there, as well as his right-wing-friendly decision to add "Freedom" to his name after becoming an American citizen.
Interestingly, Vazquez hasn't dedicated a post to Musk since Maxson's item went live -- nor has anyone else at the MRC.
Posted by Terry K. at 8:55 PM EST
Updated: Friday, February 4, 2022 9:08 PM EST