CNS Editor Still Bashing Biden's Debt, Silent On Trump's
Topic: CNSNews.com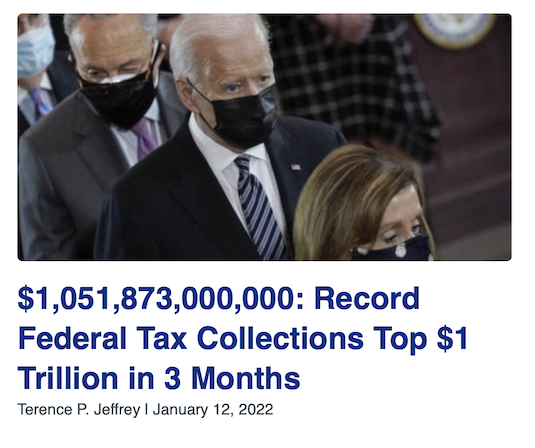 CNSNews.com editor Terry Jeffrey wrapped up his commenting on federal deficits in 2021 the way he has all year long -- blaming President Biden for running them up and pretending that Doanld Trump never added anything to the debt. Jeffrey spent his Dec. 15 column complaining;
If you divide the $28,908,004,857,445 in debt that the federal government owed before the debt limit was lifted by the 100,424,240 American households that paid net income taxes in 2018, it works out to approximately $287,859 per income-tax-paying household.

[...]

President Joe Biden's fiscal 2022 budget proposal called for running a cumulative deficit of $14.531 trillion over just the next 10 fiscal years. Balancing the budget — let alone slowing the increase in the debt — plays no part in his fiscal plan.

Adding another $14.531 trillion to the federal debt would increase the burden on the 100,424,240 income-tax-paying households of 2018 by approximately $144,696.
Jeffrey further complained that one can buy a decent house in many parts of the country with their share of the debt, adding: "Which would you rather have over your head? A roof that you will someday own? Or a federal government that is steadily increasing its control over your finances and your life?"
We don't recall Jeffrey writing any similar complaints about how much one could buy with their share of the debt when Trump was president.
Jeffrey served up his usual monthly statement in a Jan. 12 article: "At the same time that it was collecting a record $1,051,873,000,000 in total taxes in the October-through-December period, the federal government was spending $1,429,567,000,000. Thus, it ran a deficit of $377,694,000,000." The stock photo accompanying the article, as usual, featured all Democrats.
Jefffrey complained again in a Jan. 20 article:
The federal debt climbed $20,353.58 for every income-tax-paying household in the United States during Biden's first year in office, according to data released by the U.S. Treasury Department.

When Biden was inaugurated on Jan. 20, 2021, the federal debt stood at $27,751,896,236,414.77, according to the Treasury's "Debt to the Penny" webpage.

As of Jan. 18, 2022, the latest day for which the federal debt has been reported, it stood at $29,868,786,972,155.16—an increase of $2,116,890,735,740.39 from Jan. 20, 2021.
By contrast, Jeffrey wrote no similar article on how Trump added $8 trillion to the federal debt during his presidency.
Posted by Terry K. at 1:01 AM EST