The MRC vs. An Ice Skater
The Media Research Center hates Olympic skater Adam Rippon -- as well as Olympic skier Gus Kenworthy -- for being gay and for criticizing Mike Pence's apparent support of anti-gay conversion therapy and disdain for LGBT rights.
By Terry Krepel
Posted 4/25/2018
---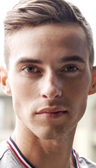 Adam Rippon
The Media Research Center doesn't like Olympic skater Adam Rippon for two specific reasons: 1) he's gay, and 2) he has criticized Vice President Mike Pence for what can reasonably be interpreted as his endorsement of the discredited practice of gay conversion therapy. And it has been attacking Rippon over one or the other since before the Olympics began -- and well after the Olympics ended.

In a Jan. 17 post, Jay Maxson whined that USA Today did an article on Rippon, "a gay figure skater who's angry that Vice-president Mike Pence will lead Team USA in the opening ceremonies. Maxson even tried to defend the discredited practice: "Forty-one states permit conversion therapy for people struggling with unwanted same-sex attraction, but [USA Today reporter Christine] Brennan tried to portray the VP as a pariah for supporting their choice."

On Feb. 8, Gabriel Hays huffed about the Rippon-Pence contretemps: "More controversy has erupted between Mike Pence and another openly gay U.S. athlete at this winter's Olympic games, all in the name of tolerance and homosexual acceptance. It's one small step for gays, and one giant, exasperated 'Oh, shut up!' for the rest of normal America." Hays is not telling Pence to shut up, by the way; he uncritically repeated an overly forceful denial from Pence's press secretary that Pence ever supported conversion therapy.

On Feb. 11, Brad Wilmouth was offended that "The View" co-host Whoopi Goldberg likened a Rippon-Pence meeting to "asking a Jewish person to sit down and understand where the Nazi is coming from."

The next day, Kristine Marsh grumbled that through the mere act of interviewing Rippon, "ABC anchor Amy Robach tried to bring left-wing activism into her coverage of the Winter Olympic Games."

Maxson returned to attack Rippon some more in a Feb. 13 post, complaining that one writer "chastised the Vice President for the controversy over homosexual figure skater Adam Rippon, who is using the media to advocate against conversion therapy. It's a favorite target of the LGBT pressure groups and their compliant media. Rippon and his media friends, including Phillips and a group of writers at USA "LGBT" Today, are portraying Pence as the champion of this therapy, which nine liberal states have outlawed."

Maxson whined some more the next day that "LGBT athletes and supportive media have used the Olympic stage to advocate against conversion therapy through attacks on Vice-president Pence as well," adding:
Somehow in the era of Trump and Pence the United States is fielding its most diverse Winter Olympic squad ever. Pre-dating these Olympic Games, it's been a steady media drumbeat on race and gender. Anyone perceived to oppose LGBT policy positions is taken down by LGBT groups and the left-stream media. Fear of them has largely eliminated public opposition. Tolerance is no longer enough, and now [Washington Post columnist Jerry] Brewer demands we celebrate homosexuality[.]
And the news that Rippon had (briefly) signed on with NBC Sports to help cover the Olympics sent Matt Philbin in an apoplectic anti-gay fit:
NBC Winter Olympics coverage may be tanking in the ratings, and taking fire for sloppy broadcasting, but the Peacock is reluctant to let go of the Gayest Games Ever™. The network just announced it has hired Adam Rippon to as a correspondent for the remainder of the Olympics. He will "work for the network on a variety of platforms, including television, digital and social media."

Rippon's a gold medal-winning Olympic figure skater, but that's not really his allure for NBC. The network is just hoping he'll say something sassy or spidery and generate some buzz for an event that feels as though it's been going on for about five months. Rippon is gay, outspoken and (best of all!) spiteful toward Vice President Mike Pence.

[...]

You might have thought NBC had maxed out it's gay skating coverage quotient, as the Mean Girls act of Tara Lipinski and Johnny Weir is the toast of enlightened media critics everywhere. But Rippon's star dust is just too magical to pass up. The media can't decide whether he's a "Perfect Millennial Ambassador for US Figure Skating" or just a simple "Gay Rights Ambassador." And really, why choose?

NBC and the rest of the media are embarrassing themselves with this swoon, and once again proving that satire is dead. As for Rippon, he'll get every last bit of hype out of this moment. After all, it's what Brian Boitano would do.
And hating gays for existing is pretty much what the MRC does.
Maxson went on an anti-Rippon tirade in a Feb. 21 post, dismissing him as an "unremarkable athlete" who's only getting press because he's gay. "You'd be hard-pressed to find a USA bronze-medal winner who reaped so much media adulation -- ever," Maxson grumbled, adding, "It goes beyond hilarity how celebrated you are when you're homosexual, have some athletic ability and hate Republicans." Maxson had a similarly hateful conclusion:
What's left for Rippon to accomplish after living his best Olympic life? The media will milk him for all he's worth. A Dancing with the Stars appearance is likely. Adoring lib media will likely plaster his face all over our television sets. There's GMA, the Today Show, The View, the late night shows and probably much more. Rippon mania makes Ferris Bueller look like an unpopular nerd by comparison. O-ver-kill! Thank God for the remote control!
Last time we checked, Rippon is an Olympic medalist and Maxson is not. After all, making envious and catty remarks about people you despise for failing to adhere to your personal political orthodoxy is not an Olympic sport (yet).
Gus Kenworthy as well
Meanwhile, another gay Olympic athlete, skier Gus Kenworthy, met with the MRC's scorn as well, for much the same reason.
Gabriel Hays noted in a Feb. 6 post that Kenworthy appeared on Ellen DeGeneres' show, where he criticized Pence for his history of opposing LGBT rights and noted that Pence was a "strange choice" to head the U.S.' Olympic delegation. Hays whined in response:
Of course, the U.S. is sending 243 athletes to the Olympics, plus hundreds of trainers, coaches and managers, but President Trump didn't think to consult the two openly gay team-members?

[...]

America's vice presidents have been performing mainly ceremonial duties for nearly 250 years. Making Pence endure the Olympics is in the grand tradition of Veeps attending the funerals of sundry potentates and minor conferences on recycling in emerging nations. Gaia forbid that America's second-in-command is a representative at an international event, especially when he doesn't abide by the gospel of Hollywood groupthink. Give me a break.
Interesting that Hays thinks basic rights for all is nothing but "Hollywood groupthink."
Kyle Drennen declared his displeasure in a Feb. 9 post that "ABC's Good Morning America on Friday featured a report from Amy Robach that highlighted how Vice President Mike Pence, leading the U.S. delegation to the games, was 'facing criticism today from openly gay freestyle skier Gus Kenworthy'" for his history of opposing LGBT rights.
Drennen returned in a Feb. 15 post, unhappy that "On Thursday, CBS This Morning joined ABC's Good Morning America in applauding openly gay Olympic skier Gus Kenworthy as a 'champion for LGBTQ rights' who was using his position on Team USA to blast the Trump administration for failing to 'support the LGBT community.'" After noting that one report "reminded viewers of how Kenworthy similarly bashed Vice President Mike Pence" for his disdain of LGBT rights, Drennen concluded: "The media have been eager to find any way to politicize the Olympic games."
On Feb. 23, Drennen returned to grouse that "NBC's Today show closed out its two-week coverage of the winter Olympics by gushing over openly gay Olympians Adam Rippon and Gus Kenworthy using their fame to "stand up as advocates" and "voicing their disapproval when Vice President Mike pence was picked to lead the U.S. Olympic delegation." Drennen seemed further enraged that "Kenworthy has said that he would not meet with Pence and would refuse to attend a traditional White House event after the Olympics."
Related articles on ConWebWatch:
Maxson grumbled in a Feb. 26 post that "NBC squeezed every ounce of fabulous it could out of its cherished LGBT story line, obsessing on the two homosexuals on the American team: Gus Kenworthy and Adam Rippon," cattily adding that Rippon "finished 10th in the men's figure skating" and Kenworthy "finished last in slopestyle." We again invite Maxson to demonstrate that he can do better.

All this sniping and hatred of Rippon and Kenworthy continued well after the Olympics' conclusion. Ryan Foley insisted in a March 7 post that Rippon's "claim to fame" is his "criticism of the Vice President" (but apparently not that he is, you know, an

Olympic-caliber skater) and that a recent TV appearance was "a public service announcement for the LGBTQ movement." Foley then served up an oddly capitalized lecture to Rippon on his claim that LGBT people lack a voice because of anti-gay politicians like Pence: "Perhaps Rippon fails to realize that the LGBTQ movement has captured the support of nearly all of the country's major institutions, including the media, Academia, Hollywood, and the Courts."

And on April 23, Hays had a freakout over the GLAAD Media Awards, dropping a sneering reference to "the insufferable It Boys of Olympic homosexuality, Adam Rippon and Gus Kenworthy" regarding their presence there.

Its need to continually throw petty shade at Rippon and Kenworthy is evidence of just how deeply anti-gay the MRC is.