MRC Sports Blogger Goes Full Brandon In Cheering Biden Slur
Topic: Media Research Center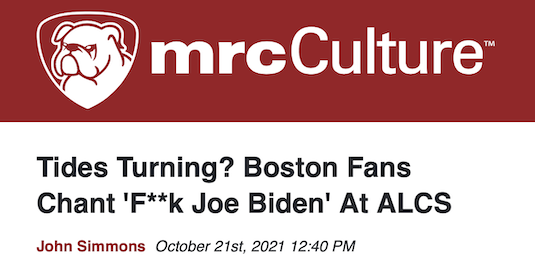 We've noted how the Media Research Center has heartily embraced the "Let's Go Brandon" anti-Biden slur despite its long history of raging against any other vulgarity expressed in the media. But a couple weeks before MRC sports blogger Jay Maxson lamented how a "Monday Night Football" broadcast was "coarsening the culture" by dropping an F-bomb, his (or her) fellow sports blogger, John Simmons, was cheering a crowd chanting the unexpurgated version of "Let's Go Brandon." He gushed in an Oct. 21 post:
There are two things you can know for certain about Boston: the people there are incredibly passionate about almost everything, and it is a firmly liberal city. That's why what happened after Game 4 of the ALCS between the hometown Red Sox and the Houston Astros might come as a surprise.

Between chants of "F--- A-rod" (former New York Yankees third baseman and Fox Sports analyst Alex Rodriguez) and "F--- (Astros second baseman Jose) Altuve," impassioned and clear chants of "F--- Joe Biden" could be heard just outside of Fenway Park.

Now we all aren't surprised when college campuses in the South break out in these cheers during football games (since the South tends to be conservative anyway), but a place like Boston joining in on the fun goes to show just how much our president's approval has dropped in just nine short months.

Maybe this is a continuing sign that even liberal America is beginning to wake up to just how bad of a leader Joe Biden is.

[...]

Perhaps this is just a one-time thing, perhaps this is a pattern that will continue. Either way, it is encouraging to know that Americans are beginning to see the truth about how Biden and his vision for America will only bring ruin to us all, and that it is time we did something about it.
Simmons linked to a Fox Sports clip in which the "F--- Biden" was quite audible on the air. Simmons did not complain that the insult was "coarsening the culture."He didn't explain the MRC's double standard -- perhaps because the MRC appears to have an editorial policy in which no insult of a Democrat is too vulgar to complain about.
Posted by Terry K. at 9:42 PM EST