MRC Shows Residual Love For 'Let's Go Brandon' Insult
Topic: Media Research Center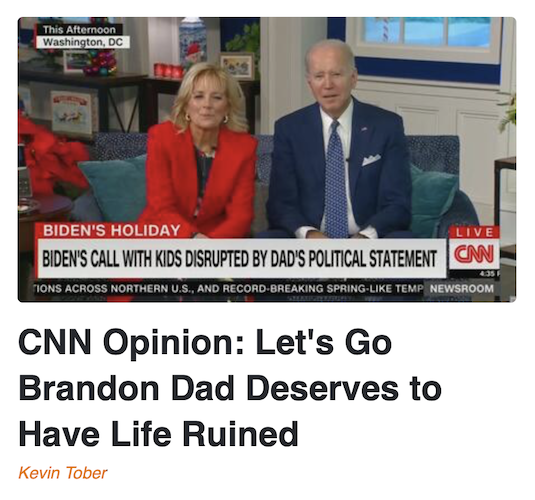 The Media Research Center just loves the "Let's Go Brandon" insult of President Biden -- so much so that some of its writers wants to dispense with the euphemism and go full "Fuck You Biden." How has the MRC been loving it lately? Mostly by turning it into a victimhood indicator.
A Dec. 14 post by Jay Maxson complained that a golf ball maker "is now part of the corporate censorship movement." becauses it refuses to allow people to imprint "Let's Go Brandon" on their golf balls. Maxson further complained: "Fox News Digital investigated whether or not people can order balls with messages like "F Trump", "ACAB" (all cops are bastards), 'Antifa', 'Kill Cops,' 'Impeach Trump' and 'Kill Trump.' None of these derogatory phrases were blocked." Unmentioned was the fact that very few left-wing radicals are golfers, let alone ones who can afford to spring for specially imprinted golf balls.
When a right-wing jerk, Jared Schmeck, said "Lets Go Brandon" to Biden during a White House event, the MRC rushed to his defense. A Dec. 26 post by Tim Graham was offended that anyone would find the phrase offensive:
On Friday afternoon, CNN anchor Boris Sanchez denounced the rude behavior, and then CNN senior political analyst Ron Brownstein said it was about "insurrection" and the "Big Lie" that the Republican base thinks Biden isn't a legitimate president. (CNN never considered Trump legitimate.)

[...]

NBC News posted an article headlined "Parent uses right-wing slur during Biden call with NORAD Santa tracker." It began: "President Joe Biden was subjected to a right-wing anti-Biden slur during a Christmas Eve call with NORAD's Santa tracker." Bloomberg's "Quicktake" also called it a "slur."

ABC News chose the headline "Father uses vulgar insult during holiday call with President Joe Biden." Technically, this is not accurate, since there is no vulgarity in "Let's Go Brandon."
Kevin Tober used a Dec. 28 post to claimed that MSNBC's Ncolle Wallace "laughably claimed on Monday that the Oregon father who said '"let's go, Brandon' to President Joe Biden was part of a 'slow-motion insurrection'." But Tober also admitted that the man appeared on creepy insurrection cheerleader Steve Bannon's show to declare, "Donald Trump is my President and he should still be President right now. The election was 100% stolen. So I just want to make that clear." Sounds like a guy who is definitely at least insurrection-curioius, no?
On Jan. 4, Tober was insisting that the deliberately offensive phrase was a "practical joke" and that Schmeck should never have to face consequences for saying it:
The idea that someone should have their life ruined over a practical joke, is patently insane and frankly anti-American. Yet that is exactly what CNN Opinion columnist and SiriusXM radio host Dean Obeidallah argued in a recent column last week.

In a piece titled "You can't troll the President with 'Let's go, Brandon' and then play the victim", Obeidallah argued that Jared Schmeck, the 35-year-old Oregon father deserves whatever punishment the cancel culture tyrants want to inflict on him for the grave sin of saying "Let's Go, Brandon" to President Joe Biden during a call on Christmas Eve.
Obedallah went on to point out how Schmeck was painting himself as a victim because his insult was criticized: "Aww, poor 'victim' Schmeck. Apparently, he thinks he should be able to tell Biden to basically go f**k himself while on a family-friendly holiday call, but no one should be able to take issue with his actions." Tober didn't take that well:
Freedom of speech is the freedom to say what you believe without fear of retaliation or punishment. In fairness, he did write that didn't have any "ill wishes towards Jared Schmeck." While one sentence later, he wrote that he hoped no one tells him: "Let's go, Jared!"
No, Kevin, that is not the definition of "freedom of speech" -- which you should know because you work for an organization whose primary mission is to inflict retaliation and punishment on non-conservatives who say what they believe. For instance, the day before Tober wrote this post, he was raging at NBC for "maligning conservatives who care about local political and cultural issues as violent rioters in the mold of those who stormed the United States Capitol on January 6." He clearly does not believe NBC employees should have "the freedom to say what they believe without fear of retaliation or punishment."
If the MRC adhered to Tober's definition, it would soon be out of business -- and Tober would be out of a job. He appears to be a little too focused on spewing hate at anyone who works in non-right-wing media to understand the corner he painted himself into.
On the Jan. 5 NewsBusters podcast, guest host Nicholas Fondacaro rehashed Tober's post, then played whataboutism by citing threats against CNN host Brian Stelter and his family and claiming that CNN "doesn't seem to think that what they say and the hatred that they stoke against Fox and people on the right can result in the same things they they're being subject to." That statement is stunningly oblivious to the fact that the MRC stokes hatred against CNN, MSNBC, the broadcast networks and people on the left, because their tone is much more harsh than almost anything CNN has said about Fox News. Fondacaro then hypocritically cited incidents of alleged violence against Republicans... without any condemnation or even mentoin of right-wing violence against liberals.
Don't expect Fondacaro and Co. to ever take responsiblity for any of that, of course -- acting responsinbly is not what they do.
Posted by Terry K. at 9:51 PM EST