The MRC's Olympics of Hate
The Media Research Center spent the Tokyo Olympics rooting against America because the U.S. team wasn't heterosexual or right-wing enough.
By Terry Krepel
Posted 10/28/2021
---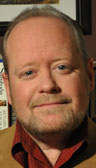 Matt Philbin
Under the headline "CBS Roots for Team USA to Fail at Olympics," the Media Research Center's Scott Whitlock complained in a July 26 post: "According to CBS guest William Rhoden, arrogant Team USA need to be "humbled," and maybe losing several medals at the Olympics was the way to do it. Appearing on CBS This Morning, Monday, the liberal sports journalist derided the opening ceremonies as too nationalistic, saying they reminded him of 'white nationalism.'" He added that "Seeming to root against the U.S., the former New York Times columnist took pleasure in the American basketball team's struggles," going on to criticize the "trashing of American athletes."

You know who else has been trashing American athletes and rooting against America at the Olympics? The MRC.

In the runup to the Olympics in Tokyo, the MRC -- led by the mysterious and virulently transphobic sports blogger Jay Maxson -- was increasingly angry that they wouldn't be heterosexual enough, lashing out at LGBT athletes who might qualify.

In a May 6 post, Maxson went on a sneering tirade against a transgender athlete who might appear in the Olympics:
Pay no attention to the men walking off with the women's sports trophies, say LGBT activists. It's a non-issue, they insist. Despite their denials, the controversy will flare up to new heights this summer at the Olympics in Tokyo. There, Laurel Hubbard, of New Zealand, is expected to be the first transgender athlete in Olympic history.

Laurel was for most of his life known as Gavin. He's been mopping up the competition in women's weightlifting for a few years and is one of the favorites to medal in the Summer Olympics.

[...]

The realities of biology are such that no one can actually change their gender. To get around that inconvenient truth, international athletic federations merely require men to lower their testosterone levels in order to disrupt the competitive balance in women's sports.
Maxson spent a May 17 post whining about the possibility of transgender athletes at the Olympics: "That trans athlete explosion the world has been bracing for, the one LGBT activists keep denying? Well, it's here now. There may be as many as nine trans women (biological dudes) bursting onto the Olympic stage in Tokyo this summer, all of them threatening to take medals away from actual women," further sneering, "Welcome to the wide, wacky world of alphabet sports."
Maxson then demonstrated his utter ignorance of how transgenderism works in a June 9 post:
The U.S. Olympic women's BMX team just got a whole lot more macho! A man is now in prime position to steal a spot from a woman on the U.S. freestyle cycling team. Chelsea Wolfe is expected to become the first transgender athlete to make a U.S. team, at the Summer Olympics in Tokyo next month.

In 2014, Wolfe suddenly decided that he was not a man, but a woman. And presto, he's a woman who defies the laws of biology! One who currently ranks third among female American BMX competitors. The two women ranked ahead of him will compete in Tokyo, and Wolfe will serve as the alternate, as things stand now.
Has Maxson ever met a person who is not heterosexual? Is he so cocooned in the heterogenic MRC bubble that he never has to, meaning he has free rein to make up stories about how and why a person feels the need to change gender?
Maxson ramped up his (or her) hatred of Wolfe in a June 22 post raging over a tweet in which she sarcastically said she would burn a flag on the podium if she won, smearing her as a "sicko" and ranting that "The two-faced IOC deserves a lot of the blame for allowing this assault on the integrity of women's competition by trans activists." He concluded by huffing that "The males Wolfe and New Zealand weightlifter Lauren Hubbard are officially qualified for Tokyo and they're destroying any chance these Olympic Games will promote fairness."
Abigail Streetman picked up the mantle of hate in a June 25 post, asserting without evidence that runner CeCe Telfer transitioned to female solely because he sucked as a male runner:
One small step for women, one giant hurdle for women's sports. Transgender track star CeCe Telfer was just deemed ineligible to participate in the United States Olympic trials as a woman due to his testosterone levels being too high. Of course, any real doctor that doesn't feed into the woke mob mentality will tell you that it's impossible for a man to become a woman just because they lower their testosterone levels.

Men produce nearly 20 times more testosterone than women, and there are obvious strength differences between the two genders. Telfer learned how to use this to his advantage. The 'star' ran for the Franklin Pierce University men's track and field team. He also placed in the top 200 in the 400m hurdles in the NCAA Division II men's division in 2016 and placed 390th in 2017. After these accomplishments he realized that he was actually a woman.

Is it a coincidence that after falling 190 positions from 2016 to 2017 he decided to transition and compete against women instead? I think not. In 2019, Telfer became the first man to win an NCAA title in the women's 400m hurdles.
Streetman apparently believes Telfer is as shallow as she is, and she obviously knows as little about what she writes as Maxson does.
Meanwhile, Gabriel Hays -- who hates transgender people almost as much as Maxson -- cheered when former NFL quarterback Brett Favre (football isn't and never has been an Olympic sport) expressed "his disapproval of biological men competing in women's sports," specifically targeting Hubbard and Wolfe. Bridget O'Neal complained that a TV show committed the offense of having "celebrated non-binary track athlete Nikki Hiltz, who competed against women during the Olympic trials," going on to complain that "It seems that now the liberal media is criticizing conservatives for their attempts to maintain fair and traditional competition in the Olympics and in kid's sports."
Maxson returned for a July 7 post whining that "Professional sports and the media who cover them just couldn't impose enough LGBT propaganda on you in the recently completed month of June," citing as an example "Chelsea Wolfe, a man despite the female name, qualified to be an alternate on the U.S. Olympic women's BMX team for the Summer Games at Tokyo." Maxson ramped up the hate again in a July 19 post in which he (or she) specifically complained there were way too many LGBT athletes in the Olympics:
Queer theory is in full session at the 2021 Tokyo Olympics. And then some! The Summer Games will be the queerest ever, with 142 publicly out homosexual, transgender and nonbinary athletes going for the Gold.

Outsports and The Queerstory Files say the number of publicly out LGBTQ athletes in Tokyo is not only double the number of out athletes who competed in the 2016 Rio Games, but greater than the number of such athletes in all previous Summer Olympic Games combined. Aren't we all in for a treat?

Guess who's leading the gigantic LGBTQ parade. It's the United States with 30 out-standing athletes. The leaderboard also includes Canada (16), the United Kingdom (15), the Netherlands (14), New Zealand (9) (see trans weightlifter Laurel Hubbard in above photo), Australia (10) and Brazil (9).

Lesbians outnumber gay men 8-1, with women's soccer boasting 30 out players. Outsports says, "This continues a trend seen at past Olympics and is reflective of out athletes in elite non-Olympic sports where women also proliferate." Atta boy, girls!
Maxson concluded his (or her) rant by huffing, "The long-held Olympic motto of 'citius, altitus, fortius'' ('fastest, highest, strongest') just doesn't do justice anymore. The International Olympic Committee may as well make it official and add the word 'queerest.'"
If Maxson believes LGBT athletes are so inferior, why doesn't he (or she) put up or shut up, and race against them to prove that heterosexuality rules? Unless ... Maxson did race and was beaten soundly by an LGBT athlete, which would explain why he (or she) is so bitter and hateful.
Rooting against America
In a July 11 post, Maxson took immense pleasure in the American basketball team's struggles:
How the mighty – and the woke – have fallen! The dominant international men's basketball powerhouse forever, Team USA, suffered a shocking, embarrassing pre-Olympic exhibition game loss to lowly Nigeria on Sunday. The NBA's wokeness sure doesn't fly on the world hoops stage.

Ranked 22nd in world, Nigeria downed the Americans 90-87. It was the USA's first-ever loss to an African team. The USA is now 54-3 since NBA players took over U.S. Olympic basketball, and the team had won its last 39 games. In two previous games against Nigeria, the USA had won by a whopping 127 points combined.

Greg Popovich (at right in photo), the most woke and politically outspoken coach in the NBA, coached the U.S. to this disaster. It's certainly a red alert for him and all the American NBA players who have been disgracefully carrying on about social justice, Black Lives Matter and Donald Trump in recent years.

[...]

Once again, we see that all the money and wokeness in the world - and the complacency that can come with it - doesn't always beat heart, hunger and desire.
This was followed by a July 21 post in which Matt Philbin took similar pleasure in the U.S. women's soccer team losing its Olympic opener:
The U.S. Women's National soccer team lost 3-0 to Sweden in their Olympic opener on Tuesday. That probably hurts the team's chances for the gold. But let's not forget that this was a victory of sorts too. The U.S. ladies proved they could maintain a busy schedule of politicized grousing, kvetching and posturing, and still find time to lose a soccer game. You really can have it all, gals!

Just in case sports fans forgot how deeply the team feels the world's every injustice, they and their opponents knelt before the game to strike a blow against racism or something. Then they got down to the business of being trounced.

[...]

Oh sure, they missed the net and maybe the ball sometimes. But the Angry Amazons for Equity have other targets dead in their sights: " racist infrastructures," sexism, and reality based economics. And attractive women's lingerie is toast.
Related articles on ConWebWatch:
The MRC has long hated Megan Rapinoe and other women's soccer players for failing to be heterosexual.

The MRC actually purported to agonize over its decision to root against America. Tim Graham used his July 21 podcast to ask: "How do we feel about kneeling American Olympians? Should Americans root for them anyway....or root for them to lose?" He admitted that MRC staff members "tend to root for these Americans to lose, even though they're Americans," but he didn't name any MRC staff members who believe that "Americans should always root for Americans." Graham then declared his "swishy Susan Collins-type centrist" position that "I root for the Americans, but I'm not going to be too upset if Megan Rapinoe loses."
The anti-rooting continues
The MRC's rooting against America's less-then-fully-heterosexual Olympic team continued throughout the rest of the Games. On July 26, Jay Maxson cheered that Olympic viewership was relatively low, which he (or she) blamed on athletes not being heterosexual or right-wing:
Friday's opening ceremonies for the Tokyo Olympics provided more painful truth for Big Sports. The U.S. television audience for the event was the lowest it's been in the 21st century, further indicating how badly Americans are rejecting woke sports.

[...]

The Tokyo Olympics were delayed for a year because of the outbreak of the COVID-19 pandemic last year. During those 12 months, social justice warriors in sports have only given fans fewer reasons to watch when the Games finally arrived this summer.

For many fans, they'd seen enough outrageous behavior to determine they wouldn't tolerate any more of the same. Last Tuesday's kneeling by the U.S. and other national soccer teams may have just reinforced fans' decisions for tuning out of the opening ceremonies.
The MRC's hatred for athletes who don't adhere to right-wing politics extends to those from other countries. Abigail Streetman whined in a July 28 post:
The Olympic games will now be adding a category for 'best virtue signaler' after Costa Rican gymnast Luciana Alvarado decided to throw up a fist at the end of performance in support of the Marxist organization Black Lives Matter. The 18 year old athlete defied the International Olympic Committee's guidelines in a selfish attempt to make the games political and divisive instead of a unifying event.

The Olympic games is supposed to be a 'safe space' free from "political, religious or racial propaganda" according to IOC Rule 50. The committee released these new guidelines as a result of the violence and destruction that has been caused by BLM groups and riots around the world.
Maxson returned to root against America again by lodging a similar complaint against an American athlete:
American shot putter Raven Saunders defied the International Olympic Committee Sunday by protesting on a victory podium in Tokyo. She claimed the Silver Medal, then broke the IOC's Rule 50 banning victory stand protests. Saunders crossed her arms in an X symbol to protest oppression.

Radical left media like Deadspin implored the IOC to leave Saunders alone instead of punishing her. As of this morning, the organization that runs the Olympics had not taken any kind of action against her. It was looking into the highest level of protest yet seen in the Tokyo Games. Whether the protest will stand unchallenged, and whether the IOC is just a cowardly organization that doesn't enforce its own rules, remains to be seen.

[...]

So the Olympics have come down an opportunity to speak up for the oppressed. Like the politically powerful LGBT juggernaut doesn't have much of a voice? Come on, get real! And whose platform is it anyway? It belongs to the Olympics, not agenda-driven social justice warriors.
Nicholas Fondacaro served up whataboutism in his rooting against America in a Aug. 2 post:
On Monday, NBC Nightly News showed that they would take any opportunity to smear America on the world stage. As part of their so-called "Inspiring America" series, anchor Lester "fairness is overrated" Holt highlighted U.S. Olympic sprinter Noah Lyles as he suggested America didn't want him as a black man and that the country was trying to kill him. Meanwhile, Holt ignored Belarusian sprinter Kristina Timanovskaya who defected to Poland to escape the oppression of communism and protect her life.
Actually, Fondacaro is the one who's smearing America by trashing an athlete whose political views he doesn't agree with.
Maxson rehashed his (or her) seething hatred for transgender athletes in deciding that the IOC was suddenly clueless after lauding its stances on athlete protests:
Following the Tokyo Summer Games, the International Olympic Committee (IOC) plans to revise "outdated" rules governing transgender athletes. During a roundtable discussion with reporters, the IOC invoked numerous references to science that indicate it has no clue on what sound science even looks like pertaining to gender.

Richard Budgett, the IOC's medical and scientific director, said it's important to remember that "transgender women are women. So you'll include all women, if you possibly can." Surely, he must have skipped biology classes.

[...]

So now, enabling a male's gender confusion and reducing his endurance just so he can compete in female sports is supposed to be honoring and inclusive? In the upside down world of the IOC, our old, outdated determinants of gender need to be set aside. We should no longer look at Hubbard and see Gavin (his birth name) or his brawn. It's the hidden things we cannot see, like testosterone and hemoglobin levels, that make a man a woman.

The IOC also stressed the need for more science. To which we will add its need for objective scientists.
On Aug. 6, Matt Philbin praised a member of the U.S. women's soccer team for not kneeling with the other players "to protest racism, or sexism, or whatever was Thursday's gripe du jour," declaring that she "finished her games (and perhaps her career) standing, with dignity and humility. Bravo." He still found a way to root against America by complaining that "perennially pissed-off Megan Rapinoe" scored two goals in the team's bronze medal-winning performance and lamenting that this showed that "cosmic justice" didn't prevail.
Philbin concluded the MRC's Olympics coverage by once again rooting against America by joining Maxson in cheering the allegedly low ratings, which he baselessly blamed on "the politics": "All the talk in the weeks leading up to the games about whether the IOC would allow political protests and what kind drove away viewers -- just as NBA and NFL fans have been repulsed by the Black Lives Matter grandstanding."
Cheering right-wing Christian athletes
Meanwhile, the MRC made sure to heap praise on the Olympians who weren't liberal or LGBT. Philbin took another bitter shot at Rapinoe while praising the one women's soccer player who didn't take a knee:
Carli Lloyd must have been tired of losing. Or maybe she just suddenly remembered why she was in Tokyo -- something about a soccer competition? At any rate, before the USWNT's bronze medal match with Australia, Lloyd remained standing while the rest of her team took a knee to protest racism, or sexism, or whatever was Thursday's gripe du jour.

And she went on to score two of the four U.S. goals in the victory. (Don't take that to mean cosmic justice prevailed; purple-headed, perennially pissed-off Megan Rapinoe scored the other two.)
Gabriel Hays dedicated a post to the only athletes the MRC deems American enough to be worth cheering for -- right-wing Christians:
Going by the media coverage, it may seem like the 2021 Tokyo Olympics is all about the Megan Rapinoes, trans weightlifters, and non-binary gymnasts. But if you dig a little deeper into the competition's rosters and medal winners, you'll find that there are many humble and gracious Christians who are giving glory to God with their victories.
Hays gushed over how these athletes thanked God for their victories, even though that's as much virtue-signaling as the anti-racist activism his MRC buddies are trashing other athletes for engaging in.
The latest from