Newsmax's Hirsen Gushes Over Kevin Sorbo
Topic: Newsmax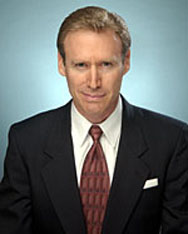 How much did Kevin Sorbo pay James Hirsen to write an excessively gushy Dec. 20 Newsmax column about him? Enough for Hirsen to crank out this press-agent-worthy glurge:
Kevin Sorbo is a multi-talented entertainment pro.

He first rose to international fame in 1995, when he landed the lead role as Hercules in "Hercules: The Legendary Journeys." At the time it ranked as one of television's highest-rated syndicated shows.

Its success yielded the popular 1995 spin-off series called "Xena: Warrior Princess." Lucy Lawless plays the lead in the TV fantasy offshoot. And the pair of hits allowed for some fun crossover appearances of characters between the two shows.

Kevin also plays main character High Guard Captain Dylan Hunt in the 2000 sci-fi TV series "Andromeda," which was penned by the creator of the enduring iconic series "Star Trek," the late, great Gene Roddenberry.

As one of Hollywood's top celebrities, Kevin's more recent projects have focused on using his many mighty gifts in spiritually-oriented ways.

As a major co-star in the 2014 watershed faith-based film "God's Not Dead," he portrays an atheist college professor, who on the first day of class mandates that his students disavow their religious beliefs.

The movie has an astounding profit margin, having grossed more than $62 million on a $2 million budget. It not only succeeded in turning industry heads, but it also ended up launching a whole new film franchise.
Of course, this is all a lead-up to promoting Sorbo's current film project:
His latest project is a new cinematic adaptation of a "Left Behind" work that is part of the bestselling series co-authored by Tim LaHaye and Jerry Jenkins.

[...]

Kevin produces and stars in the upcoming "Left Behind: Rise of the Antichrist," which is currently being filmed in Canada. He and co-star Greg Perrow recently provided some insight as to why they are making the movie, and what people can expect in the re-launch of this beloved saga.
Hirsen concluded by bestowing victimhood on Sorbo for being a right-winger in Hollywood:
Like many other faith-filled people in Hollywood, Kevin has borne his share of scorn.

He noted, "There's a negativity towards Christians in Hollywood, and a negativity towards people who believe in God."

Maybe, just maybe, Kevin, whose efforts in the past helped bring us tales of battling mythical beasts and who is now taking on the biblical ones, will get some folks to crack open the Good Book.

A great place to start at this time of year is Luke chapter 2, verses 1-20. Merry Christmas!
That's not the only gushy promotion Hirsen was handing out over the holiday season. His Dec. 6 column touted "The Chosen," a streaming show that claims to be "the first multi-season series focusing on the life of Jesus Christ," and its success at crowdfunding. And his Jan. 3 column touted the film "American Underdog," a fulm about football playerKurt Warner made by the "modern-day virtuosos of the faith-based genre" that "remained in the top four [movies] over New Year's weekend"; Hirsen concludedthat column with the corny line, "faith is the completed pass into the end zone."
This turn toward the spritual, by the way, came after Hirsen spent the weeks after the 2020 presidential election enthusiastically embracing election fraud conspiracy theories, only to apparently be so shaken by the Jan. 6 Capitol insurrection that he took a more existential tone. Hirsen has largely stayed away from writing about politics ever since -- which makes sense, given that he's supposed to be Newsmax's entertainment writer -- but he also hasn't apologized to his readers for pushing those bogus conspiracy theories.
Posted by Terry K. at 2:06 PM EST