CNS Loves Promoting Rand Paul's Dubious COVID Tantrums
Topic: CNSNews.com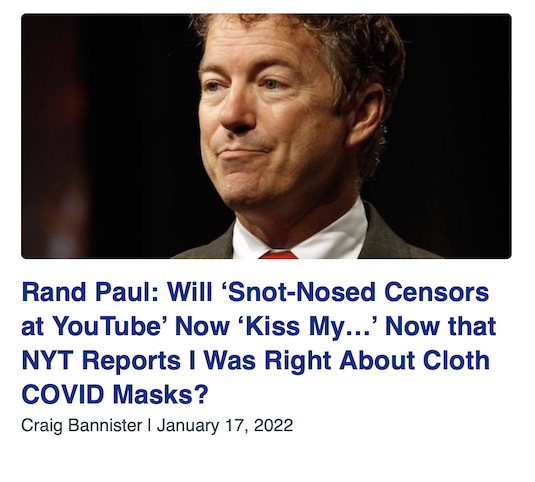 We've documented how CNSNews.com likes to portray Republcian Sen. Rand Paul as having more practical medical experience regarding COVID than he actually does (he's an optometrist, not a virologist). It loves to promote his tantrums and -- like its Media Research Cener parent -- make him out to be a victim when the situation demands. Craig Bannister found such a situation last August (while, again, falsely inflating his medical credentials):
Rand Paul (R-Ky.), a physician and sitting U.S. senator, is slamming YouTube for removing two videos from his YouTube page, then suspending his ability to upload videos for seven days.

The first video removed by YouTube was an interview in which the senator questioned the science regarding face masks and criticized Dr. Anthony Fauci.

"Apparently, because I dared to contradict Dr. Fauci and the government, YouTube has removed my video," Paul said.
Paul had made a blanket claim in the video that cloth masks don't work against COVID -- in fact, they do, albeit not as well as N95 masks, and the work better than no mask at all. Further, the CDC debunked the two studies Paul cited in his video. Bannister never told his readers any of that, of course.
CNS amplified the victimhood by publishing a column by Jarrett Stepman decrying the "censoring" of "physician" Paul, adding, "This is hardly the first time that YouTube aggressively censored content it disagrees with or banned those it doesn't like." Stepman refused to concede that YouTube is a private business that has the right to enforce terms of service on its users.
Bannister returned at the end of August to tout another Paul tantrum:
Sen. Rand Paul (R-Ky.) is inviting journalists who have attacked his stance on the value of natural immunity and opposition to COVID mask mandates and vaccine passports to read the results of a new study.

"To every snot-nosed "journalist" who accosted me in the halls of Congress and spouted Fauci-isms denigrating natural immunity— read the science!" Sen Paul tweeted Monday, citing an article titled "Harvard Epidemiologist Says the Case for COVID Vaccine Passports Was Just Demolished" by the Foundation for Economic Education (FEE).
But hat article featured claims made by Martin Kulldorff, who helped create theGreat Barrington Declaration, an anti-vaxx-adjacent document that recklessly advocated herd immunity prior to the development of COVID vaccines.
Managing editor Michael W. Chapman served another Rand rant in an October 4 article:
During a hearing about COVID and school reopenings, Sen. Rand Paul (R-Ky.), a medical doctor, criticized Health and Human Services Secretary Xavier Becerra for ignoring the science on natural immunity, and for smearing millions of Americans who rely on their natural immunity -- after recovering from COVID -- as "flat-Earthers."

Senator Paul also criticized Becerra, a pro-abortion lawyer, for presuming "to tell over 100 million Americans who have survived COVID that we have no right to determine our own medical care."

"You alone are on high, and you've made these decisions, a lawyer with no scientific background, no medical degree," said Paul. "This is an arrogance coupled with an authoritarianism that is unseemly and un-American. You, sir, are the one ignoring the science."
Chapman, needless to say, didn't mention that Paul's "medical doctor" optometry degree is irrelevant to virology.
Bannister touted Rand ranting again in a Nov. 30 article: "Dr. Anthony Fauci, the Biden Administration's COVID czar, has declared himself the 'all-high priest of science' who, like 'the Great and Powerful Oz' can never be questioned – and that's a very dangerous thing, physician and Senator Rand Paul (R-Ky.) warns." Bannister served up even more anti-science ravings from Paul in a Dec. 10 article:
"Sorry, Tony," physician and Senator Rand Paul (R-Ky.) told Biden Administration COVID czar Dr. Anthony after Fauci advised Americans hosting holiday celebrations to "require that people show evidence they are vaccinated."

[...]

On Thursday, Rep. Paul responded to Fauci's advice by tweeting that he will host a Christmas celebration of "57 strong" and none of them will have to show proof of vaccination.

However, there will be one (and only one) requirement for attendance, Paul explained:

"Sorry Tony, at the Paul household Christmas (57 strong) the only requirement is having read the Constitution."
We're sorry we missed out on getting invited to Paul's superspreader event.
Paul returned to ranting about his "snot-nosed" critics again, and Bannister dedicated a Jan. 17 post to detailing it:
Physician and Senator Rand Paul (R-Ky.) wonders if the "snot-nosed censors at YouTube" will now come to his office and perform an act of apology now that The New York Times and Centers for Disease Control (CDC) have admitted that his comments about cloth COVID masks are not so-called "misinformation."

"Does this mean snot-nosed censors at YouTube will come to my office and kiss my … and admit I was right?" Senator Paul asked on Twitter Saturday, embedding a New York Times story, titled "The C.D.C. concedes that cloth masks do not protect against the virus as effectively as other masks." The article reports that, as Paul has claimed, cloth COVID masks are less effective than other types:

[...]

YouTube actively censors and labels what it and liberal media declare "misinformation" regarding COVID.
But insisting that cloth masks offer no protection whatsoever -- which has been the simplisitc claim Paul has been pushing -- is objectively misinformation, and it doesn't take the "liberal media" to make that determination (and, no, Craig, that's not how fact-checking works). Paul is not right, since everyone pretty much knew that N95 masks offered greater protection than cloth masks do, so he deserves no apology.
Posted by Terry K. at 1:42 AM EST
Updated: Tuesday, February 1, 2022 4:24 PM EST