Malone Joins WND's List Of Favorite COVID Misinformers
Topic: WorldNetDaily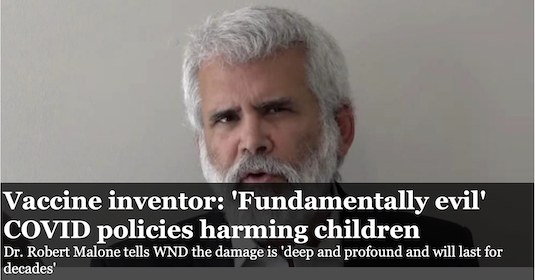 Along with the likes of Peter McCullough, Joel Hirschhorn and anyone from the fringe-right Associaiton of American Physicians and Surgeons, another of WorldNetDaily's favorite COVID misinformers is Robert Malone. He has some legitimate medical credentials as someone who helped develop the mRNA technology behind the Pfizer and Moderna COVID vaccines -- which gets falsely overstated as him inventing the actual vaccines -- but he has squandered that credibility to become a spouter of COVID misinformation, making himself a regular on anti-vaxxer platforms and podcasts.
WND loves that, of course. In June, WND's Art Moore touted Malone "warning that Americans don't have enough information to decide whether or not the benefits of getting the shots outweigh the risks" and that he opposed vaccinating children. Moore's headline falsely called Malone the "Inventor of mRNA vaccine." An August article by Bob Unruh repeated Malone -- whom he claimed "is recognized as knowledgeable" -- trying to muddy the waters over the Pfizer vaccine by making a big deal over the Pfizer vaccine that was "approved by the FDA is not the same as the one that's already been in use." In fact, the two vaccines are biologically and chemically the same thing despite having different legal designations.
A Nov. 8 article by Moore highlighted Malone's appearance at a" COVID summit" in Florida:
Dr. Robert Malone, inventor of the mRNA technology employed by the Pfizer and Moderna vaccines: Inoculating 28 million children 5 to 11 years old could lead to "1,000 or more excess deaths" while the risk from COVID-19 for healthy children is "about zero" and appears to be lower than the seasonal flu.
As we noted, that "summit" was put on by fringe anti-vaxxers , and several of the attendees came down with COVID afterward -- a fact WND has yet to report.
Moore devoted a Nov. 22 article to Malone's rantings, again falsely calling him in the headline the "vaccine inventor":
Americans should pay attention to the severe coronavirus-related restrictions on civil liberties in Australia, Canada and now Austria, said the inventor of the mRNA vaccine technology, warning the virus increasingly is becoming a "platform for advancing other agendas."

"The future of global totalitarianism is here, it's just not evenly distributed," said Dr. Robert Malone, an immunologist and virologist who researched the use of messenger RNA in vaccines at the Salk Institute in the 1980s.

He said in an interview Monday with Steve Bannon's "War Room" that Austria -- the first country to require that every citizen be vaccinated -- is "the most egregious example" of "the deployment of a totalitarian approach to this whole thing."

The European nation and others, Malone said, are using what professor Mattias Desmet of Ghent University in Belgium calls "mass formation psychosis."

"Basically, it's the madness of crowds," Malone said. "And a lot of these governments have been overtaken by this form of psychosis or hypnosis.
"They believe that these vaccines are effective. They clearly are not."
In fact, mass formation psychosis is not actually a thing.
Moore did an fawning interview with Malone for a Dec. 2 article (whcih again falsely called him the "vaccine inventor" in the headline):
In a wide-ranging video interview with WND, the vaccine researcher who invented the messenger RNA technology behind the Pfizer and Moderna shots explained why he opposes universal vaccination for the COVID-19 virus and why he's been willing to risk the reputation he's cultivated over three decades and weather the scorn of the government and health-care establishment.

Dr. Robert Malone cited the evidence for his concerns about the vaccines, the mandates and policies he believes are causing serious harm, particularly to children, but he also offered insight on his personal journey during the pandemic that has rocked the world.

Unknown to most critics and allies alike, he said in the 80-minute interview, is that he's not "right wing."

"My wife and I are Central Coast Californians by birth and youth, and we actually come from slightly center-left on the political spectrum," he told WND.

[...]

Malone said the reason he is speaking out, in spite of the considerable personal risks, is simple.

"It's because I'm bloody well pissed off. It's not right, it's not fair, it's hurting people, it is breaking the rules, left and right, people are lying continuously, they're manipulating data," he said.

"It's shocking."

He believes the consequences will be fundamental, with a "damaged" hospital and medical-care delivery system and a loss of faith in the government.

The insertion of the government in the affairs of the family, with the lockdowns, school shutdowns, and the vaccine and mask mandates, is causing damage that is "deep and profound and will last for decades," he said.

"Evil can sometimes be intentional, and sometimes it's unintentional, but right now what we're seeing happening with our children is fundamentally evil," he said.
Moore made no apparent effort to challenge anything Malone has said about the vaccines, which is probably why he agreed to the interview with Moore; instead, he unironically complained that "Some of Malone's critics have insisted he's either lying about or embellishing his role in the development of mRNA vaccine technology" -- says the guy who put "vaccine inventor" in the headline -- and gave him space to repeat his claimed role in developing mRNA technology and huffed that "inventorship" is established by the U.S. Patent and Trademark Office, and not by "fact-checkers that haven't graduated from college yet" or journalists.
In a Dec. 6 article also taken from the interview, Moore touted Malone's highly questionable assertion that "more than 500,000 American lives could have been saved if Dr. Anthony Fauci and the government health establishment did not undermine effective COVID-19 early treatments such as ivermectin and hydroxychloroquine." Moore went on to tout "a peer-reviewed study published in February by the American Journal of Therapeutics that found that ivermectin reduces coronavirus infections, hospitalizations and deaths by about 75%." But Moore got the date wrong; as we documented when Moore previously hyped this study, it had originally been set for publication in the journal Frontiers of Pharmacology, but was ultimately reject because the authors promoted their own ivermectintreatment instead of doing genuinely objective research. The study was ultimatley published in the American Journal of Therapeutics a few months later in May.
In a Dec. 13 article, Moore cheered how Malone "has issued a video statement explaining why more than 15,000 physicians and medical scientists around the world have signed a declaration that healthy children should not be vaccinated for COVID-19." in which Malone says fearmongering things like "Ask yourself if you want your own child to be part of the most radical medical experiment in human history." Strangely, Moore did not link to the declaration, which is essentially a form anyone can fill out, and there's no apparent mechanism for vetting the signatures to ensure those who signed it are actual "physicians and medical scientists," let alone proof that 15,000 of them signed it.
Malone did another interview with Moore for a Dec. 20 article that started out speculating about the impact of the Omicron variant, then went conspiratorial:
Malone also commented on the new release of emails showing that outgoing National Institutes of Health Director Francis Collins asked White House coronavirus adviser Dr. Anthony Fauci to carry out a "quick and devastating published takedown" of the Great Barrington Declaration in the fall of 2020.

Collins told Fauci the declaration came from three "fringe" epidemiologists, meaning Dr. Martin Kulldorf of Harvard, Dr. Jay Bhattacharya of Stanford and Dr. Sunetra Gupta of Oxford.

Malone told WND the email showed the "hubris" of Collins, who doesn't have the training and experience in epidemiology that the three scholars possess.

"We have now clear, clear evidence of collusion by senior government officials to suppress scientific discussion and debate about one of the most crucial issues that we've addressed over the last two years, which is whether or not lockdowns make sense," Malone said. "And the data are overwhelming. They don't."
In fact, the Great Barrington Declaration is an anti-vaxx-adjacent document that pushed dangerous "herd immunity" before COVID vaccines were developed and was so poorly vetted that the declaration includes fake names.
And, yes, Moore yet again falsely calls Malone the "vaccine inventor" in the headline. That demonstrates the low level of journalistic accuracy at WND -- and, again, is the likely reason why Malone has agreed to do interviews with Moore.
Posted by Terry K. at 3:24 PM EST