CNS' 'Balance' On Harry Reid's Death Includes 20-Year-Old Attack
Topic: CNSNews.com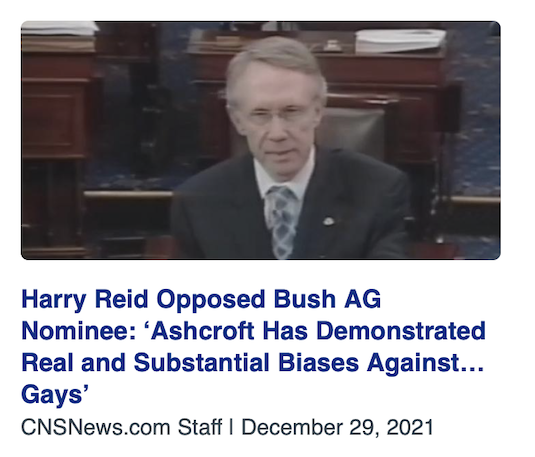 When longtime Democratic Sen. Harry Reid died, in late Decmeber, CNSNews.com did the right thing with an anonymously written Dec. 29 article quoting Nancy Pelosi praising Reid as "a titan of public service," adding perhaps unhappily that she also called him "a leader with strong family values."
Because no praise for a Democrat, living or dead, is apparently allowed to stand alone at CNS, this was followed a few hours later with another anonymously written article, this time bashing Reid for something he did 20 years ago:
Sen. Harry Reid (D.-Nev.), who passed away this week, opposed President George W. Bush's nomination of former Sen. John Ashcroft (R.-Mo.) to be attorney general of the United States citing, among other things, what he called Ashcroft's "substantial biases against…gays and lesbians" and calling Ashcroft "a man who prevents women from options to which they should be entitled"—an apparent reference to abortion.

Despite Reid's opposition, Ashcroft was confirmed as attorney general on 58-42 vote conducted on Feb. 1, 2001.

"I have weighed the facts revealed before the Judiciary Committee to the best of my ability," Reid said in a Senate floor speech on Jan. 31, 2001.

"The evidence has convinced me that Mr. Ashcroft has demonstrated real and substantial biases against women, people of color, gays and lesbians, and anyone else who does not meet his personal definition of what constitutes an American," said Reid.

"Not only has he shown that pervasive bias, he has repeatedly acted upon it as attorney general and governor of Missouri and as a member of this body," Reid said.

"I cannot confirm a man who allows his bias against another's most personal lifestyle choices to effect his decision on whether that individual is fit to enter public service," said Reid.

"I cannot confirm a man who prevents women from options to which they should be entitled," he said.

"I cannot confirm as attorney general anyone who will not confer upon that office the impartiality it demands and, most importantly, deserves," said Reid.
The anonyous writer didn't prove anything that Reid said wrong or even tried to justify Ashcroft's actions; instead, the article is filled out with a copy-and-paste of the entire speech.
We're not sure what the point of this article is. It's clearly meant to be a parting right-wing shot at a dead Democrat by folks who clearly despise LGBT people, but it ultimately comes off as evidence of Reid's integrity that he was willing to try and block the nomination of Ashcroft based on his anti-LGBT track record.
In that way, CNS' sniping backfired. That's what happens when making partisan political points becomes more important than reporting the news.
UPDATE: That same day, CNS also reposted a 2016 article by Susan Jones about how Reid said that he's "one of the kings of earmarks." Keep it classy, CNS!
Posted by Terry K. at 5:15 PM EST
Updated: Wednesday, February 2, 2022 11:38 PM EST