MRC Lashes Out At FCC Nominee
Topic: Media Research Center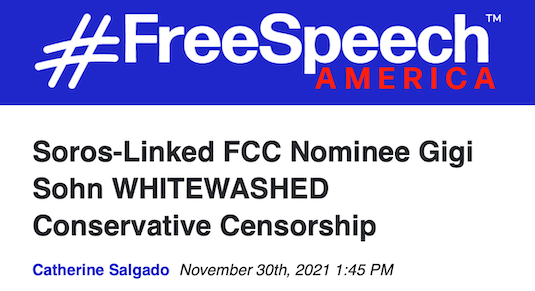 The Media Research Center reflexively attaacks anything remotely involved with President Biden, proving that's all abouty right-wing activism and not at all about "media research." So when Gigi Sohn was nominated to the Federal Communications Commission board, the MRC was quick to lash out. Autumn Johnson spend a Nov. 9 post trying to invent a conspiracy theory that Sohn will destroy right-wing media because she has been critical of them:
The Sohn account has repeatedly been vocal about her dislike of right-of-center media outlets, especially Fox News. "[D]o you still want me to believe that social media is more dangerous to our democracy than Fox News?" the unverified Twitter account of Sohn tweeted in 2020 in response to a tweet that stated Fox News would not call Biden "President-Elect" immediately after the election.

The Sohn account once called Fox News "state-sponsored propaganda." "For all my concerns about #Facebook, I believe that Fox News has had the most negative impact on our democracy," the Sohn account tweeted earlier in 2020. "It's state-sponsored propaganda, with few if any opposing viewpoints. Where's the hearing about that?"

When discussing the political biases of Sinclair Broadcasting, the Sohn account suggested that the company lose its FCC license, stating "Will @FCC do anything when Sinclair's licenses are up for renewal?" the Sohn account added.
Sinclair Broadcasting does not have a corporate FCC license; its individual stations do, and its bias is very much an issue.
Joseph Vazquez trotted out his overly familiar Soros bogeyman in a Nov. 15 post:
Tech on the Rocks Podcast host Gigi Sohn, who has a documented history of left-wing bias against conservative media, is co-founder and former President of the leftist group Public Knowledge, which "has long sought more government control of the internet and media," according to The Wall Street Journal. Influence Watch reported that Public Knowledge is a "staunch supporter of expanded regulations on internet businesses and technology companies, backing so-called 'net neutrality' regulations against internet service providers." Soros's Open Society Foundations funded Public Knowledge with at least $1,148,984 just between 2016-2020 alone.

Even more telling: Sohn was named a 2017 "Leadership in Government" fellow for OSF. Sohn celebrated via her old verified Twitter ccount: "On Jan 16, I start a Leadership in Government Fellowship @OpenSocietyFoundations. I'll be speaking, writing, etc. Follow me at @gigibsohn."

The fact that a pro-censorship Biden FCC nominee is connected to Soros should concern every American who cares about freedom.
In a Nov. 30 post, Catherine Salgado was mad that "Soros-linked" Sohn refused to buy into the right-wing social media "censorship" narrative:
Sohn has openly mocked the idea that there is biased censorship of conservatives online. "For years, @Twitter & @Facebook tried to appease @realDonaldTrump & other right-wing extremists on phony claims of conservative bias. It didn't work," Sohn tweeted from her unverified account in May 2020. She also slammed Rep. Jim Jordan (R-OH) for highlighting online bias. "No shock - @Jim_Jordan rants and raves about so-called anti-conservative bias on online platforms, which we all know is a bunch of BS," Sohn tweeted n July 2020.

Media Research Center President Brent Bozell tweeted, "Biden's pick for the FCC is an enemy of free speech. Gigi Sohn is another far-left Biden nominee like Comrade Omarova. Her views are a threat to free speech online and on TV. Senators should oppose Sohn's ridiculous nomination."
Salgado didn't seem to notice that the fact her boss used social media to trash Sohn sorta blows a hole in the MRC's "censorship" narrative.
Salgado joined in Johnson's conspiracy-mongering that "Sohn has also indicated that she will censor non-leftist voices, particularly through her repeated attacks on Fox News" and "impl[ied] she would expand government power over the internet."
Posted by Terry K. at 4:17 PM EST