MRC Defends Fox News Against Chris Wallace's Departure
Topic: Media Research Center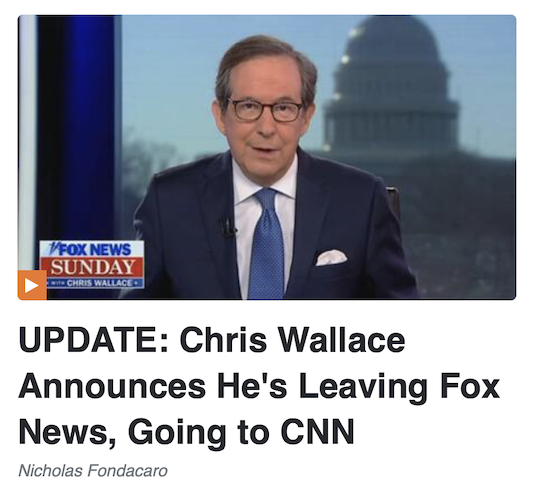 The Media Research Center loved to attack Chris Wallace for not being enough of a right-wing shill like the rest of his Fox News co-workers, so it wasn't exactly broken-hearted when Wallace announced last month he was leaving Fox News to join CNN's new streaming operation. Nicholas Fondacaro alluded to that in his Dec. 12 post on Wallace's departure: "Wallace's recent years with the network were a bit of a mixed bag. In October of 2020, Wallace complained on Fox News Channel about former President Trump's conduct during the debate he moderated, equating it to Trump stomping on his cake."
The MRC will brook the possibility that Wallace left Fox News because of the channel's increasing far-right extremism -- its belief is that Fox News is always right and any critic of it is always wrong -- so the MRC's narrative moved away from criticizing Wallace to defending Fox News. On Dec. 14, Clay Waters whined that a New York Times article on Wallace's departure was "as a springboard to attack Fox News. Waters first played whataboutism -- "The paper wasn't nearly so concerned about liberal black filmmaker Spike Lee spreading conspiracy theories, claiming 9-11 was an inside job in a documentary for HBO and joining the 'fire doesn't melt steel' brigade -- then cheered that the Times "had to admit that Fox's (honest) turn to opinionizing is filling a desire among the viewing public."
Tim Graham devoted his Dec. 13 podcast to Wallace's departure, first mocking him for leaving Fox News for CNN as being like leaving a Super Bowl champion for a minor-league version of the Detroit Tigers, then complained that every departure from Fox News is described as a "major loss." He then lashed out at journalist Julia Ioffe for noting on CNN that the Fox News "crazy sauce" is becoming more concentrated:
Excuse me? Julia, speaking of crazy sauce, this chick, this infobabe. she went on CNN, wshe ent on Jake Tapper's show and she proclaimed that Donald Trump -- this is the quote -- radicalized more people than ISIS. ... Who's boiling down the crazy sauce? Get off the burner!
We recall when the MRC denounced derogatory descriptions of women like "gal," "chick" and "infobabe." And Graham unmistakably sounded quite radicalized in his rant against Ioffe.
This was followed by a rant against anyone who's not right-wing describing right-wingers as extreme:
Left-wing media outlets oughta just -- if we want to talk about pretending, stop pretending that somehow you get to judge what's extreme. These people all run around and call themselves mainstream media. Guess what? You're losing. The mainsrream is not moving your direction.Biden is falling apart, the Democrats' numbers are bad. Who's mainstream? It doesn't seem to be you.
By that same measure, the MRC has no right to put a label on the purported ideology of anyone to his left -- it's faulty, given Graham's bizarre description of the "mainstream media" as "left-wing." The fact that Graham adamantly refuses to admit that Fox News is right-wing is even more reason not to trust his judgment on anything.
Posted by Terry K. at 9:13 PM EST