The MRC's War on Jen Psaki (And Man-Crush On Peter Doocy), Part 4
In May, Media Research Center writer Curtis Houck demonstrated beyond a doubt that he sees Jen Paski's White House briefings only as a source of entertainment and a way to degrade Psaki (and, yes, slobber over Fox News' Doocy).
By Terry Krepel
Posted 8/26/2021
---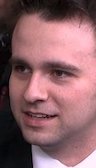 Curtis Houck
The Media Research Center's Curtis Houck clearly thinks that Jen Psaki's White House press briefings are nothing more than an show for his amusement -- an opinion we're pretty sure he never offered about the press briefings of his old crush, Kayleigh McEnany. He's also amply demonstrated that the press briefings also serve as a platform to indulge his hatred of Psaki and man-crush on Fox News reporter Peter Doocy.

Thus, we're treated to things like a May 4 post headlined "The Psaki Show Is Back":
The White House press briefing returned on Tuesday following a week-long hiatus and, with plenty to talk about, Fox News's Kristin Fisher burst out of the gate and asked Press Secretary Jen Psaki whether teachers unions hold sway over CDC recommendations for school reopenings as well as what the White House thinks Americans should be allowed to do once vaccinated.

[...]

Though there hadn't been an episode of the Psaki show in a week, it was the same old, same old with Psaki providing next to nothing [.]
If there's nothing of interest but the "same old, same old," why does Houck continue writing these posts? Because they're not about the actual content -- his goal is to trash Psaki at every opportunity and gush over the hostile questioning of right-wing Fox News reporters like Fisher and Doocy.
Perhaps Houck took his own advice, for he didn't cover briefings for the next few days. His next post was on May 10, which began with a shot at Fisher suggesting that she's a traitor to the right-wing ideological cause by leaving Fox News for CNN -- which Houck hates with a psychotic passion -- but his man-crush Doocy was on the job in her stead to push right-wing talking points:
With Kristin Fisher having left to join the evil empire, Fox News White House correspondent Peter Doocy soldiered on during Monday's briefing and found success in repeatedly questioning Press Secretary Jen Psaki over the fallout from Friday's jobs report and whether increased unemployment benefits are keeping people from wanting to rejoin the labor force.

Doocy pointed to the fact that "employment only rose about 266,000 jobs in April out 7.4 million or so jobs openings" before asking whether the Biden administration knows "that people are just choosing not to apply for jobs because the extra unemployment benefits are so good."

Psaki insisted Treasury Secretary Janet Yellen and the rest of Team Biden had "looked at the data" and they insist things were going swimmingly with unemployment having nothing to do with the increased welfare state.

Instead, she blamed a lack of affordable childcare, "the need" for more employers to pay workers "a livable, working wage," the number of vaccinations when the jobs numbers were put together, and yes, schools still being closed.

That would be stem from the preferences of the teachers unions, so if only that was a group the White House could have influence over and not the other way around.

Doocy came prepared for this kind of answer, so he shot back: "But Bank of America economists, who are cited in a Bloomberg story say, anybody making less than $32,000 a year is better off financially just taking unemployment so is the White House creating an incentive just to stay home?"

Psaki hit back that it's not the belief of "the majority of economists, internally and externally of the White House" and instead defending the increased payouts due to the "very difficult economic downturn."
Psaki's actually right, but the MRC is not paying Houck to admit that she's ever right about anything. His job is to push right-wing narratives regardless of their accuracy, bash Psaki and lionize Doocy. And he served up a heaping dose of the latter in a May 11 post hyperbolically headlined "Doocy Destroys Psaki Over COVID, Gas Shortages":
Tuesday brought us a packed White House press briefing amid an East Coast gas shortage, fears of inflation, and ongoing crises on the border and with the coronavirus. So, it was only natural that Fox News's Peter Doocy brought the heat with questions about the Biden administration denying there was a border crisis, energy regulations, and peddling fear about outdoor transmission.

[...]

Doocy took his shot on immigration with DHS Secretary Alejandro Mayorkas leading off the briefing (alongside Granholm to talk about the pipeline), citing Fox News reporting along the border that "show[ed] humongous groups of dozens or hundreds of migrants walking right into the country" to wonder how that squared with his insistence that "the border is closed."

Mayorkas didn't flinch and insisted he "meant...precisely that" when he said "the border is closed."

[...]

Doocy pivoted to the pandemic and concern the Biden CDC's guidance has made it "harder...to convince people to get vaccines and to wear masks when they created this impression that up to 10 percent COVID transmission occurs outdoors, even though there's this New York Times report now where they say there's not a single documented COVID — COVID infection anywhere in the world from casual outdoor interactions."

Psaki again tried to wiggle out of it, so Doocy was more direct in his follow-up in floating the notion that the Biden administration hasn't been following the "science"[.]
Houck was at it again the next day:
Fox News White House correspondent Peter Doocy went into the weekend on a bang, hammering the Biden administration during Friday's briefing about the sudden change no longer requiring vaccinated people to mask or socially distance indoors and outdoors. Specifically, he wondered what the "big breakthrough" was since President Biden had said in March that such a change was "Neanderthal thinking."

Doocy first told Press Secretary Jen Psaki there's been "a lot of questions about the timing of the CDC's announcement yesterday," so he first wanted to know whether anyone on Team Biden had the update done out of "political reasons."

[...]

Doocy then read back the CDC's own statistics showing "only 45.6 percent of U.S. adults have been fully vaccinated as of yesterday" with "[o]nly 58.9 percent of the adult population had — has at least one dose" and asked what happened to the administration's push to have all American adults vaccinated first.

To underline this, Doocy cited Biden's own words that many in the media were happy to trumpet: "[S]o what happened to President Biden saying in March that he thought lifting mask mandates before every adult American goes and gets a shot is Neanderthal thinking?"

This went on for a few minutes with Psaki going on and on about the Biden executive branch leading with scientists as their "North Star" (and not Biden, as some have claimed) and letting them make decisions.
It seems that Doocy, not Psaki, was the one "going on and on" in pushing his right-wing talking points, but Houck will never concede that fact.
Houck had to wait a few more days more for his next Doocy-fluffing session on May 20:
Thursday featured the first White House press briefing in nearly a week (due to President Joe Biden's travel schedule), and so Fox's Peter Doocy made the most of it by grilling Press Secretary Jen Psaki over the origins of the coronavirus, the Biden administration allowing Russia's Nord Stream 2 pipeline to go through, and Middle East violence.

The FNC reporter wasn't alone in asking the tough questions as CNN's Kaitlan Collins joined in on Nord Stream 2, RCP's Philip Wegmann asking about s-corporations, and the Daily Caller's Shelby Talcott citing anti-Israel rhetoric from some of Biden's fellow Democrats.

Doocy led off with COVID by wondering whether the administration has a response to claims from House Republicans that they have "significant circumstantial evidence" that the virus came from a lab. He also wondered if the White House would support increased pressure on the Chinese to allow for further investigations.

[...]

Doocy then switched to the Russian pipeline to Germany, telling her "there's a lot of talk about Nord Stream and Keystone, and I'm just trying to help our — help people understand" how allowing the former wouldn't "undermine U.S. climate leadership" like Biden did when he killed the former on environmental grounds.

Psaki hilariously claimed "we're hardly letting any country or other countries build Nord Stream 2" and they had no option other than to "convey that we believe it's a bad — a bad idea, a bad plan" because "[w]hen the President took office, 95 percent of this pipeline was built."

Reacting to Psaki's answer that amounted to little more than a shrug emoji, Doocy continued to press and focused on the lack of sanctions[.]
Houck might as well be writing Fox News press releases, for all the man-crushing he's doing on Doocy.
For the May 21 press briefing, Houck bragged in the headline that Doocy and other reporter had been "eating their Wheaties":
Friday's White House press briefing was quite a doozy as numerous reporters offered either challenging, interesting, or yes, lefty questions to Press Secretary Jen Psaki on boycotting next year's Beijing Winter Olympics, Egypt's role in the Hamas-Israeli ceasefire, and government spying on reporters.

As usual, Fox News's Peter Doocy played a leading role with two rounds of Q&A. Round one started on what Doocy had tried to make into a light-hearted moment as he noticed Psaki use the phrase "the art of seeking common ground" to describe infrastructure negotiations, so he quipped: "At some point, does that become the art of the deal?"

Initially, Psaki didn't seem to completely catch his drift: "I don't know. I think you're the professional here, Peter."

Doocy noted he was making "a joke," so Psaki channeled Fox-obsessed CNN host Brianna Keilar: "You're the TV star, you know? What's the Fox chyron gonna be?"

Thankfully, Doocy played along, noting that "[a]rt of seeking common ground does take up a lot of characters," so he'll "have to check with the control room" and only then did Psaki joke about how "art of the deal" sounded great as long as it was one "for the working people."
We don't recall Houck cheering that reporters ate their Wheaties when they questioned his beloved Kayleigh McEnany.
Houck was man-crushing on Doocy again over the May 24 briefing:
While Monday saw a change in the White House Briefing Room with an increase in capacity from about a dozen reporters to two dozen reporters, other aspects remained the same with Fox News's Peter Doocy setting the tone in battling Press Secretary Jen Psaki over a bombshell Wall Street Journal story about a possible origin of the coronavirus.

And as we've seen on occasion, Doocy's lines of questioning drew follow-ups from his more-liberal colleagues.

[...]

Doocy closed by asking Psaki whether the White House would assign "any amount of casualties from COVID in this country" as a red line for when they would decide to go it alone.

Clearly not amused, Psaki lectured Doocy that "the family members of the loved ones whose lives have been lost — and deserve accurate information, data, not the jumping to a conclusion, without having the information necessary to conclude the origins" and the administration shared that belief.
Like a good right-wing activist, Houck became obsessed with the issue of the source of the coronavirus in China, using the headline of his May 25 review to irrationally scream, "Answer The Question!":
With little in the way of an answer on Monday about whether the Biden administration was taking the possibility of a lab leak at the Wuhan Institute of Virology seriously, Fox News's Peter Doocy was back on the case during Tuesday's White House briefing asking Press Secretary Jen Psaki about Wuhan. Just as he did on Monday, he received help coming in the form of Team Biden suck-up Annie Linskey of The Washington Post.

And on another topic, Doocy also made a second attempt at seeking comment on the rising crime across major U.S. cities.

[...]

Seeing as how he wasn't going to get anywhere, Doocy moved to crime and cited a rise in homicides over the last year of "113 percent in Minneapolis, up 38 percent in Philly, up 22 percent in Chicago" as a way to have Psaki restate what she had appeared to have done on Monday in blaming it on the volume of guns.

Psaki seemed to imply she wasn't sure Doocy's numbers were accurate and when she tried to pass the buck to the Trump administration, the FNC reporter interjected.
Did Houck ever demand so forcefully that McEnany answer a reporter's question? Not that we can recall. And did Houck ever give a non-right-wing reporter the pass he gave Doocy on whether his information was accurate? Again, not that we can recall.

Houck even whined when someone other than Psaki gave the briefing. Apparently angry he didn't have Psaki to kick around for a day, Houck sneeringly dismissing deputy press secretary Karine Jean-Pierre as both a diversity hire who may not be qualified to hold the job and -- even worse by MRC standards -- a former MSNBC contributor:
The Psaki Show took a break on Wednesday from the White House Briefing Room and instead gave way to a guest episode led by her top lieutenant in Principal White House Deputy Press Secretary and former MSNBC contributor Karine Jean-Pierre. Naturally, this led more than a few liberal journalists and pundits to wax poetic about her becoming the second Black woman to lead a briefing and the first lesbian to do so.

In other words, it was quite the day for the liberal media and their never-ending guest to play diversity bingo.

The briefing itself was fairly routine, but ABC senior White House correspondent Mary Bruce gleefully asked "a personal question" about how Jean-Pierre's "presence here today is making history," so she wanted to know"if you could share your reflections with us."
Way to show that you care about the plight of minorities, Curt.
The latest from