WND Embraces Sleazy Smear of Harris
Topic: WorldNetDaily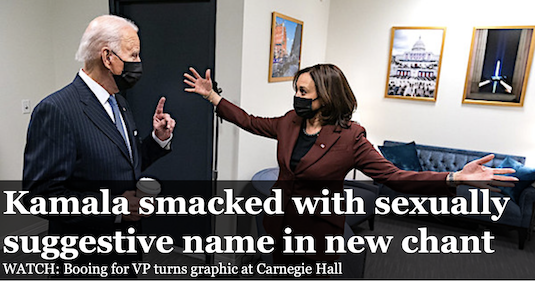 Bob Unruh gleefully wrote in a Nov. 2 WorldNetDaily article:
Americans in large numbers recognize – and even approve of – the recently appearing chant criticizing Joe Biden that goes "Let's go Brandon."

It's a euphemism for the very graphic "F--- Joe Biden" that first appeared, and it came about more or less because a reporter at a NASCAR event, hearing the original chant while interviewing a driver named Brandon, noted on-air that the crowd was encouraging the driver with "Let's go Brandon."

Now those critics are including Vice President Kamala Harris in their verbal barrage, and it's not at all genteel.

In fact, it could be viewed as downright insulting.

[...]

Reports explained the chant appeared as protesters gathered at New York's Carnegie Hall where Harris was attending a show.

The crowd's reaction started out with booing, then deteriorated into the "Kamala is a wh---!" slogan.

Another video was posted of the same protesters citing Biden, only this time they weren't using the PG-rated version, they were using the original, so that video cannot be posted here.

A commentary at a pro-Trump blog pointed out, "If people are this angry against Biden and Kamala in NYC, imagine the red wave rising across the rest of the nation."

And without making any insinuations, USA Today reported back when Harris was launching her own bid for the presidential nomination that while she was his "girlfriend," Harris was appointed to several state positions by then-California Assembly Speaker and former San Francisco Mayor Willie Brown.
Needless to say, Unruh is very much making insinuations, and he and the rest of WND heartly endorse this sleaze. WND has been pushing this smear for some time, through columnist Mychal Massie. And if Unruh had been concerned more about reporting facts that offering wink-wink-nudge-nudge "insinuations," he could have reported that the claim that Harris launched her career by sleeping with Brown is not true.
But such is the abysmal quality of journalism at WND that we do not expect Unruh to behave like a real reporter, because his actual job is to push right-wing narratives (and insults).
Posted by Terry K. at 5:28 PM EST
Updated: Tuesday, December 28, 2021 5:31 PM EST