The MRC's War on Jen Psaki (And Man-Crush On Peter Doocy): October 2021
The Media Research Center's Curtis Houck pulls back a bit on his obsessive, predictable Doocy-fluffing and Psaki-bashing.
By Terry Krepel
Posted 12/22/2021
---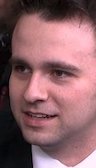 Curtis Houck
Spewing hate pays off when you're a Media Research Center employee. Curtis Houck got promoted to a day shift in the wake of the retirement of longtime MRC employee Rich Noyes. Between that and taking vacation the first week of October, his hateful tirades against White House press secretary Jen Psaki -- and his man-crushing over Fox News reporter Peter Doocy -- were largely MIA in the first couple weeks in October. So it was up to Tim Graham to fill in on the man-crushing front in writing up the Oct. 4 briefing:
In Monday's White House briefing, Fox reporter Peter Doocy prompted White House press secretary Jen Psaki to restate that the massive "progressive" spending package being debated costs "zero."

Doocy asked this: "You said the president's gonna have a virtual meeting with House Progressives to talk about how this 'Build Back Better' package is now gonna be smaller than $3.5 trillion. You had been saying that it cost zero, so are you now admitting that the plan does not cost zero or is it less than zero?"

"Let's not dumb this down for the American public here," Psaki replied.

[...]

It's too easy to mock this argument that if it's paid for, it costs zero. If I go get a haircut and pay for it, it costs....zero? It didn't cost me a dollar?

"Just to not dumb it down then," Doocy continued, "does the plan cost nothing, or is the plan free?"
Graham then found someone else to man-crush over: "Minutes later on Fox News Channel, former Bush strategist Karl Rove pulled out his whiteboard to mock Psaki and her defense of the Biden plan."
But Houck was back to Psaki-bash and Doocy-crush for the Oct. 8 briefing:
The Psaki Show went into the weekend on Friday with a bang as Fox's Peter Doocy and a cadre of liberal White House reporters blasted away at Press Secretary Jen Psaki with questions over the disappointing September jobs report and continued concerns over gas prices, inflation, job openings, and even shipping lanes affecting the supply chain.

Of course, there were still a few eye rollers with questions about the U.S. axing Columbus Day and even a surprise with none other than Brian Karem interjecting to question President Biden's health.

But first, Doocy time.
Of course. And Houck continued to fluff Doocy some more:
The Fox reporter's final exchange was most interesting as he honed in on Biden having claimed on Thursday that he, in Doocy's retelling, "cold-called a Pennsylvania hospital to ask the desk-receiving nurse why it was taking so long for a good friend's wife to be seen."

Psaki insisted there was nothing untoward since Biden told the story to highlight the pressure medical workers are feeling with Covid cases and especially among the unvaccinated.

Doocy kept pushing: "But setting aside the privacy of the individual, how often does President Biden call around trying to help his friends cut the line?"

Psaki counted with "that was certainly not his intention" and rather him being concerned about "a friend."

Her condescending side came out as Doocy closed by wanting to know whether staffing issues at the hospital stemmed from a vaccine mandate: "I would love for you to account for me where that is the issue over — more so than number of unvaccinated who are filling emergency rooms, filling ICU beds. That is the problem in hospitals across the country."
Of course Houck thinks Psaki is being "condescending" to Doocy -- he's incapable of admitting that Psaki might be right and Doocy's being the jerk. Meanwhile, a more honest, less sycophantic reporter noted that the White House had just released a report "showing the effectiveness of vaccine requirements, which also showed very few people refusing to comply."
Doocy wasn't in the house for the Oct. 12 briefing, but Houck found some other right-wing reporters to suck up to:
Tuesday saw a return of The Psaki Show and, without Fox's Peter Doocy and questions from Real Clear Politics's Philip Wegmann, someone had to bring the heat to Press Secretary Jen Psaki and that came thanks to the New York Post's Steven Nelson, who brought questions about the ever-corrupt Hunter Biden and allegations that President Biden owes back taxes.

Nelson began by bringing up one of the Post's latest pieces of excellent reporting which"said on Friday that the First Son had sold five prints of his artworks for $75,000 each and that a team of lawyers is reviewing the prospective buyers who are going to be allowed into an upcoming New York show."
Houck is fluffing other reporters while his man-crush is away! What would happen if Doocy found out about this?
Houck went on to gush that Nelson asked "an extremely long question about the President and back taxes," but buried Psaki's response that the story is "debunked" and that Biden has released "many years of his tax returns so people can check them out" in a collapsed transcript excerpt that fewer people will read. That's how Houck does it when he knows Psaki is right but is afraid to admit it.
He picked a different reporter to fawn over for pushing partisan talking points during the Oct. 14 briefing:
With Thursday's White House press briefing continuing to focus on the supply chain crisis amid rapid gains in inflation triggering price increases on basic necessities affecting all Americans, Fox's Jacqui Heinrich blasted Press Secretary Jen Psaki over Chief of Staff Ron Klain's "tone deaf" tweets from Wednesday agreeing with a statement that such problems are "high class issues."

Heinrich began the first of two Klain questions by noting that Klain tweeted over "a message yesterday, not once but twice, that inflation and supply chain issues are 'high class issues'" despite the fact that "some of the sharpest price increases...included products that every American buys: beef products, chicken, eggs, regular, unleaded gasoline, laundry equipment, furniture, clothing, the list goes on."

"Why would Ron Klain tweet that and would you agree that's a little bit tone deaf," Heinrich added.

Psaki made clear that she was going to go the condescending route: "Do you think two tweets means more? Just curious. So, just for context, what — what Ron Klain retweeted was a tweet from the former Chairman of Economic Advisers, Jason Furman[.]"

She continued to defend Klain by informing Heinrich she instead needed to report the "full context which, I think, is important" in that things would be "much worse" "if the unemployment rate was still 10 percent"

After Psaki argued things were more expensive because the economy was such in great shape, Heinrich hit back and wondered if there were any plans for Klain to cut back on his Twitter use[.]
Houck and his MRC used to hate it when White House reporters obsessed over tweets during Trump's presidency. Wonder what changed...
Houck was a Doocy-gasm mood for his summary of the Oct. 18 White House press briefing with a round of mask gotcha:
On Monday's Psaki Show, Fox News's Peter Doocy returned to the Briefing Room (after colleague Jacqui Heinrich took a turn last week) and, as usual, he didn't make it easy on Press Secretary Jen Psaki as they went toe-to-toe over President Joe Biden and First Lady Jill Biden walking maskless in a Washington D.C. restaurant despite a citywide mandate and the President's hypocrisy in calling for prosecution of those who defy January 6-related subpoenas.

As always, Doocy immediately cut to the chase with a short but biting question "There is mask requirement inside D.C. restaurants, yet President Biden and the First Lady were not wearing masks while walking around a D.C. restaurant on Saturday. Why?"

Psaki brushed it off as images from when they were "walking out of a restaurant after they had eaten, masks in hand where they had not yet put them back on yet, so I would say, of course, there are moments when we all don't put mask back on as quickly as we should."

She added that people shouldn't "lose the forest through the trees here" when the real focus should be on both vaccinating people and instituting mass vaccine mandates.

Given the level of mask hypocrisy over the past year and a half, Doocy wasn't having it:
Doocy (and Houck) would never have treated his sainted Kayleigh McEnany the same way or played a similar gotcha game with Donald Trump, and Houck would never concede that a hated "liberal media" reporter "wasn't having it" regarding anything McEnany ever said. But Houck devoted his entire post to fawning over Doocy, going on to gush over his badgering Psaki about the idea of prosecuting Trump administration officials and various hangers-on who are defying subpoenas from the congressional committee investigating the Jan. 6 Capitol riot.
On Oct. 19, Houck cheered that Doocy was pushing more right-wing talking points:
On Tuesday, it was a spicy day inside the White House Briefing Room as Fox's Peter Doocy brought the heat against Press Secretary Jen Psaki on coronavirus vaccine mandates, flights for illegal immigrants, and the Treasury Department monitoring our bank accounts. And as we've seen plenty of times, Doocy received help as other reporters tackling Biden's influence on the Justice Department, his Build Back Better plan, and the supply chain crisis.

Doocy started with new reporting from the New York Post that government flights of illegal immigrants were landing in places like Westchester County, New York in the dead of night: "Why is the administration flying thousands of migrants from the border to Florida and New York in the middle of the night?"

Psaki went the condescending route, quipping that she's "not sure that it's in the middle of the night, but let me tell you what's happening here."
Related articles on ConWebWatch:

Curtis Houck's War On Jen Psaki (And Man-Crush On Peter Doocy), The Series:
Did Houck ever criticize McEnany for being "condescending"? Not that we recall -- heck, he probably loved her condescension.

Houck quickly added at the end: "At the back end of the briefing, the penultimate exchange featured Newsmax's Emerald Robinson talking about [Transportation Secretary Pete] Buttigieg's unannounced paternity leave, but instead of engaging, Psaki made clear that she, at best, loathes her. But as a less biased reporter pointed out, the reason Psaki didn't "engage" with Robinson was that she continued to shout questions after her allotted time had ended while Psaki moved on to another reporter. And, really, Robinson has amply earned the contempt of people by spewing COVID conspiracy theories, which means she has never earned the respect Houck demands she receive simply for being a right-wing reporter.

For the Oct. 21 briefing, Houck had a different target in deputy press secretary Karine Jean-Pierre, but was having the same old Doocy-gasms over his slavish recitation of right-wing talking points -- mixed in with praise for Doocy's wife, also a biased Fox News reporter, which sounds a bit awkward:
With The Psaki Show off on Thursday, White House Principal Deputy Press Secretary and former MSNBCer Karine Jean-Pierre filled in, but it wasn't an easy day as she faced incoming fire from not only Fox's Peter Doocy, but Doocy's other half in wife Hillary Vaughn of the Fox Business Network as the two brought the heat with hardballs on inflation, the supply chain crisis, and our country's overall economic malaise.

Doocy began with immigration and wanted to know whether it's that "the year Joe Biden was sworn in as President promising more a humane immigration system is the same year that an all-time record 1.7 million migrants have been detained at the southern border."
Houck gave Doocy and Vaughn more cookies for spouting right-wing narratives in the Oct. 22 briefing:
After a day off and a guest appearance by Principal Deputy Press Secretary Karine Jean-Pierre, The Psaki Show was back with a new episode on Friday and, for the second day in a row, the Fox News Channel's Peter Doocy and wife Hillary Vaughn of the Fox Business Network applied the heat to the Briefing Room podium.

Other reporters asked insightful questions about Biden's poll numbers, the DHS investigation into the fake whips story, gas prices, press access, but it was Doocy who battled Psaki over vaccine mandates and President Biden not having visited the U.S. southern border while Vaughn focused on the economic pinch Americans have found themselves in ahead of the holiday season.

Most of Doocy's time focused on immigration, but he led off with news that "[t]he leader of the union representing FedEx, UPS, and DHL is saying that supply chain problems are going to get worse with labor shortages right before the holidays unless the President postpones the requirement to get vaccinated by December 8."

With that said, Doocy wanted to know: "[W]hat is more important to this President: The vaccine mandates or fixing the supply chain as fast as possible?"

Psaki deflected, arguing that's "not actually what we've seen at companies that have implemented these vaccine requirements" and instead the labor market would be in worse shape if the Covid vaccine wasn't mandated.
Houck did cheer other right-wing messaging as well: "In two other notable moments, the New York Post's Steven Nelson called out the White House's ongoing curtailing of press access for Biden events in the East Room and the Daily Caller's Shelby Talcott inquired about the Department of Homeland Security investigation into the (fake) whips story that's now a month late." Cookies all around for staying on message!
And with that, Houck didn't churn out a briefing summary the rest of the month, apparently believing he'd sufficiently beat up on Psaki and fawned over Doocy.
The latest from