Wayne Allyn Root COVID Misinformation Watch
Topic: WorldNetDaily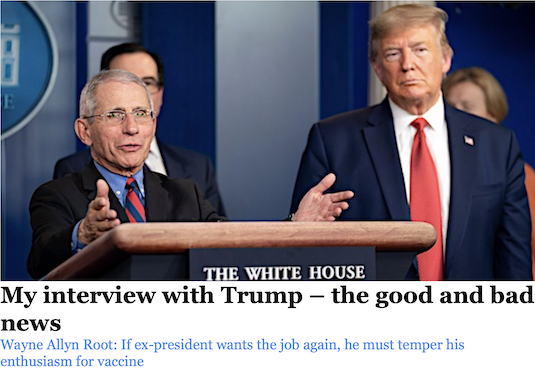 Prolific COVID misinformer Wayne Allyn Root has continued to do what he does. His Nov. 15 column was devoted to recounting his interview of Donald Trump, who has done everything right ... except for vaccines:
There is only one issue where I've ever disagreed with Trump. And I know a majority of Trump voters are on my side.

The issue is the COVID-19 vaccine.

Raw truth – Trump is dead wrong about the vaccine. And I believe it's the only issue that could derail his excellent shot at winning another presidential election. I believe Trump needs to get ahead of this issue before it comes back to haunt him.

Yes, in my book, Trump gets all the credit in the world for showing the tremendous leadership skills of a five-star general. He made that vaccine happen at a speed no expert thought possible. Bravo.

The problem is the vaccine is a failure. It was supposed to prevent COVID-19. It doesn't. As a matter of fact, the countries and counties that have the highest vaccination rates have the highest number of COVID-19 cases.

It was supposed to stop the spread of COVID-19. It doesn't. The latest data shows that vaccinated individuals often have higher viral loads than unvaccinated people.
Not true. there's actually no significant difference in viral loads between vaccinated and unvaccinated people. But his misinformation continued:
It was supposed to prevent hospitalizations and deaths. Data from across the globe shows that a large majority of recent hospitalizations and deaths have been among double-vaccinated people.

Worse, for some the vaccine itself is dangerous and deadly. Check out the Vaccine Adverse Event Reporting System's adverse event reports. In only 10 months, this vaccine has directly injured, disabled and killed far more Americans than all other vaccines in modern history combined. How bad will those numbers look in a year or two? Trump needs to get ahead of this unfolding disaster.
Root loves lying about VAERS data. And the highest number of hospitalizations and deaths from COVID are still among those not fully vaccinated. He then coached Trump on how to be an anti-vaxxer:
Trump isn't a doctor or scientist. He didn't create the COVID-19 vaccine. He listened to so-called medical experts. They told him the vaccine would save the world. He made sure it was available in a crisis situation.

In my opinion, Trump should be saying, "I made the vaccine happen at a speed no medical expert thought possible. I was trying to save millions of American lives. I'm proud of my role. But when it comes to the safety of the vaccine, I listened to Dr. Anthony Fauci and the Centers for Disease Control and Prevention. Fauci lied and misrepresented about many things. If I had to do it over, I would never have listened to Fauci. Now there many legitimate questions and concerns about these vaccines. Americans have a right to ask questions. We should have a national debate. That's called 'science.' And every American has a right to say NO. It's your body, your choice."

If Trump says that, he can get ahead of a potential growing tsunami of vaccine injuries and deaths. He can show he's listening to the concerns of millions of Americans – most of those who don't want this vaccine are his voters.

I hope Trump comes around to my way of thinking on this vaccine. If he does, I believe he will once again become president of the United States.
Root spent his Nov. 22 column fearmongering about vaccine mandates in general and President Biden in particular:
This is the Great Vaccine Mandate Scam. President Joe Biden is using the vaccine mandate (and vaccine passport to come) as a Trojan horse. In other words, it looks like he's trying to protect America and save lives, when in reality he's using this vaccine mandate as a cover story to destroy the U.S. economy, capitalism and the great American middle class, all at once.

This is a communist takeover of the U.S. by a small minority at the top who have rigged elections and are now busy hijacking the country, as if they have some powerful mandate.

They don't. As a matter of fact, everyone hates Biden and Vice President Kamala Harris. They have no popular support as they dismantle the country.

[...]

These mandates are squarely aimed only at working Americans. If you have a job, you're looking at being threatened with losing your job, your income and your pension if you choose to remain unvaccinated. Biden is threatening to destroy your life, to make you homeless.

But if you're a lazy bum, sitting home watching "Dr. Phil" and waiting for your EBT card to arrive in the mail, you're safe. Biden isn't taking a dime away from you. Only Americans with jobs are being persecuted.

Why not lose your welfare if you're unvaccinated? Why not lose your food stamps? Why not lose your Medicaid or Obamacare?

Why is it only middle-class Americans, who work for a living, who pay taxes, who bust their butts, who have families to support, who are being persecuted over this vaccine mandate?

Because the great American middle class, and anyone who works for a living and pays taxes into the system, is overwhelmingly Republican and conservative.

[...]

The country is a mess. The economy will soon be a disaster. The middle class is being systematically destroyed. This is a fast-moving tragedy. It's the end of America.

And it's all being perpetrated by a brain-dead zombie puppet with 36% approval, using a Trojan horse called the vaccine mandate.
We are the majority. We all despise Biden. The question is, are we going to let this happen?
Root has previously sounded like a guy who will not stop at simply words to overthrow Biden and reinstall Trump.
Posted by Terry K. at 3:47 PM EST