MRC Sports Blogger Loves Herschel Walker, Dismisses Credible Abuse Allegations
Topic: Media Research Center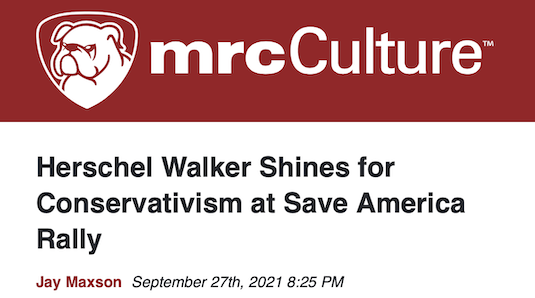 Like its "news" division CNSNews.com, the Media Research Center has been a cheerleader for ex-football player, Trump buddy and now carpetbagging Georgia Senate candidate Herschel Walker. Unlike CNS, though, mystertious MRC sports blogger Jay Maxson made an effort to whitewash spousal abuse allegations agaist Walker.
Maxson's cheerleading for Walker began last April by helping Trump encourage a Senate run:
We don't know what kind of U.S. senator Herschel Walker would make, but all the right people already hate him. Deadspin and Democrat partisan Dustin Foote is on high alert over news reports that former President Donald Trump urged the football great to run for the U.S. Senate in Georgia. Walker was selected as one of Deadspin's 2020 "Idiots of the Year," he believes in God and is a good friend of Trump's. In other words, he's a real nightmare.
Taking a shot at current Georgia Sen. Raphael Warnock, Maxson huffed, "Walker's considerable fame and reputation in his home state of George greatly surpass that of Sen. Warnock." Unlike Walker, though, Warnock currently lives in Georgia, something Maxson didn't see fit to mention.
Maxson slobbered all over Walker in a Sept. 27 post under the gushy headline "Herschel Walker Shines for Conservativism at Save America Rally":
Former University of Georgia and National Football League star Herschel Walker is fast becoming one of the leading ball-carriers for the conservative movement. He appeared in Perry, Ga., Saturday with former President Donald Trump and other conservatives at a "Save America" rally.

It only makes sense for Americans to support conservative ideals, Walker told the fired-up audience: "People always ask me what qualifies me to run for this office, and I said, 'Well you're right, I'm an American.'" The former Heisman Trophy winner said being conservative is just part of being an American. He had the crowd firmly with him, as people chanted "run, Herschel, run:"

[...]

Formalizing his decision last month to run for the U.S. Senate and take out radical lefty Sen. Raphael Warnock, Walker said it's "Because I love America. And I've got to fight for America. It is time for us to stop wondering what we're going to do but do it because what we've got now — we're fighting over the same things we were fighting over when Jimmy Carter was in office. Have you noticed that?"

Trump told the crowd that Walker is a "special man" and a "great" man. He endorsed the candidacy of the man who's expected to win next year's Georgia GOP primary. Walker is polling at a whopping 75 percent among Republican Senate hopefuls in his home state.

"Welcome a man who really knows how to win the United States of America. So proud of this man," Trump exclaimed. "One of the greatest athletes of our country's history. The greatest running back that I've ever seen.

"Not only an American hero, he is an American legend born and raised in this state," Trump said.
Maxson again failed to mention that Walker has not lived in Georgia for years. Nor did he metion that a guy who help foment an insurrection against the government of the United States is perhaps not the best character witness for anyone, let alone a potential political candidate.
When a Walker supporter was criticized for backing a guy credibly accused of spousal abuse, Maxson's response in a Nov. 5 post was, essentally, that if he never faced criminal charges, it must not have happened:
It should not be considered "news" that a Major League Baseball owner donates money to Republican political candidates. But then there's California's wildly left-of-center media that contends it is newsworthy. The San Francisco Giants' owner Charles Johnson supported the Georgia Senate campaign of Herschel Walker, and now he's getting raked over the coals.

The San Francisco Chronicle disparaged Walker, the former football star and Heisman Trophy winner, as a "stop the steal enthusiast" who suspected voter fraud in the 2020 election. Walker has announced his candidacy for a U.S. Senate seat in Georgia for the 2022 election, and he leads polling among Republican candidates in that Georgia Senate primary race. Walker's support from former President Donald Trump also soured the Chronicle on his reputation.

Though Walker has never been charged with domestic abuse, the Chronicle and Associated Press both accused him of that crime against his former wife.
Maxson conlcuded with this bizarre assertion: "Give the Chronicle well-deserved 'F' grades for journalistic fairness and failing to recognize Johnson's right to free association, along with an 'A' grade for doing the Democrats' bidding." What grade to we give a guy who's so in the tank for Walker he might as well be on the campaign payroll -- and who so blithely dismisses credible accusations that he's a spousal abuser?
Posted by Terry K. at 8:54 PM EST