The MRC's War on Jen Psaki (And Man-Crush On Peter Doocy): July 2021
More man-crushing! More Psaki-hating! Hiding another Doocy screw-up! A dash of homophobia! That's how the Media Research Center's Curtis Houck spent his July reviewing White House press briefings.
By Terry Krepel
Posted 10/22/2021
---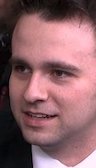 Curtis Houck
It was a slow week for the Media Research Center's Curtis Houck after Independence Day -- he didn't have Peter Doocy to man-crush over at the White House press briefings, which seemed to make him less interested in full-out bashing of Jen Psaki. So his offering for the July 6 White House press briefing could be summed up this way: I can't man-crush on Peter Doocy, but I can spew hate at other reporters!
With Fox's Peter Doocy away from Tuesday's White House press briefing, interest shifted elsewhere for NewsBusters and, thankfully, CNN political analyst and Grio correspondent April Ryan beclowned herself with questions from the left on civil rights, voting, and white supremacists. This included the insane assertion from Ryan to Press Secretary Jen Psaki that voting rights have "collapsed" with GOP laws and the failure of the For the People Act.
Houck's only other entry for that week was for the July 9 briefing, where he did latch onto other right-wing reporters:
Friday's White House press briefing featured an important and welcome surprise as CBS senior White House correspondent Weijia Jiang used her front-row spot in the Briefing Room to repeatedly question Press Secretary Jen Psaki about the administration's role in the upcoming sale of Hunter Biden's art collection in New York City.

And besides Jiang, the other notable questioners were less surprising (but nonetheless equally important) as Real Clear Politics's Philip Wegmann asked about critical race theory and the origins of the coronavirus while the New York Post's Steven Nelson asked about the extent to which President Biden was involved in his son's shady business dealings.
Houck went on to complain about a "far-left voting rights question," though he never equivalently identified Wegmann or Nelson as "far-right."
Life is apparently dull for Houck when he can't man-crush on Doocy. So with Doocy's return on July 12, Houck was ready to go into man-crush overdrive:
With Cubans having taken to the street over the weekend to protest the 62 years of communist rule that worsened during the coronavirus pandemic, AP and CNN White House reporters used Monday's briefing to side with their friends in the Communist Party, and demand Press Secretary Jen Psaki blame former President Trump's posture toward the island nation for its economic ruin.

Fortunately, Fox News's Peter Doocy returned from a week off to call out the spin that the protests stemmed from coronavirus cases while the Daily Caller's Shelby Talcott asked whether the administration agreed with The New York Times that the American flag — which Cubans waved as they marched — was "alienating the some."

[...]

As for Doocy, he started with a back-and-forth about vaccine mandates (which left a flustered Psaki to sarcastically tell him, "welcome back"), but pivoted to Cuba and specifically the disconnect between Psaki claiming Cubans were upset with their government and the State Department blaming it on COVID cases.

Psaki tried to engage in damage control, but Doocy called out the insanity in claiming the Cubans protesting "freedom" and "enough" were demanding liberation from the coronavirus[.]
Of course, Houck was lying when he claimed reporters were siding with "Communist Cuba," but the MRC is cool with any besmirching of the "liberal media," now matter how fanciful.
Houck's man-crushing continued on July 14:
Fox News White House correspondent Peter Doocy went toe-to-toe with Press Secretary Jen Psaki during Wednesday's briefing, challenging her on the hypocrisy surrounding Texas Democrats fleeing the state over proposed voter integrity measures and the administration's refusal to denounce the evils of communism that have ravaged the Cuban people for 62 years.

While Doocy actually did his job as a reporter to challenge those in power, others in the room pushed the White House not out of accountability, but from the left to help allies will policy proposals into existence.
Funny, we don't recall Houck ever crediting a "liberal media" reporter for doing his or her job to "challenge those in power" when Trump was president.
Once again, Houck covered up the fact that Psaki actually owned Doocy, writing of a Doocy question about Democratic Texas lawmakers leaving the state to stall a Republican-pushed voting restriction bill that "Doocy called out Psaki's humorous dismissal, noting Biden's eye-popping assertion that voter integrity measures pose the greatest threat to American democracy 'since the Civil War.'" In fact, as a more honest outlet pointed out, Psaki did not make a "humorous dismissal" of Doocy's question:
She went on to say the president believes these Democrats "were making a statement through action in opposition to efforts in their state to oppose restrictions on people's fundamental rights and their rights to vote in their state."

He "certainly applauds their actions and their outspoken opposition to efforts to put in place restrictive measures in their state," Psaki added.

"And maybe it is funny to think about it that way, but the president is talking about this as the most serious assault on democracy..." Doocy started to say.

Psaki jumped in to remark, "I don't think anything about this is funny."
The next day, Houck cheered even more hostile questions from Doocy designed to push right-wing narratives:
Three days after first asking her if the administration would condemn communism and the far-left ideology's gruesome affect on life inside Cuba, Fox News's Peter Doocy finally got White House Press Secretary Jen Psaki to condemn on Thursday both communism and demand the regime grant "freedom" to the Cuban people.

And, on another matter, Doocy pressed Psaki on the Biden administration inviting the United Nations Human Rights Council (which included oppressive regimes such as China, Cuba, Pakistan, Russia, Somalia, and Venezuela) to examine the U.S. government and trash it as repulsive and systematically racist.
On July 16, Houck gushed that another right-wing reporter joined Doocy in attacking Psaki (while making sure not to point out they are right-wing reporters) under the overexcited headline "BOOM":
Friday's White House press briefing grew tense as the Biden administration continued its collusion with Facebook and the rest of Big Tech to crack down on dissent (under the guise of fighting misinformation about coronavirus vaccines).

As usual, Fox News's Peter Doocy and Real Clear Politics's Philip Wegmann were the rare voices to raise concerns as they inquired about whether it could be seen as "spying on people's Facebook profiles," how long this partnership has been going on, and if there are any safeguards to protect speech.

Doocy set Press Secretary Jen Psaki up by leading with a question about China's lack of cooperation into the origins of the coronavirus, citing one Chinese conspiracy theory that the virus came from smuggled in "frozen food."

After Psaki said the administration is "concerned...about misinformation" from China, Doocy used that as a springboard to the federal government's work with social media platforms: "[S]peaking of misinformation and the announcement from yesterday, for how long has the administration been spying on people's Facebook profiles looking for vaccine misinformation?"

Psaki immediately became disgusted, telling Doocy he had offered up "quite a loaded and inaccurate question, which I would refute."
Yes, Houck thinks that spreading lies and misinformation about vaccines is merely "dissent" and that calling it what it is -- misinformation -- is a political term, not a statement of fact (as is the current MRC narrative).
Houck then proceeded to further denigrate Psaki, claiming she engaging in "word salad" and "gaslighting," two things he had no problem with when his beloved Kayleigh McEnany was doing them. Apparently still missing her, he went on to name-check her: "Exit question: If this were still the Trump administration with Kayleigh McEnany at the podium saying these things, what would the chances have been that everyone from Yamiche Alcindor to Jim Acosta to Peter Alexander to Brian Karem to April Ryan would have blown a collective gasket?"
And what are the chances McEnany would also be serving up "word salad" and "gaslighting" in response, and Houck would say nothing?
Houck was pretty darn happy to have Doocy advance more right-wing talking points the July 20 briefing:
Tuesday's White House Press Briefing was a welcome reprieve as Fox News's Peter Doocy found himself with more than a few colleagues willing to join him in grilling Press Secretary Jen Psaki as ten reporters (including Doocy) lobbed one question after another about Texas Democrats fleeing Austin for Washington D.C. and triggering a superspreader of coronavirus cases.

By the time Doocy spoke, he was the third reporter to inquire about how Texas Democrats have spread COVID on both Capitol Hill and in the White House. Doocy, however, went where his colleagues wouldn't with the use of the word superspreader.

"More than 10 percent of the traveling party with these Texas Democrats now claim to have a breakthrough case. Is there any concern that this trip that was intended to advocate for voting rights is now a superspreader event in Washington,"he asked.

An abrasive Psaki griped "that's not a characterization we're making from here," but rather insisted that these "breakthrough cases" among unvaccinated individuals was proof that vaccines work in preventing from "death," "hospitalization," or even "serious illness" (which is entirely correct).
Note that Houck couldn't simply admit that Psaki was right about something; he also had to smear her as "abrasive," something we're pretty sure he never said about Kayleigh McEnany. Also, calling the coronavirus cases among Texas Democrats leaving the state to slow down a voting-restriction bill a "superspreader event" comes straight from Republican leadership, so Houck may as well be congratulated for adhering so close to partisan messaging (as well as exposing himself as a blindly partisan hack) ... as did the rest of the MRC. It's also not accurate; all the Democrats who caught the virus were fully vaccinated, which is actually a lesson about how transmissible the Delta variant is even among vaccinated people.

On July 22, Houck cheered that "Thursday's White House press briefing gave us another welcome surprise as Press Secretary Jen Psaki found herself under the gun from not just Fox's Peter Doocy, but a variety of reporters on issues such as Covid cases inside the administration, Critical Race Theory, Hunter Biden's artwork, and masking." And, as usual, Doocy got special attention -- and whitewashing about how he got owned by Psaki:
Doocy came next and things didn't get any easier for Psaki. First, he wanted to know whether the Education Department will ensure that a pro-critical race theory group isn't included in school curriculums seeing as how they had claimed its inclusion in new guidance was a mistake.

Psaki tried to minimize it, saying it was one small footnote and insinuated Doocy was lacking the full context.
Here's how that exchange actually went down:
Doocy asked if the Biden administration "will follow up with school districts to make sure that the Abolitionist Teaching Network material is not in lesson plans."

Psaki replied, "Just to be clear, for the context, because I know you love context of what you're asking about here, what you're referring to is a citation in a report of which there were a thousand citations, so I'm quite impressed with your researchers for finding one of a thousand citations."

Psaki went on to say that "it was an error in a lengthy document to include this citation. The specific site does not represent the administration's view and we don't endorse the recommendations of this group and I believe it's been removed or is in the process of being removed."

Doocy's network has been covering outrage over CRT and its tenets extensively.
Houck is not going to admit Psaki won that exchange, nor will he admit that Doocy was parroting his employer's agenda. He didn't even bury the transcript in the item -- he simply censored it.
That's the bias -- and hostility to anyone not as right-wing as he is -- Houck brings to his so-called reviews of Psaki's press briefings.
Since the MRC is part of the right-wing anti-mask movement because personal inconveniences are more important to conservative ideologues than working toward the common good of slowing the spread of COVID, Houck embodied that in yet another Jen Psaki trash-fest regarding her July 27 briefing:
When there's a White House press briefing in which the press corps doesn't appear friendly with the Biden administration, you know it was a tough day at the office. Tuesday's briefing was one of those rare days as Fox's Peter Doocy was joined by over a half dozen colleagues in asking tough questions Press Secretary Jen Psaki refused to answer about the return of masks, even for vaccinated Americans.

The Associated Press's Alexandra Jaffe didn't wait for Doocy, leading off the Q&A by wondering "how will the White House get Americans to start wearing masks when they've gone for more than two months without them," and if it was a mistake to say July 4 all but marked our "independence" from the virus.

After Psaki insisted we must respect CDC scientists and remember that we're living in unprecedented times, Jaffe followed up by questioning whether the back-and-forth was "wise...considering [this] could make it tougher for Americans to take" the pandemic "seriously."

Psaki's answer undermined the edict to mask up, insisting that everyone should get vaccinated to be "protected from serious illness or hospitalization" while the government does what's best "to protect more people and save more lives."
As Mediaite's Tommy Christopher noted, this was little more than a gotcha session over masks -- but since this feeds into right-wing narratives, Houck clearly approved.
Houck was able to resume his Peter Doocy man-crushing for the July 29 briefing:
When it seemed like only a few of his colleagues were still outraged at the Biden administration's decision to bring back indoor masking for much of the country (compared to with White House Principal Deputy Press Secretary Karine Jean-Pierre and President Biden over the regime's inconsistent (and arguably misleading) messaging masks.

And in the case of the exchange with President, Doocy's fact-checking and questioning brought out the angry Biden (as opposed to the forgetful or whispering Biden).
Houck accused Jean-Pierre -- whom he had previously denigrated as an purported diversity hire -- of offering "word salad," despite his never objecting when his beloved Kayleigh McEnany did so. He then gushed over Doocy's ambushing Biden on the mask issue:
Fast-forward to the press conference and Doocy repeatedly tried to shout a question to Biden, but unsurprisingly, he wasn't interested.

But as Biden walked away, Doocy caught his attention: "Mr. President you said if you were fully vaccinated, you would no longer need to wear a mask?"

Doocy tried to say more, but Biden angrily cut him off with this false claim: "No, I didn't say that."

Doocy hit back with, "you did," but Biden realized mid-thought he had been caught: "I said if fully vaccinated in an area where you do not have — well, let me clarify that."

This gave Doocy an opening: "In May, you made it sound like a vaccine was the ticket to losing masks forever."

The President replied that his statement was "true at the time" as he believed the vaccination rates would be higher than they are now and he didn't know about the Delta variant.
As Christopher also pointed out -- but Houck didn't -- this exchange came after Biden praised Fox News for getting on board the pro-vaccination bandwagon, and that Biden's statements was not as false as Houck and Doocy want you to think it was, because "the whole reason the mask guidance has changed is that people aren't getting vaccinated."
For the July 30 briefing, Houck decided that because the non-right-wing media had come to understand that the Delta variant has changed the mask debate, it was some kind of "liberal media" plot:
After a week that consisted of vehement pushback against the Biden administration's new mask edict and threats of bringing back crippling Covid restrictions, the liberal media decided on Friday to fall in line during the White House press briefing with only Fox News's Peter Doocy remaining skeptical about this sudden change.

And on the misinformation front, numerous reporters parroted Biden administration line of using a Covid outbreak earlier this month in Provincetown, Massachusetts to justify masking and other mitigation measures when, in reality, that highly debaucherous event isn't representative of the American populace.
This is a homophobic smear; Houck is trying to blame the outbreak on filthy LGBT people who were allegedly in Provincetown for a "bear week" event. In fact, the study covered many tourists in Provincetown over a longer period than that particular event, and it turned out that three-fourths of those who tested positive for COVID were fully vaccinated -- meaning that the people in Provincetown are much more "representative of the American populace" than Houck would like to admit. Nevertheless, Houck reveled in pushing the homophobic smears:
For the unaccustomed, "bears" could be defined as larger, masculine gay men with plenty of hair. And "Bear Week" in the Bay State has a reputation of involving plenty of poor life choices, including plenty of making out and gay sex.

But sure, let's dictate public health policy off of that in the same way we'd make changes based on the inside of a frat on a Saturday night or hotel rooms during spring break in Florida.
Yes, Houck really thinks a failure to be heterosexual is a "poor life choice."
SIDEBAR: Houck hides another Doocy screw-up
Houck engaged in more Doocy stenography in his July 16 post, touting that "Doocy pushed back on Psaki's claim that the posts are 'publicly open information' and thus fair game, asking whether the 12 people the administration believes hold the lion's share of blame for misinformation have been told that the government is surveying them." The Washington Post's Aaron Blake pointed out that Doocy was wrong to portray the government as spying on these people. In May, the Center for Countering Digital Hate issued a list of 12 people it found to be responsible for a majority of disinformation about vaccines, which were all taken from publicly available posts. Blake continued:
Nor did anything in Psaki's comments Thursday suggest that this was from some kind of government study or research project. But Doocy jumped from her stat to not just assuming that it was, but also that this amounted to "spying" and that the "spying" was specifically done by the surgeon general's office (perhaps because Surgeon General Vivek H. Murthy appeared with Psaki on Thursday?).

This continues a long-standing, often tortured search on Fox for government spying on their allies.

[...]

Doocy's claim that the stat Psaki cited was proof of yet more supposed spying is just nonsensical, as he might have found had he done even the slightest bit of due diligence. But at least another spying conspiracy theory that can be turned into cable news segments has now been seeded.
Houck will never admit any of this, of course -- the man-crush must continue unencumbered by the facts.
The latest from