MRC Botches Facts In Bogus Attack On Major League Baseball
Topic: Media Research Center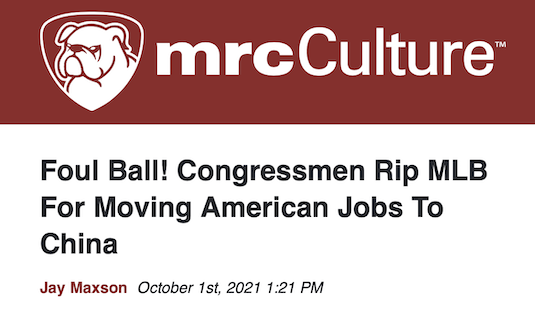 Let's pick apart the factual errors and misrepresentations in this Oct. 1 Media Research Center post by Jay Maxson, shall we?
The proliferation of American professional sports leagues sucking up to communist China continued this week. Major League Baseball is closing the Miken Sports plant in Caledonia, Minnesota, and moving operations to China. On Wednesday, Republican congressmen responded by aiming a legislative beanball at MLB's head.

Miken Sports employs more than 1,000 Americans (more than a third of Caledonia's population) who produce bats, helmets, gloves, bags and apparel, earning $11 million in revenue. Now the town is losing most of its jobs to cheap labor in China, a country with a notorious reputation for slave labor and oppressing its citizens' freedom.
Based on an article from an actual news organization, we learn:
Major League Baseball does not own Miken Sports, nor did it make the decision to close it. Miken is owned by sporting goods giant Rawlings, in which MLB has an ownership interest of less than 20 percent and has no say in day-to-day business.
The Caledonia plant does not employ 1,000 people. Before the pandemic, it employed 150 people, a number that had decreased to 80 by mid-2021.
The batting helmets that the plant produced for MLB will continue to be made in the U.S., in a plant in Missouri. Production of bats made for softball -- not an MLB sport -- will be moving to China.
But the truth doesn't matter to Maxson -- this article has been up three months and has never been corrected. What matters is the political attack, and he (or she) concluded:
Caledonia is just 160 miles away from the field of dreams in Iowa, but unlike that feel-good town of Dyersville, Iowa, it's fielding unemployment nightmares.

Thanks, MLB, for throwing the town of Caledonia out at the plate, and thanks for hitting a foul ball at the expense of American jobs. Job horribly done.
Maxson did an even more horrible job of putting a political narrative ahead of the facts -- which harms the MRC's credibility.
Posted by Terry K. at 10:23 AM EST
Updated: Saturday, January 8, 2022 10:26 AM EST