The MRC's War on Jen Psaki (And Man-Crush On Peter Doocy): September 2021
The Media Research Center's Curtis Houck keeps up his biased schtick of lashing out at the White House press secretary and fawning over a Fox News reporter.
By Terry Krepel
Posted 11/24/2021
---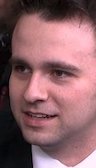 Curtis Houck
Throughout 2020, Media Research Center writer Curtis Houck repeatedly whined that reporters asked tough questions of his beloved White House press secretary, Kayleigh McEnany. But throughout 2021, with Jen Psaki at the helm, he's cheering every tough and biased question that gets tossed her way. Houck kept up the cheering, particularly on the Afghanistan withdrawal, in his take on the Sept. 1 briefing:
The continued decline of substantive Afghanistan questions continued on Wednesday's edition of The Psaki Show with a shift towards the coronavirus and Texas's abortion law, but ABC's Stephanie Ramos and Fox's Jacqui Heinrich kept up the heat with questions for Press Secretary Jen Psaki on the embarrassing collapse of the country following a two-decade war.

Along with other solid Afghanistan, questions from CBS's Ed O'Keefe, Heinrich and Ramos honed in on a Reuters bombshell detailing a July 23 phone call in which President Biden pressured Afghan President Ashraf Ghani to "project a different picture" about the country's state of affairs.
Since it's Houck's job as an MRC employee to portray anything the non-right-wing media does as some secret lockstep conspiracy, he went on to whine that the hearing wasn't all Afghanistan all the time: "It's safe to say that, with this Texas abortion law, the liberal media may have found their opening to ditch Afghanistan."
For the Sept. 2 hearing, Houck came to the defense of a biased right-wing reporter who, surprisingly, wasn't named Peter Doocy:
Along with the decline of Afghanistan questions continuing into Thursday's White House press briefing with only 13 being asked, the Texas abortion law gave the liberal media an off-ramp to drop that humanitarian and security disaster as they dedicated roughly 29 questions to defending the left's rabid support for murder. But when it came to EWTN White House correspondent Owen Jensen standing up for life, Press Secretary Jen Psaki couldn't stand that.

Jensen interjected roughly 10 minutes into Psaki's Q&A with the fact Biden's abortion views go against his Catholic faith:"Following up on the Texas law, why does the President support abortion when his own Catholic faith teaches abortion is morally wrong?"

Psaki has long exhibited testiness toward Jensen, so it wasn't a surprise when she hit back: "Well, he believes that it's a woman's right, it's a woman's body, and it's her choice."

Jensen stayed tough as he fired off an excellent follow-up: "Who does he believe then should look out for the unborn child?"

By this point, Psaki couldn't contain her annoyance:

He believes that it's up to a woman to make those decisions and up to women to make those decisions with her doctor. I know you've never faced those choices nor have you ever been pregnant, but for women out there who have faced those choices, this is an incredibly difficult thing. President believes their right should be respected.

How offensive! Psaki needs to be cancelled for (a) not using the term "birthing people" or "pregnant people"; (b) not realizing that, according to her side of the aisle, men could become pregnant; and (c) assuming Jensen's gender. What a mess!
Weird, we don't remember Houck ever saying that his beloved McEnany "exhibited testiness" or "annoyance" with the non-right-wing media -- he cheered her for being "passionate" and treated her immature insult-fests as "smacking down" the media.
(This was followed by a post from Kristine Marsh calling anti-Trump Republican talking head Matthew Dowd "huffy" and "wildly illogical" for criticizing Jensen's biased question.)
Houck returned to the Doocy-fluffing beat after the Labor Day holiday for the Sept. 8 briefing, gushing that Doocy was being conservatively correct in continuing to hound Psaki about Afghanistan:
With a week off from the briefing room (having switched off with colleague Jacqui Heinrich) and the Labor Day weekend, Fox's Peter Doocy returned Wednesday with plenty of questions for Jen Psaki about the Americans stranded in Afghanistan, the Taliban government having more people on the FBI's Most Wanted List than women, and if engaging with them means they'll be granted global legitimacy.

And Doocy wasn't the only reporter on the case as he had plenty of help from CNN's Phil Mattingly and Voice of America's Patsy Widakuswara.

[...]

Doocy's next question was fair and spicy: "There are now more terrorists wanted by the FBI in the new Afghan government than there are women. Does the President think that is a foreign policy success?"
Does Houck think that Doocy ever asked an "unfair" question? Doubtful -- the MRC is not paying him to criticize his man-crush.
On Sept. 9, Houck gushed hard over Doocy under the headline "Doocy Goes HARD After Team Biden on Covid Origins, Praising the Taliban":
Ahead of President Biden's early Thursday evening speech calling for more forced vaccinations and touting masks, White House Press Secretary Jen Psaki took to the Briefing Room podium and faced fire from Fox's Peter Doocy and Real Clear Politics's Philip Wegmann on Afghanistan and also CBS's Weijia Jiang and ABC's Rachel Scott about the sudden change of heart on vaccine mandates.

[...]

After a quick follow-up about Fauci's job safety, Doocy wanted to know "why the White House in a statement is calling the Taliban businesslike and professional."

Psaki replied that the statement was meant to commemorate the first flight and acknowledge that "the Taliban was cooperative in facilitating the departure of these American citizens and legal permanent residents from HKIA."
The next day, Houck proclaimed "Doocy Bomb" in his headline:
On Friday's episode of The Psaki Show, Fox's Peter Doocy capped off a busy week with newsy questions about President Biden's Thursday call with Chinese President Xi Jinping and why is it that millions of Americans are being subjected to President Biden's rash of Covid vaccine mandates but not illegal immigrants.

Doocy chose to lead with China and Biden's call and whether Biden "press[ed] [Xi] like he said he was going to" when he said two weeks ago in a statement that China was still hiding "critical information" about the origins of Covid.

Psaki wouldn't commit to "going...into lists of every topic covered," but said the virus was one of many "transnational issues" discussed. Doocy twice tried to get a definitive answer, but Psaki said what matters was that they've previously "conveyed" the need for more information, so China "know[s]" where they stand.

But the question of the briefing came next when Doocy launched this humdinger: "[W]hy is it that you are trying to record anybody with a job or anybody who goes to school to get the COVID-19 vaccine, but you're not requiring that of migrants that continue walking across the southern border into the country?"

Psaki ignored the question other than saying "our objective is to get as many people vaccinated across the country as humanly possible" "more people are vaccinated" within our borders.
From here, we skip to Sept. 16 for Houck's next skewed review, in which he cheered that non-right-wing reporters were advancing the right-wing Biden-is-frail narrative:
Thursday's episode of The Psaki Show featured two welcome surprises as NBC's Kelly O'Donnell and then ABC's Karen Travers asked Press Secretary Jen Psaki about President Biden's health in light of the fact that Biden repeatedly had to battle a cough to get through his remarks an hour prior about the economy. The questions came after the liberal media spent years insisting President Trump showed severe cognitive and physical declines.

Following some solid questions about Afghanistan, O'Donnell switched gears: "Many of us were in the East Room watching the President. We've seen him on many occasions where he has a repeated cough. What is the situation with that cough and is that a concern?"

Psaki immediately shot back that "we have a doctor who travels with him — obviously, who checks in if — if it is ever warranted and, certainly that continues to be the case, as it has been since the beginning of his presidency."

O'Donnell wasn't taking that for an answer, so she followed up: "Is there an explanation for why he coughs so frequently in situations like that? I'm sure you saw it."

[...]

Skip ahead about 30 minutes and Travers asked about it in context of when Biden will get a physical: "Following up on one of the questions from Kelly. Do you have an update on when the President will get a physical?"

Psaki provided an answer that sure wouldn't slide under Trump, calling it "an understandable question," though "I don't have an update."

"He will get one soon. And when he does, we will make sure you all are aware of it and get the information," she added.
Of course, all of those NewsBusters posts about Trump that Houck highlighted attacked the people forwarding the idea -- something Houck is clearly not going to do to the folks similar allegations against Biden. But doesn't the fact that Trump has spent the past several months in abject denial insisting he won an election he clearly lost and attempt to foment a coup against the government to overturn the outcome, evidence enough that he is suffering for some type of mental instability -- not to mention prove those questioners NewsBusters denounced correct? Houck will never answer that question.

Houck went on to cheer another right-wing reporter, Newsmax's Emerald Robinson, advancing the conspiracy theory that Biden was deliberately limiting shipments of monoclonal antibodies to treat COVID to "red states."

Then it was back to Doocy-gasm mode on Sept. 20, under the headline "Doocy HAMMERS Psaki":
It was a tale of two approaches during Monday's White House press briefing as Fox's Peter Doocy and select reporters (including even CNN's Jeremy Diamond) chose to challenge Press Secretary Jen Psaki on Afghanistan, illegal immigration, travel bans, and U.S.–France relations while CNN analyst April Ryan led another group in standing up for Haitian illegal immigrants and spreading fake news about border officials using whips.

[...]

Doocy eventually got a turn and led with using Psaki's own comments about America's "over the horizon capacity" against her seeing as how "you guys didn't kill people who went after our troops" but instead droned to death "10 civilians, including seven children."

A Psaki word salad and follow-up about bringing family members of those killed into the country, Doocy brought the heat with this inconvenient truth about the border: "Is somebody asking the foreign nationals who are walking into Del Rio, Texas and setting up camps on this side of the border for proof of vaccination or a negative Covid test?"

Psaki tried to wiggle out of it, but Doocy wasn't having it: "[I]f somebody walks into the country, right across the river, does somebody ask them to see their vaccination card?"

The spokeswoman lobbed meaningless claims about health screenings and quarantines and even had the gall to claim that the tens of thousands at the border weren't "intending to stay here for a lengthy period of time."

With an incredulous look on his face, Doocy called this out, but Psaki shamelessly plugged along by talking about Title 42 being used to expel migrants (even though only single males are being deported with the others all being allowed to fan out across the U.S.).

Before ending on vaccine boosters, Doocy wondered about Vice President Harris: "Where's the Vice President on any of this? Wasn't she supposed to be addressing the root causes of migration?"

Psaki hilariously replied that Harris "has been addressing the root causes of migration by working with countries in the region" and "[w]e've actually seen a reduction in some of those numbers."
Houck went on to note only that Doocy was "ending on vaccine boosters," hiding the fact that Doocy got owned by Psaki on that issue. As Mediaite noted, Psaki "made quick work of a 'quick' question from Fox News' Peter Doocy by reading a key quote from President Joe Biden that Doocy did not include in his query on Covid boosters." But Houck absolutely refuses to make Doocy look bad -- that's not what the MRC is paying him to do -- so he completely censored the "Psaki bomb."
Houck clearly doesn't see how ridiculous he looks in his Doocy-fluffing -- and, by extension, proving beyond a doubt that Doocy is a reporter who's more biased than anyone on the "liberal" ledger in that room, or who were in the room during the previous presidency questioning his beloved Kayleigh McEnany. Like McEnany, Houck is not a serious person, caring only about advancing political narratives and scoring political points and nothing at all about genuinely informing people.
Houck's multiple Doocy-gasms continued in his write-up on the Sept. 22 briefing:
On Wednesday's episode of The Psaki Show, Fox's Peter Doocy continued to demand answers on the border crisis by stumping Press Secretary Jen Psaki with questions about how many Haitians have been apprehended at the southern border, why hasn't the Biden administration addressed the months-long crisis, and whether Biden has ever been to the border in his life.

[...]

Doocy started by following up on a "very basic, but very important question" from ABC's Cecilia Vega about whether anyone in the federal government can say how many Haitians "have been sent back and how many have been released."

Psaki demurred, so Doocy had this hardball: "Is this an issue of not knowing or is this an issue of a lot more people are being released into the U.S. than are being sent out? That is certainly not the issue."

A perturbed Psaki swatted these away, saying she's "confident" that the Department of Homeland Security will come through with numbers and that many Haitians weren't actually being released into the U.S. because of Title 42. After the briefing, Fox's Bill Melugin reported from the migrant camp and eviscerated that claim in a brutal fact-check.

[...]

But Doocy's best moment came at the end of his turn when he simply wanted to know whether Biden has ever been to the border. Needless to say, Psaki didn't know[.]
Needless to say, Houck didn't explain why it was necessary for Biden to visit the border to make policy regarding it. And, of course, Houck failed to report that Psaki busted Doocy on his lie about immigration policies.
Also note that Houck suddenly loves fact-checks when biased right-wing outlets like Fox News conduct them despite the MRC's war on fact-checkers -- so much so that Houck devoted a separate post to the "indefatiguable" Megulin's fact-check, oozing: "If the liberal media wanted genuine pointers on how to fact-check this administration, Melugin and Fox White House correspondent Peter Doocy would be the perfect people to start with."
Houck served up more Doocy-gasming for the Sept. 23 briefing:
Thursday's White House press briefing was a barnburner about the border crisis as, at one end, Fox News's Peter Doocy pushed a perturbed Press Secretary Jen Psaki for answers on Team Biden's erroneous math about Haitian illegal immigrants, their lax COVID policies, and how women are being allowed to stay as long as they claim they're pregnant (which led Psaki to imply Doocy was a sexist).

[...]

Doocy began by going back to some statistical inconsistencies Psaki had offered minutes earlier: "So, there are 15,000 migrants under the Del Rio bridge Saturday. If you add up the ones that you say were expelled or released it's less than 5,000. Say there's 5,000 that are still left. Where's everybody else?"

After Psaki dismissed Doocy's fact-check by saying she'd be "happy to get you a more fruitful rundown," he pointed out the fact that "when you talk about how some of these people are being placed in removal proceedings, that does not mean removed."

Psaki's response all but conceded Doocy's point as she said it "means they're in the process of going through removal proceedings," which, for those playing along, means absolutely nothing.
We don't recall Houck ever calling out his beloved Kayleigh McEnany's anti-media rantings from the White House press room podium as meaning "absolutely nothing" or described those rantings as meaning she was "perturbed." It's as if Houck is utterly biased against Psaki and refuses to see her as a human being because she's working for a Democratic administration.
Like a fangirl, Houck squealed "DOUBLE DOOCY" in the headline for his writeup of the Sept. 24 briefing. First up was laughably portraying Doocy as a victim:
The Psaki Show went into the weekend on Friday with a bang thanks to an appearance from Homeland Security Secretary Alejandro Mayorkas amidst the latest Biden border crisis and the administration peddling false claims that Border Patrol agents treated Haitian illegal immigrants like cattle and used whips against them. Of course, Fox's Peter Doocy was there and fought with both Mayorkas and Press Secretary Jen Psaki over their lies.

[...]

Though Doocy wasn't saying a thing, Mayorkas repeatedly snapped at him, demanding, "let me finish" as he said, upon further examination, what took place "horrified the nation" and "raised serious questions...about what occurred and, as I stated clearly, it conjured up images of what happened in the past."

Incredibly, Mayorkas added that he'll "let the investigation run its course" and he won't "interfere with" it.

Doocy wasn't having it: "And just, to follow-up, please. Before the facts are in, is it helpful to your investigation for the President of the United States to use inflammatory language like people being strapped?"

An annoyed Mayorkas seemed incensed that Doocy would challenge him, arguing he's "not concerned with the respect of the integrity of the investigation"< and his own conduct has been pitch perfect because he "served as 12 years as a federal prosecutor."
Then it was time to hype Doocy's act against Psaki:
Shifting to Psaki, Doocy also came out swinging. Before talking about the border, however, he had a Hunter Biden question (and one that Psaki had ignored from Newsmax's Emerald Robinson):


[T]he President has said, and you have tweeted, that allegations of wrongdoing based on files pulled from Hunter Biden's laptop are Russian disinformation. There is a new book by a Politico reporter that finds some of the files on there are genuine. Is the White House still going with Russian disinformation?

Psaki's response? A pants-on-fire lie: "I think it's broadly known and widely known, Peter, that there was a broad range of Russian disinformation back in 2020."
Actually, there's plenty of evidence that Russia tried to interfere in the 2020 election to help Trump, but you do you, Curt.
Houck focused on bashing Psaki in his writeup of the Doocy-free Sept. 28 briefing:
On Tuesday, White House Press Secretary Jen Psaki found herself as a modern reincarnation of the boy Alexander from the famous children's book as she faced a torrent of tough questions from reporter after reporter on Afghanistan, the border, and spending. And with little in the way of answers to defend President Biden and his administration's failures, shortcomings, and spin, the questions kept coming.

[...]

Speaking of being in trouble, Fox's Jacqui Heinrich wondered what Psaki made of former President Obama's claim hours earlier to ABC that open borders were "unsustainable." In response, Psaki laughably claimed that "[w]e don't have open borders." Oops.
Are people still being apprehended on the border? Yes, they are. That means it's not an "open border," and Psaki is correct. But Houck has decided that words don't mean things, and that pushing right-wing narratives is more important than providing an objective review of the briefings.
The latest from