The MRC's War on Jen Psaki (And Man-Crush On Peter Doocy): August 2021
The Media Research Center's Curtis Houck plays hide-the-#PsakiBomb to protect his man-crush Doocy, then cheers how the White House press secretary was attacked over the Afghanistan withdrawal.
By Terry Krepel
Posted 11/11/2021
---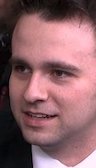 Curtis Houck
In case it hadn't been clear before, Media Research Center writer Curtis Houck all but demonstrated that Fox News correspondent (and his man-crush) Peter Doocy is a biased reporter by gushing over the bias and narrative-pushing he showed in the Aug. 2 White House press briefing:
On Monday, Fox News White House correspondent Peter Doocy started a new week by making the most of the delayed press briefing, questioning Press Secretary Jen Psaki about the left's Covid double standards in light of former President Obama throwing a massive birthday party and the administration letting illegal immigrants continue to flow into the country amidst a global pandemic.

[...]

Doocy was the fifth reporter called on during Psaki's Q&A and hit the ground running with this concise question about the border: "About public health at the border, is the President concerned that migrants who are coming in in great numbers are not being tested for Covid at their first point of contact with Border Patrol?"
Houck also loved Doocy asking about Barack Obama's birthday party and how he pushed the narrative that it supposedly could "become a superspreader event."
Houck did two articles on the Aug. 3 hearing -- which also leaned into his and the MRC's bias. The first complained that non-Doocy reporters asked about the COVID surge in Florida and Texas and the Republican governors there who refuse to do commonsense things like mask mandates. The second, needless to say, was a gushfest on Doocy and other right-wing reporters:
Tuesday marked an eventful day at the White House as not only was there a press briefing with Press Secretary Jen Psaki (and a packed one at that), but President Biden gave a speech on the coronavirus and ended up taking questions from eight different reporters on the virus, Governor Andrew Cuomo (D-NY), and illegal immigration.

Of course, Fox's Peter Doocy was a central player in questioning both, but he also had help from reporters such as McClatchy's Francesca Chambers, the Daily Caller's Shelby Talcott, and Real Clear Politics's Philip Wegmann. And in an admirable move, liberal outlets joined Doocy in firing off Cuomo questions.
Houck also praised Doocy's pushing of right-wing narratives with Biden: "As for Doocy, he had a brief exchange with Biden on how he squares his concern about the coronavirus with allowing record numbers of illegal immigrants into the country."
On Aug. 4, Houck cheered how "Fox's Peter Doocy and colleagues both in conservative media -- and even the liberal media -- had questions for Press Secretary Jen Psaki on the border crisis, China, the coronavirus, eviction moratoriums, Governor Andrew Cuomo (D-NY), and the history of allegations of inappropriate behavior against President Biden. When one right-wing reporter asked about alleged untoward behavior by Biden, Houck made sure to add a tweet from Tara Reade complaining about "the smears and attacks on my character." Houck didn't mention how his MRC co-workers lobbed smears and attacks against the character of women who accused Donald Trump of sexual misconduct.
Houck kept up his man-crush on Doocy on Aug. 5 by declaring he's the only reporter asking "real questions" (read: real biased questions):
On Thursday afternoon, the White House press corps kept up what's come off as a collusion effort with the Biden administration to malign Governor Ron DeSantis (R-FL) (and fellow Governor Greg Abbott of Texas) for his refusal to open the door to new Covid restrictions and lockdowns.

Meanwhile, Fox's Peter Doocy did his own thing in asking real questions of Press Secretary Jen Psaki with Thursday's installment focusing on the viral comments from Congresswoman Cori Bush (D-MO) about defunding the police and Team Biden keeping out vaccinated foreigners while allowing unvaccinated illegal immigrants to flood the southern border.
Houck cheered Doocy's gotcha questions on Aug. 6:
Isn't it always a sight to behold when liberals say the quiet part out loud? Such was the case at Friday's White House press briefing as Fox News correspondent Peter Doocy's questioning led Press Secretary Jen Psaki to admit that parents shouldn't have any say in school matters such as whether their children have to wear masks.

And in defense of masking all children of all ages, Psaki insisted that her rising kindergarten likes masks and it's concerning to her that Governor Ron DeSantis (R-FL) has put children in unsafe "environments" by banning school mask mandates.

Doocy built to this by pointing out that "DeSantis says that he may start withholding funds from school districts that don't let parents opt out of policies that require masks in the classrooms," "Does the President think that parents should have that kind of power?"
Houck went on to praise other right-wing reporters, because his definition of "real questions" is question that advance right-wing narratives.
Houck spent his summary of the Aug. 10 White House press briefing so enraged that non-right-wing reporters asked inconvenient questions about a Republican governor that he almost forgot to mention his man-crush:
Yet again, reminding viewers that they're scared to death of Governor Ron DeSantis (R-FL), White House reporters and the Biden administration played off each other during Tuesday's press briefing and presidential press conference to lob barbs at DeSantis for refusing to bring back mask mandates and/or threaten to bring back Covid restrictions from 2020.
He did, however, express joy that CBS reporter Ed O'Keefe "laid a trap for Biden by asking him to assess" resigned New York Gov. Andrew Cuomo's "performance on policy," then touting how other reporters "realized the insanity of this endorsement amid the claims he sexually assaulted and harassed at least 11 women." Never mind, of course, that Houck and his MRC co-workers will defend to their dying day Donald Trump's performance in office, demanding you ignore his paying hush money to a porn star,the 20-plus women who have accused him of sexual harassment, the pandemic, and the Jan. 6 Capitol riot.
Houck waited until the final paragraph to mention in passing "questions from Fox's Peter Doocy on inflation and immigration." But don't worry -- Houck made up for it the next day:
For the Hump Day edition of the White House press briefing, Fox's Peter Doocy grilled Press Secretary Jen Psaki on whether then-candidate Joe Biden and his campaign created vaccine hesitancy because of their efforts in 2020 to cast doubt on the legitimacy of the coronavirus vaccines since they were developed during the Trump administration.

[...]

Doocy started off easy by asking Psaki about something Biden was asked a day earlier about when he plans to appoint a permanent FDA commissioner. But the small talk went out the window when he fired off this hardball about how Biden said during the campaign that Americans shouldn't "trust Donald Trump."

Of course, Psaki replied that Biden and company had always been on board with the vaccines because approval came from government health experts (ignoring the fact that now-Vice President Kamala Harris directly questioned their efficacy)[.]
Houck offered no evidence that Harris ever "questioned their efficacy." The MRC has repeatedly and falsely attacked Harris over this by taking her remarks out of context. Houck's astonishment that Doocy asked that question -- as suggested by "How About THAT" his headline -- is manufactured, since it's not exactly a surprise that Doocy, a biased right-wing reporter, would inevitably push this biased right-wing talking point.

Psaki got a zinger back at Doocy that Houck downplayed because showing Doocy's screw-ups doesn't serve his agenda. Houck complained in passing that "Psaki dismissed Doocy's line of questioning by citing Trump's bleach comments," the exchange was much more withering; as Mediaite documented -- and Houck refused to quote in his item, relegating it instead to a transcript attachment -- Paski told Doocy, "I would note that at the time, just for context, the former president was also suggesting people inject versions of poison into their veins to cure Covid. So I think that's a relevant point."

The #PsakiBomb ownage is total, and it exposes Doocy as the biased right-wing reporter he is -- which is why Houck didn't want to call more attention to it than he had to.

Amid the U.S. evacuation from -- and subsequent swift fall of -- Afghanistan, Houck showed he was more interested in taking partisan shots than supporting America with his near-orgasmic glee over White House press secretary Jen Psaki taking tough questions from reporters on the subject -- and without his man-crush Peter Doocy on duty. Houck harrumphed after the Aug. 17 briefing:
Though most of it didn't make the Tuesday network evening newscasts, the White House press corps made an effort to raise tough questions with National Security Adviser Jake Sullivan and Press Secretary Jen Psaki amidst the collapse of Afghanistan, showing that neither had the answers to basic questions about how they'll ensure the safe departure of American citizens and Afghan allies, the plight of Afghan girls, and what this means for our commitments around the globe.

[...]

With Fox's Peter Doocy not in the room, the most effective reporter fell to his colleague Jacqui Heinrich (who only questioned Psaki) and, surprisingly, CBS's Weijia Jiang, who did the opposite of Shear with short, pointed questions.
Doocy was back for Houck to swoon over (along with fellow right-winger Philip Wegmann) for the Aug. 23 briefing:
To go along with two horrendously bad Pentagon press briefings and another at the State Department, the White House joined in Monday afternoon with a shellacking at the hands of the press corps on Afghanistan. For this installment, National Security Advisor Jake Sullivan and Press Secretary Jen Psaki took fire from all angles, ranging from Fox News to NPR.

Led by Fox's Peter Doocy and Real Clear Politics' Philip Wegmann, Team Biden was grilled about whether Americans have been "stranded" by their own government, whether Americans outside Kabul will be rescued, and how can the U.S. take to heart anything that emanates from the Taliban.

[...]

Fast-forward a few minutes to the one-two punch of Doocy and Wegmann, which featured the latter telling Sullivan that Biden "has criticized his predecessor," "the Afghan army," and "the Afghan government for all of their failures," but not the Taliban.
It was a full-on Doocy-gasm, however, for the Aug. 24 briefing:
Appearing almost four hours late in the White House Briefing Room, Press Secretary Jen Psaki faced more excellent questions Tuesday afternoon over the Biden administration's handling of Afghanistan. As was the case on Monday, Fox's Peter Doocy led the way with questions about vetting Afghan refugees, whether she'd take back her claim that people aren't "stranded" in Afghanistan, and whether the Taliban now has "the same kind of influence over military planning as" Biden.

Called on sixth, Doocy got right to work: "Is there any concern that maybe trying to reach this deadline and get everybody out, mistakes are being made, now that there is a report that at least one of the Afghan evacuated to Qatar has suspected ISIS ties?"

Psaki replied there's "a stringent vetting process which includes background checks before any individual comes to the United States" and thus is something the administration has taken "incredibly seriously."

Psaki also had a Baghdad Bob moment as she proclaimed that "this is now on-track, Peter, to be the largest airlift in U.S. history" and thus "I would not say that is anything but a success."
Houck's beat (or, perhaps, the beating off) continued for the Aug. 25 briefing:
After almost an entire week away on vacation (aside from an August 23 briefing), The Psaki Show hasn't exactly gone swimmingly for the Biden administration and, like Monday and Tuesday, Wednesday was no exception as Press Secretary Jen Psaki had little in the way of friendly reporter questions as Fox's Peter Doocy had the cavalry on his side in pressing on issues surrounding the collapse of Afghanistan.

In Doocy's case, he called out Biden cracking a joke about the humanitarian disaster, why did Biden spend so much time on Tuesday talking about his Build Back Better, and does the U.S. still have a policy of not negotiating with terrorists since we've had to lob constant pleas at the Taliban to not attack U.S. troops or those fleeing the country.

Doocy led off with how Biden had brushed aside NBC reporter Peter Alexander's Afghanistan question hours earlier during a pool spray about cybersecurity by saying this when asked what he'd do for Americans still in Afghanistan after the August 31 deadline: "You'll be the first person I call!"

Doocy posed a simple question: "So, what's so funny?"
Houck thinks it's quite hilarious any time he can denigrate Psaki. That does seem to be where he gets his jollies these days.
Houck went man-crushing twice on Aug. 26. First, he gushed that Doocy asked President Biden biased questions:
After hiding for hours since word came in that there had been a string of deadly bombings at the Kabul airport, President Biden addressed the nation early Thursday night and, thankfully, he not only took questions, but he went off-script to call on the perspicacious Fox News correspondent Peter Doocy and Philip Wegmann of Real Clear Politics.

In Doocy's case, he found himself in a back-and-forth with Biden that, at one point, left Biden burrowing his head in his hands and leather notebook after he tried to pass the blame of the collapse of Afghanistan to Donald Trump.

[...]

To the likely horror of White House staff, Doocy came next because Biden wanted to take "one more question...from the most interesting guy I know in the press."

Unsurprisingly, Doocy was ready and made it count as he wanted to know about how much he "bear[s]...for the way" things transpired:
Later, Houck rolled more right-wing reporters into his crush-fest -- all the better for trashing Jen Psaki -- for the Aug. 26 White House press briefing:
Less than an hour after President Biden addressed the nation early Thursday night on the deadly terror attacks at the Kabul airport, White House Press Secretary Jen Psaki took to the podium and continued her terrible, horrible, no good, very bad return Thursday's episode of The Psaki Show featured usual cast members in Fox's Peter Doocy, the Daily Caller's Shelby Talcott, Real Clear Politics's Philip Wegmann, and plenty of liberal media reporters, but it also featured the briefing debut of Fox Business Network correspondent Hillary Vaughn (who also happens to be Doocy's wife).

Thursday's episode of The Psaki Show featured usual cast members in Fox's Peter Doocy, the Daily Caller's Shelby Talcott, Real Clear Politics's Philip Wegmann, and plenty of liberal media reporters, but it also featured the briefing debut of Fox Business Network correspondent Hillary Vaughn (who also happens to be Doocy's wife).

Fresh off his back-and-forth with Biden, Doocy was called on third and wanted to know how it's possible the U.S. will "still...work with the Taliban...to get American citizens and Afghan allies out" considering one of the suicide bombers had successfully passed through Taliban security without being stopped.

Psaki stuck to the party line, which was that "they're not a group we trust" but it's "necessary" to rely on them because they control most of the country.
Houck stuck to the party line too. Note that Houck labeled non-right-wing reporters as "liberal," but he censored the fact that Doocy, Wegmann and Talcott are conservatives. Also note that Houck did not put up with similarly tough (and less biased) questioning when it came from the "liberal" media and was addressed to his beloved Kayleigh McEnany.
Houck again failed to honestly label Doocy and Wegmann in his writeup of the Aug. 27 briefing:
Despite it being a Friday afternoon after a long, difficult week for the country, many in the White House press corps kept up the heat against Press Secretary Jen Psaki on Afghanistan with Fox's Peter Doocy, the New York Post's Steven Nelson, Real Clear Politics's Philip Wegmann, and even some liberals testing Psaki's patience.
Houck didn't have Doocy to crush on for the Aug. 30 briefing:
Hours before the U.S. military announced the official end of the war in Afghanistan, White House Press Secretary Jen Psaki took heavy fire on Monday afternoon from a litany of establishment liberal media outlets, Fox's Jacqui Heinrich, and usual cast member Philip Wegmann over the administration's handling of the withdrawal, what to say to those being left behind, and whether America is now less safe of a country.

Again, Houck refused to tag Doocy, Heinrich and Wegmann as biased conservatives, even as he insisted every other reporter was "liberal." Houck chortled at the end: "If Monday's briefing were any indication (and the world didn't know that the war was about to end), Tuesday's episode of The Psaki Show will be a must-watch."
Indeed, he touted the Aug. 31 briefing that way:
President Biden stuck to form Tuesday by refusing to take questions after his speech on the end of the war in Afghanistan, so they fell to Press Secretary Jen Psaki and she found a cadre of reporters who were loaded with queries on topics such as Biden's "angry" tone, Biden checking his watch during Sunday's dignified transfer or remains, blaming Americans for not getting out in time, and whether Afghanistan will resume being a terrorist safe haven.

And while it continued a petering out from previous briefings of almost universal hardballs, there were still reporters from a diverse range of outlets who came ready.
Houck didn't accuse his beloved McEnany of cutting and running from her job after the Trump-instigated Jan. 6 riot. Indeed, he was completely silent on her refusing to do the job she was paid to do.
The latest from