How Has The MRC Been Freaking Out Over George Soros Now?
Topic: Media Research Center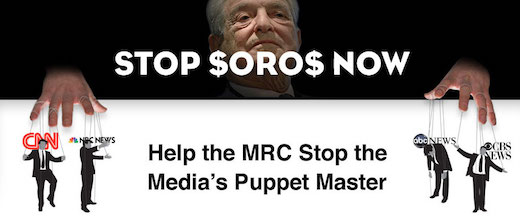 The last time we checked in on the Media Research Center's obsession with George Soros, MRC writer Joseph Vazquez seemingly had an assignment to fearmonger abaout him every week or two. Vazquez was at it over the last half of 2020 and into 2021:
In a Nov. 30 post, Vazquez complained that "It took Election Day being over for CNN to slam Democratic hypocrisy on the use of dark money," highlighting that "The George Soros-funded Sixteen Thirty Fund — a left-wing group CNN noted as responsible for about a third of the 'dark money' that helped fuel Democratic candidates this cycle — had given $52 million to other 'groups active in the 2020 elections.' CNN ignored mentioning that the group was connected to Soros." Vazquez wasn't similarly concerned about dark money in Republican political campaigns.
Meanwhile, Alexander Hall went on a Soros-blaming binge in a July post:
Don't doubt that Wikipedia is liberal. Fierce debate erupted among Wikipedia moderators about whether Fox News could even be used as a credible source in Wikipedia entries. It ended by being a source that could only be used with proper warnings in place.

Wikipedia labels itself as the internet's encyclopedia. Like so many other internet institutions, it seems to have been co-opted by left-wing radicals. "The Wikipedia community recently engaged in a spirited debate over whether Fox News is a reliable enough source to use as a citation in entries on the encyclopedia," CNN's' Reliable Sources newsletter reported.

The administrators overseeing the platform decided that since there was "no consensus regarding the reliability" of Fox News, that it "should be used with caution." Perhaps this shouldnt be a surprise from an institution which has received $2 million in donations from liberal billionaire George Soros.
Yes, Hall really was blaming all of this on Soros giving money to Wikipedia.
In a Dec. 2 post, Hall complained that Jonathan Greenblatt, CEO of the "infamous" Anti-Defamation League, "has smeared online conservatives as being 'anti-Semitic' for their criticism of liberal billionaire George Soros. He claimed 'George Soros is patient zero for the anti-Semites.'" The MRC has declared Soros as a Jew conservatives are permitted to hate, pre-emptively absolving them of anti-Semitism in doing so, even though it has applied the anti-Semitic "puppet master" trope to him.
We've already noted that on Dec. 18, MRC chief Brent Bozell attacked the Americans for Prosperity Foundation for seeking emails the MRC may have sent to Trump administration officials to pushing its dubious conservative victimization agenda regarding social media, further attacking key AFP funder the Koch brothers for having "launched a multi-million dollar venture with George Soros."
Posted by Terry K. at 8:23 PM EST