MRC Fawns Over Trump's New Social Media Operation, Censors Questions About It
Topic: Media Research Center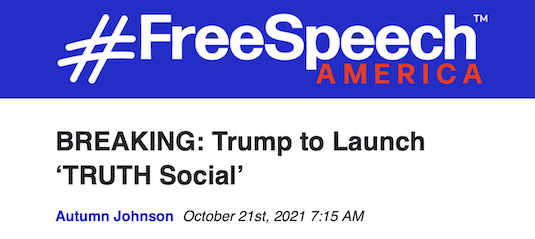 If you're a right-wing social media site, the Media Research Center wants to give you some free (or paid, we don't know) PR. It did so for Parler -- even going so far as to censor the conflict of interest that chief Parler funder Rebekah Mercer is also a major funder of the MRC -- it did so for the MyPillow guy's operation, it did so for GETTR, and now it's doing so for Donald Trump's new social media operation.
In an Oct. 21 post announcing the creation of the operation, Autumn Johnson put "BREAKING" in the headline even though she was breaking absolutely nothing but, rather, repeating a report from another right-wing website:
Former President Donald Trump announced on Wednesday that his new social media platform will be coming soon, The Daily Wire reported.

TRUTH Social will be released next spring under the Trump Media & Technology Group (TMTG). The platform will compete with Facebook and Twitter, like Parler and GETTR.

Trump said he is excited about the new platform's potential.

"I created TRUTH Social and TMTG to stand up to the tyranny of Big Tech," he said in a statement. "We live in a world where the Taliban has a huge presence on Twitter, yet your favorite American President has been silenced. This is unacceptable. I am excited to send out my first TRUTH on TRUTH Social very soon."

TMTG concurred with Trump's statement, adding that the "mission is to is to create a rival to the liberal media consortium and fight back against the "Big Tech" companies of Silicon Valley":
Johnson added that "Trump was permanently banned on Facebook and Twitter following the Jan. 6 riot in Washington D.C.," but made sure not to mention why.
Another thing Johnson refused to mention: questions about the operation itself. When the site launched, it was immediately overrun by trolls who snapped up registered names like "donaldtrump," "donaldjtrump," and "mike pence," and its terms of service are pretty tyrannical for a site purporting to "stand up to the tyranny of Big Tech." The app may also violate the terms of use of the open-source software it's built on. Then there's the fact that Trump in all likelihood did not "create" anything related to this venture beyond lending his name to it (for a presumably princely sum), given that TMTG refused to tell the Washington Post exactly what Trump's relationship with the company will be.
But Johnson is nothing if not an enthusiastic PR agent for Trump. In an Oct. 28 post on Trump losing a legal action against Twitter, she spent three paragraphs gushing over how he "just last week announced the creation of his own social media platform: TRUTH Social," linking to her earlier post.
Johnson returned to gush in a Dec. 5 post about the amount of capital TMTG claims to have:
A new social network being created by former President Donald Trump reportedly said it has $1 billion lined up in capital.

Trump announced his plan to create a new social network after he was banned from Facebook and Twitter. The network is a product of Trump's new company, Trump Media & Technology Group (TMTG), and he is the chair of the company.

TMTG plans to become a publicly listed company by merging with Digital World.

Digital World reportedly said $1 billion in capital has been lined up for the venture, while the company itself plans to invest $293 million.
Johnson was curiously incurious as to how a company formed less than two months earlier and has, as one observer noted, "no product, no users, no publicly identified executives, and no revenue," has access to such an astronomical amount of money, though there appears to be much shadiness to be investigated. Instead, she quoted from a press release, blandly stating that "Other investors have not been identified, but Digital World reportedly said the money will come from 'a diverse group' of investors."
But never mind that, there was another hot scoop to gush over. This time, Alexander Hall did the gushy honors on Dec. 7:
Is this the start of a big conservative splash in the tech sphere?? Rep. Devin Nunes (R-CA) will reportedly resign from his position as a congressman to join former President Donald Trump's burgeoning Trump Media & Technology Group (TMTG.)

Trump is out of the presidency, but his company has the potential to be a major player in the social media sphere, and it just gained one major power-player. "Trump Media & Technology Group ('TMTG') today announced that Congressman Devin G. Nunes has been selected to join the Company as Chief Executive Officer," TMTG declared in a Dec. 6 press release. "Mr. Nunes will be leaving the U.S. House of Representatives and will begin his new role as Chief Executive Officer of TMTG in January 2022."
Hall did surprisingly suggest the cronyism involved here, noting that "Nunes has a history of backing up Trump in the most high-stakes times of crisis" and that Trump "awarded Nunes the Presidential Medal of Freedom," while Nunes was "one of the 147 House Republicans who voted to challenge President Joe Biden's Electoral College victory" on the day of the Jan. 6 Capitol riot.
Hall didn't however, mention Nunes' notirious litigiousness toward any critic on social media, including a parody Twitter account claiming to be Nunes' cow. Perhaps that ligitiousness is the real skill Nunes is quitting Congress to bring to Trump's operation (that, and all the potential grift to cash in on). Hall will never mention that, either.
Posted by Terry K. at 9:54 PM EST
Updated: Tuesday, January 4, 2022 10:01 PM EST