MRC's Sports Blogger Keeps Up Anti-Vaxxer Rants
Topic: Media Research Center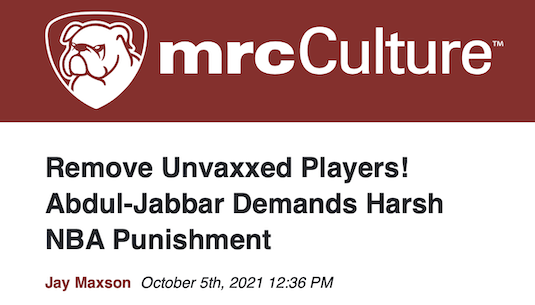 Mysterious Media Research Center sports blogger Jay Maxson just can't stop using his MRC platform to peddle anti-vaxxer activism and rage against COVID vaccine mandates.
In an Oct. 5 post, Maxson got upset that NBA legend Kareem Abdul-Jabbar (whose name he misspelled as "Kareen") "managed to link coronavirus vaccinations with race, particularly Black Lives Matter" in an NPR interview, huffing in response:
Kyrie Irving and other non-vaccinated players who fully supported BLM beg to differ. The two issues are not conjoined at the hip. These players are showing this by their actions, by their personal discernment.

[...]

What's also not fair is that in this NPR interview, A Martinez never broached the subject of adverse reactions to vaccines, which were fast-tracked through to federal approval. If everyone thought vaccines were safe to use, it wouldn't be such a big issue, but that's not the case. Oh, that's right, leftists are doing diligent research through so-called reputable sources like Dr. Anthony Fauci and MSNBC. And unlike the unvaccinated rubes, they have all the correct information.
Two days later, Maxson got upset that Canada was enforcing vaccine mandates and didn't exclude pro basketball players, invoking Kyrie Irving again:
There is no point in unvaccinated NBA players making the road trip to Toronto. That Canadian city can sentence them to jail time and fine them $750,000 for leaving their hotel, according to a report in The Athletic. Other NBA cities will prevent such players from playing in games and also from attending practices. Yes, it's one big, tangled web of freedom-dousing nonsense gripping the league.

[...]

Irving calls the limitations "oppressive." The city of Toronto calls them "criminal." Brooklyn, the Bay Area and New York haven't yet gotten the memo about the land of the free.
Maxson's whining continued on Oct. 10:
ESPN's blog, The Undefeated, jumped down LeBron James' throat for not calling on all NBA players to submit to COVID-19 vaccinations. The coronavirus pandemic is actually an act of social justice and a fight for equality rivaling opposition to police brutality, says The Undefeated's senior writer David Dennis Jr.

[...]

The ESPN Undefeated writer also says that Kyrie Irving and other vaccination resisters are perpetuating the possible spread of an epidemic ravaging black folks and this contradicts every statement they've ever made about standing for black folks in America. They can no longer be trusted when they speak of how black lives matter.
The dictatorial Democrats could not have stated this anti-freedom, race-baiting sentiment any better than Dennis.
Maxson was perversely happy in an Oct. 17 post cheering how turning thousands of college football fans into guinea pigs ended up working out better than people expected:
Have a plate of crow, fear-mongers Dr. Anthony Fauci and Joy Reid. Your expectations of huge college football stadiums packed with thousands of fans serving as super-spreaders of COVID-19 have been disproven.

College football has reached the mid-season point, and COVID-19 outbreaks are on the decline in many of the states with the largest stadiums. Through weeks of mostly unmasked fans sitting side by side at college football games in huge stadiums, the dire predictions of the doomsday crowd have fallen flat on their face.

"As soon as I saw it (the opening of college football stadiums to fans in September), I thought COVID's about to have a feast," Reid told Dr. Fauci on NBC Today. "What did you think?" Fauci said, "I thought the same thing. I think it's really unfortunate."

What's that? Dr. Fauci wrong? Again? He seems to keep failing upward, in the view of those on the Left who have all but bestowed sainthood on him despite his sorry track record.
This partisan Fauci-bashing was an echo of a post Tim Graham had written the day before.
Of course, just because there was no spike in COVID cases during that period does not mean that COVID did not spread at stadiums.
In an Oct. 21 post, Maxson cheered that Washington State football coach Nick Rolovich, who was fired for refusing to get vaccinated, was contemplating legal action against the university. Maxson went on to complain that other media outlets pointed out that Rolovich's attempt to claim a religious exemption becauseof his Catholic faith was shot down because "Pope Francis and the U.S. Conference of Catholic Bishops have stated that 'all Covid-19 vaccines are morally acceptable and that Catholics have a duty, responsibility or obligation to be vaccinated.'"
Posted by Terry K. at 8:53 PM EST
Updated: Friday, November 26, 2021 2:13 PM EST