CNS Intern Completes Semester Of Senator-Pestering
Topic: CNSNews.com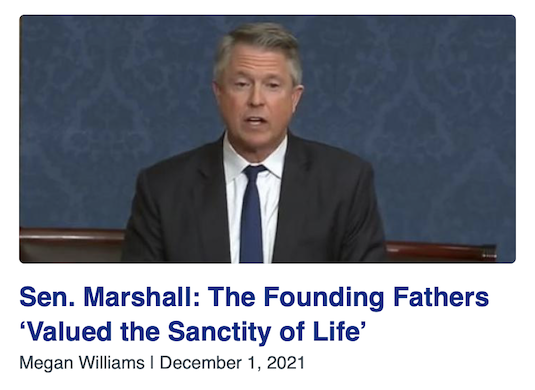 Megan Williams of right-wing Hillsdale College was CNSNews.com's student intern for the fall semester, and part of that job -- as it is for all CNS interns -- was to pester members of Congress with right-wing gotcha questions designed to trap Democratic politicians and give Republican ones a chance to virtue-signal. Unsurprisingly, she finished out her term the way she began it.
In early November, Williams' prescribed to senators was, "Does an unborn baby with a beating heart have the God-given right to life?" Only three senators got the question, all of them Republican:
A couple weeks later, Williams had another question to ask: "Will President Biden secure the southern border?" Some got a follow-up: "Do you know if he's making any efforts to do so now?" She got more senators this time, most of them Republican:
In many of the articles, Williams went on to do some pro-Trump, anti-Biden editorializing: "Biden's border neglect began the first week of his presidency when he revoked former President Donald Trump's executive order that focused on strengthening the southern border policies to prevent illegal immigration. This included halting construction of the wall. ... Biden believed Trump's policies were too harsh, but they worked."
Williams got in one more abortion-related question to a few (Republican) senators before her term was up: "Did the Founding Fathers believe in a right to abortion?" Like the earlier question, she got to ask it of only three (Republican) senators: Roger Marshall, John Kennedy, and Mike Rounds, all of whom unsurprisingly answered no. Williams editorialized somemore: "The Dobbs case gives the Court the opportunity to overturn the Roe precedent, or at least adjust its standards, and return back to the intentions of the Founding Fathers."
Williams may not have learned much about journalism during her tenure as a CNS intern, but she sure seemed to learn a lot about promoing right-wing talking points.
Posted by Terry K. at 1:10 AM EST
Updated: Thursday, December 30, 2021 9:27 AM EST