Another MRC Sports Blogger Goes The Anti-Vaxxer Route
Topic: Media Research Center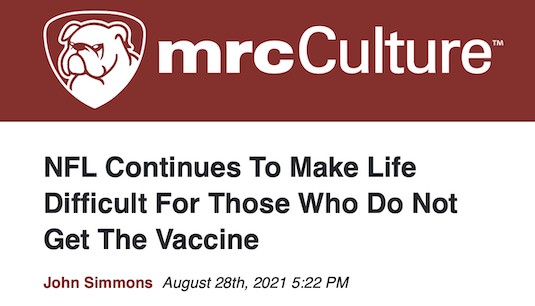 The mysterious Jay Maxson is not the only Media Research Center sports blogger who has been embracing COVID anti-vaxxer attitudes. John Simmons' second-ever item at the MRC was an Aug. 27 post complaining that at British soccer coach urged his players to get vaccinated:
However, a vaccine will never guarantee that a disease will go away. After all, people who got the flu vaccine before the COVID outbreak could still get the flu at a later date. According to the CDC, the flu vaccine's effectiveness varies from season to season and further varies from person to person depending on age, health status, body type, and other factors.

[...]

In the end, COVID might be something that just becomes some new sickness we have to deal with as part of our daily lives. But to say that athletes must take the vaccine in order to fully protect themselves against is is absurd in every sense.
But COVID is not the flu, and it's a testament to Simmons' willful ignorance that he wants you to believe it is.
The next day, Simmons turned his attention to American football:
Imagine a world in which a professional athlete – in peak physical shape -- could be ridiculed and punished for not taking an experimental vaccine for a disease with a minimal death rate.

Sounds too ridiculous to actually happen, right? Well, not exactly.

Bills wide receivers Isaiah McKenzie and Cole Beasley already been punished by the NFL under it's ridiculous mandates. On Thursday, the NFL fined Beasley for an infraction, with the star wideout saying on Twitter that he was "disciplined for not wearing a mask for 'literally 5 steps' from the entry door to the locker room after wearing it 'the whole day.'"

[...]

The NFL has gone far overboard in creating and enforcing mask mandates. In June, the NFL said that vaccinated players will only have to get tested once every two weeks and will not have to quarantine if exposed through contact tracing, while unvaccinated players will be tested every day and will have to quarantine if they come into contact with someone who had COVID.

Think that's absurd? Just wait.

The fines for violating the NFL's protocols could average $14,650 per infraction. That includes an unvaccinated player attending an indoor bar or nightclub or attending an indoor concert or entertainment event. A fine of up to $50,000 applies to more serious violations, such as a player failing to cooperate with an investigation into protocol compliance.
In fact, the COVID vaccines are not "experimental" --the Pfizer vaccine was officially approved by the FDA five days before Simmons' post. But Simmons still wasn't done with the anti-vaxx whining:
Football athletes are some of the most physically fit people on the planet. They eat healthy, train for hours every day, and have vast medical resources at their disposal. Of all people, they should be able to fight COVID-19 effectively without taking a vaccine, let alone being punished if they don't.

The NFL has turned into a microcosm of what is happening in our country today: segregation of "good and bad people" based of vaccination status and beating into submission those who will not comply with their rules.

NFL players who have not been vaccinated should stay strong and do not cave to the fearmongering wackos running the league. If they don't want the jab, they shouldn't have to take it, plain and simple.
Simmons complained more about vaccine mandates in pro football in a Sept. 2 post, repeating his bogus COVID-is-the-flu argument and gushing over players being perfect physical specimens before huffing that a team's decision to cut players based on their vaccine status is the exact same thing as racism:
Let it be said again, there is reason a professional athletes may not need to take the vaccine. One gander at a sideline of athletes – especially football athletes – are some of the most physically in-shape individuals on the planet. Furthermore, the NFL dedicates an ungodly amount of medical resources to ensure that their players stay healthy, so combining that with their incredible physical health and you have a demographic of people who should be the least concerned about their vaccination status.

The CDC has said that a vaccine's effectiveness varies from season to season and person to person in terms of helping prevent sickness. So if the COVID vaccine- which has only been tested for months and not years-is just like any other vaccine, then it would be foolish for any sports team to make cuts based on something that has not been proven effective -such as the COVID-19 vaccine.

In the past, teams wrongfully used to make personnel decisions over skin color. Thankfully, we have moved past this foolish determinant of whether or not to allow an athlete to play a sport. But now, it seems we are reverting back to our old ways of discriminating against people and making them appear as second-rate citizens, this time based on someone's medical history.

There is truly nothing new under the sun.
That statement also applies to absurd right-wing comparisons.
On Sept. 22, Simmons gushed over unvaccinated NFL Buffalo Bills player Cole Beasley for offering to buy tickets for unvaccinated Bills fans to road games, since the home stadium requires fans to be vaccinated: "In a world where burning buildings and shaming white people has become a widely accepted form of protesting against something we disagree with, this is the type of demonstration you like to see, especially from someone with a platform as big as Beasley's. ... If only the NFL would support protesting like this, and not demonstrations that disrespect our national anthem or supporting organizations that burn down cities and promote radical ideology.
In a Sept. 27 post, Simmons frowned on the NBA's Golden State Warriors refusing to give player Andrew Wiggins a religious exemption, adding, "Wiggins has not been clear what religion he follows, but the type of religion shouldn't matter in this situation."He didn't mention the highly relevant fact that no major religious denomination opposes vaccination, and that many people lie about having "religious" objections to vaccines. Nevertheless, he lectured:
To many of us, the most important element of life is our religion. It influences every decision we make and helps guide our conscience in matters of right and wrong. Our Constitution protects the individual's right to practice the freedom of religion, one of the many things that make this country so special. Unfortunately, the NBA and the city of San Francisco don't care about people's religious beliefs.

[...]

This should be another warning sign to Americans as to the depths to which our government and business leaders have stooped to force people to conform to what the government says. Every totalitarian or communist government in history has sought to persecute those who do not view the government as the Almighty power on Earth. When you don't comply, your life will become miserable, and they will start stripping away elements of your freedom and your values until you finally give in. That is what America is now viewing as acceptable.
Do people have a constitutional right to infect others with a potentially deadly virus? Simmons didn't say.
Posted by Terry K. at 9:28 PM EST