Epic Fail: MRC Tries To Discredit Study Naming It Among 'Toxic Ten' Climate Misinformers
Topic: Media Research Center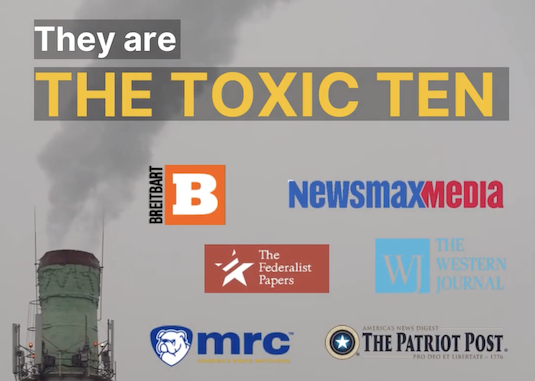 We've noted how the Media Research Center freaked out over a report from the Center for Countering Digital Hate that placed it on a list of "Toxic Ten" right-wing operations responsible for much of the Facebook climate-denier content that gets a high amount of interaction -- but it couldn't be bothered to refute any of the claims the study made, let alone supply a link to the study itself so the MRC's readers could judge for themselves. It took nine days after its release for the MRC to actually respond to the report itself, in a Nov. 11 post by Heather Moon and Gabriela Pariseau. Their opening set up the nasty tone of the piece:
The leftist U.K.-based Center for Countering Digital Hate just launched a broadside attack against nine conservative digital outlets with its "Toxic Ten" report. The report aimed to silence entire outlets for writing stories that don't follow the leftist climate policy narrative.

The hyperbolic report used data out of context to make it appear that users should care about 0.00012 percent of Facebook engagements in the last year. It also equated any discussion of eco-hypocrisy, data manipulation, George Soros or Marxist ideology in relation to climate policy to so-called "disinformation" that must be silenced.

Such pro-censorship behavior would allow no room for legitimate debate over real issues.
As if Moon and Pariseau are interested in legitimate debate. The fact that they too refused to link to the report is further evidence of that. That was followed by even more attcks on the CCDH:
The Center for Countering Digital Hate (CCDH), partly funded by a group with ties to communist China, had huge success in peddling its previous pro-censorship list. It highlighted what CCDH considered the top sources of so-called "disinformation" about vaccines, dubbed the " Disinformation Dozen." Then the organization turned its sights to online news media that occasionally cover the climate policy debate.
The duo are referring to a CCDH report earlier this year on 12 mostly right-wing minformers about COVID vaccines. In a August post attacking Facebook for following CCDH recommendations, Autumn Johnson put "misinformation" in scare quotes, just like Moon and Pariseau are referring to "so-called 'disinformation'"-- part of the MRC's insistence that COVID misinformation is whatever someone thinks it is, not something that can be objectively defined.
Moon and Pariseau recycled old complaint about the CCDH report:
CCDH's report lacked transparency and used questionable data from a biased source. Further, the method used to find so-called "disinformation" articles was full of prejudices.

The group claimed to analyze 6,983 "climate denial articles" for its study, but declined to provide a specific list of articles included. That's a huge problem with research transparency. It only included the query that it used to find the articles, which raised multiple concerns.

The query was constructed to look only for articles that mention keywords related to climate change. It then also required the article have one or more keywords from a long list that the authors believe would indicate that it was an article questioning climate change.
As we noted when Moon bashed another study for the same reason, the MRC frequently conducts "studies" that fail to make underlying data public about the subjective judgments it makes about the content being reviewed, so she has little room to complain about that.
They continued:
One of these was the word "realism," as though anyone who wishes to debate what is and is not real about climate change is to be silenced. Another example are the words "hypocrite" or "hypocrisy." Including those words shows that the authors consider any discussion of the excess use of carbon in private jets, large motorcades or enormous mansions by people pushing climate policy should be dismissed, demonetized and shut down.
The duo didn't mention that "climate realism" is actually a euphemism being used by right-wing anti-climate activists to soft-pedal their denialist views. Nor did they explain why attacking someone's alleged hypocrisy on climate issues is relevant to the debate.
They then tried to downplay significance of the report's finding that 69 percent of the Facebook interactions on climate-denial content comes from the "Toxic Ten" webistes:
CCDH does not provide a list of all of the posts evaluated for this study. It only provides a few examples in the report. Given the nature of the study, the logical conclusion is that most are linked posts. Linked posts generate a fraction of the engagement that other posts do.

CCDH is exaggerating the significance of the climate posts in the overall scope of what happens on Facebook in order to peddle its own agenda that is toxic to free speech and open policy debate. Even a leftist reporter explained that its data on engagement with conservative sites and stories is overblown. Both his piece and an article by Western Journal explained that engagement metrics are an indicator of how controversial a post is rather than how many users are actually reading and being influenced by it.
The duo linked to a August post by Moon hyping that "A new Facebook report proved the @FacebooksTop10 daily list of 10 most-engaged link posts each day is wildly misleading, given that posts with the most views got far more engagement than posts on the list." But a month later, Moon was attacking data that comes from Facebook, declaring that reports about "severely flwed" data coming out of Facebok "discredited any study relating to so-called "misinformation," alleged radicalization or political polarization that used the Facebook information" and that "Every study that used the flawed data should be retracted until a new analysis has been completed."
The duo further insisted that the study'snumbers be placed into context (which is friendly to their CCDH-bashing arguments), again citing Facebook data she has insisted elsewhere is misleading:
CCDH trotted out what it portrayed as a very concerning number: 709,057 total interactions with the so-called "climate denial articles" between Oct. 2020 and Oct. 2021. But numbers without any context are useless.

To put that number into context, Facebook noted analysis of Facebook data by SMPerth, a social media marketing education service in Australia, showed that in a 30-day period, the typical Facebook user likes 11 posts, comments on 5 posts and shares one post, for a total of 17 average monthly engagements.

Performing some basic math with these numbers, we discovered that the 706,057 interactions over a one-year period amounted to approximately 0.00012 percent of the total Facebook interactions over that time, a rather insignificant number. Certainly not a number worth the effort to demonetize and deplatform ten online organizations over.
From there, Moon and Pariseau moved on to citing previous predictions about climate catastrophe allegedly not coming true:
The first words used in the report are, "We are at a climate tipping point." That is followed up with phrases such as "It is the greatest crisis ever faced by our species." This language is alarmist by definition. Americans have been warned about being at such a tipping point to the point that it has become tantamount to the story of the boy who cried wolf.

One example among many was an article from 2006 on a climate change-promoting website saying that we have only a 10-year window to act. That window closed five years ago, yet we are still not facing the climate catastrophe predicted if we failed to act. It is nonsensical to claim that calling out truly alarmist and hyperbolic language as such deserves to be demonetized and deplatformed — especially when using hyperbolic language to do it.
But that report did not say things would immediately get worse if nothing was done in that timeframe. Indeed, climate change has continued since 2016, and 2020 was tied with 2016 as the warmest year on record, so that prediction hasn't exactly been proven wrong.
The duo then returned to COVID misinformation:
The report then goes on to compare so-called climate "disinformation" to " vaccine and COVID-19 disinformation," saying that both "obfuscate the truth by overwhelming us with claims and questions designed in bad faith to confuse the debate so action is delayed. "The authors chose this comparison because of the organization's previous success with its "Disinformation Dozen" report. However, COVID-19 is a bad comparison for the point the authors tried to make.

The virus data proved "experts" wrong time and time again. Some stories initially labeled conspiracy theories" have borne out to in fact be supportable if not undeniably true, such as the Wuhan lab leak. Comparisons to the climate policy debate favor skeptics rather than the so-called "experts."
Actually, the "Wuhan lab leak" has not yet proven to be true, in fact, the idea that it originated in a Wuhan food market remains quite viable. Many of the things Moon and Pariseau linked to to claim that people were wrong about things that turned out to be true -- like a Fox News attack piece on Anthony Fauci's purported "contradictions" about the virus -- can be linked to the evolving nature of knowledge about COVID. The duo had to go to far-flung places like a Turkish website and an article by known COVID quack Joseph Mercola, which don't exactly prove their point.
Moon and Pariseau concluded by whining:
CCDH stated in its report that the websites highlighted "are the main producers of content that sows climate change skepticism" pretending there is "more extensive debate than there really is." This statement relies on the old "97 percent consensus" myth that has been debunked. The fact that the report must dredge up a debunked statement to make its point discredits its own argument.
The duo cited a 2016 Forbes piece written by an instructor at the University of Houston who previously had a career in the oil and gas industry, who claimed that the consensus level is closer to 81 percnet -- but even then, the writer conceded that "support over 80% is strong consensus." Meanwhile, outside the right-wing bubble the MRC resides in, the 97 percent number continues to hold up.
Weirdly, Moon and Pariseau not only did not refute anything the report stated about the MRC -- such as its funding from fossil-fuel interests -- it censored the fact that the MRC was one of the "Toxic Ten." They also didn't mention that another outlet on the list was Russian state media operations like RT and Sputnik News, though they appeared to be trying to write around that by referencing "nine conservative digital outlets" in the lead paragraph.
This is not exactly the takedown of the CCDH report that the MRC thinks it is -- it's more evidence justifying the MRC's place on the CCDH's list.
Posted by Terry K. at 8:15 PM EST
Updated: Tuesday, January 4, 2022 11:29 PM EST