MRC Psaki-Bashing, Doocy-Fluffing Watch, Doocy-Free Edition
Topic: Media Research Center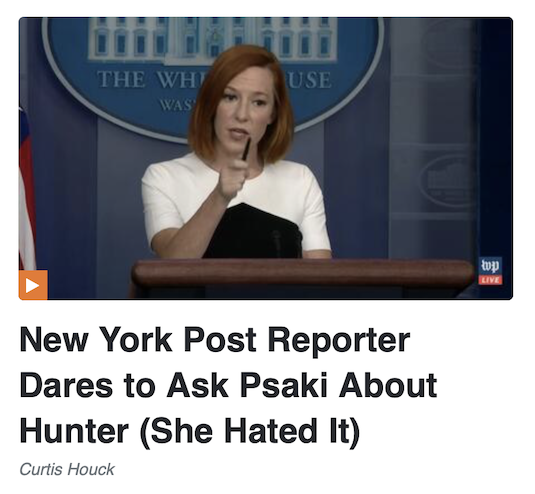 The Media Research Center's Curtis Houck found a biased right-wing reporter whose name wasn't Peter Doocy to ask hostile questions to Jen Psaki during the Dec. 6 White House press briefing:
During Monday's episode of The Psaki Show, New York Post reporter Steven Nelson made the most of his infrequent opportunities to question Press Secretary Jen Psaki by invoking news about Hunter Biden's Chinese business dealings and Miranda Devine's new book about Hunter's laptop. However, Psaki wanted nothing to do with either of them

Nelson began by citing a new and "big report" out of the Biden administration concerning "corruption" as a way of asking "two quick and hopefully pretty easy questions about that"(which ironically cited art sales as a key vehicle for money laundering).

[...]

Predictably, Psaki dismissed its importance since "the President's son is not an employee of the federal government, so I'd point you to his representatives."

As for the Devine book, The Laptop From Hell, Nelson said he "was hoping that you could confirm that the laptop is indeed authentic and not Russian disinformation as you seemed to suggest on Twitter last year."

Psaki's answer? She was even less interested: "And, as it relates to the book, I have neither had the time nor interest in exploring or reading the book."

Nelson attempted to follow up, but Psaki wanted to go to the next reporter, arguing she had "answered your question" and reiterated he "can go to the representative of the person who's not an employee of the federal government."
Houck didn't mention that Nelson was shilling for his employer -- Devine is a fellow New York Post writer -- or that the Post is a right-wing newspaper owned by Fox News owner Rupert Murdoch.
Houck had another Doocy-less briefing on Dec. 7, but he found another Fox reporter to crush on for pushing her employer's anti-Biden talking points:
Tuesday's White House press briefing was jam-packed amid Russian troops gathering on the border with Ukraine and a high-stakes call between President Biden and Russian dictator Vladimir Putin, so it was a welcome sight when Fox's Jacqui Heinrich and others highlighted the U.S.'s acquiescence to Russia on the Nord Stream II pipeline, Biden's lack of public comments about the tensions, and whether he'll handle it differently than Afghanistan.

Following lengthy remarks and a Q&A with National Security Advisor Jake Sullivan, CBS's Nancy Cordes set up Press Secretary Jen Psaki by wondering whether the White House has "put plans in place in case Americans in Ukraine need to be evacuated quickly."

[...]

As for Heinrich, she had two questions about Nord Stream II with one pertaining to whether the administration regrets greenlighting it and about whether they believe Russia is "using gas as a geopolitical weapon."

[...]

Heinrich ended with a question on rising crime and specifically whether the White House agrees with Congresswoman Alexandria Ocasio-Cortez (D-NY) that claims of a rise in smash-and-grab robberies are fake news:
Then, for unexplained reasons, Houck took the rest of the week off. Perhaps Psaki-bashing isn't enough if he can't also engage n Doocy-fluffing?
Posted by Terry K. at 10:43 PM EST