MRC's Right-Wing Film Critic Whines That 'Eternals' Is Too Woke (Read: Not Heterosexual Enough)
Topic: Media Research Center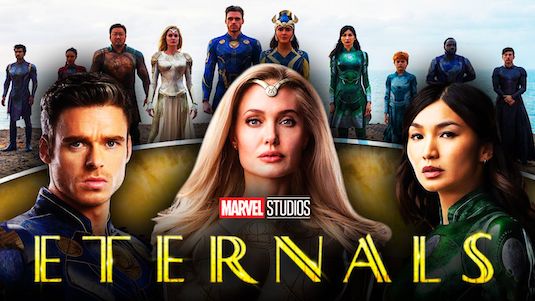 The Media Research Center's right-wing film critic, Christian Toto, has deemed himself the judge of all that is "woke" and not "woke" in filmdom -- which explains why he hates the recent Marvel movie "Eternals." It also explains why his Nov. 6 review of the film began with a lenghy rehash of his ideologically motivated attack on the 2016 all-female "Ghostbusters" reboot, in which he denied hating the movie because the genders of the leads were changed but, rather, because the movie purportedly used ""victimization storylines ripped from today's snowflake-encrusted headlines." Yeah, we wouldn't want a movie to have any relevance to the real world, would we?
Toto eventually gets around to attacking "Eternals" for being similarly "woke," which seems to come down to not having enough heterosexual characters, from the obtuse angle of bashing an article noting the complaint:
The new MCU film Eternals, in theaters Nov. 5, is earning tepid reviews prior to its release. Even the positive critiques are far from glowing, and the movie hovered around the "rotten" mark at RottenTomatoes.com before falling to 53 percent at the moment.

That's a first for an MCU film.

Enter TheHill.com to the rescue.

The left-leaning outlet, citing a thinly sourced story from TheDirect, said audiences are savaging the film, sight unseen, due to its LGBTQ content. "Eternals" features an openly gay hero, played by Brian Tyree Henry, and offers a series of casting and plot choices that fall squarely in the "woke" category.

[...]

TheHill.com is a serious news outlet. Why would it write the story in the first place? The headline itself sounds hyperbolic – 'War erupts over new Marvel blockbuster's gay superhero'

War?

It's the Ghostbusters media template, take two. Reporters view Eternals as part of the woke revolution, and they feel compelled to protect it at all costs.
And because it's "woke," Toto feels compelled to trash it. Also, The Hill isn't a "left-leaning outlet"; media observers view it as being in the middle, and it regularly publishes right-wing media critic Joe Concha.
Toto then insisted that LGBT content in movies is no longer a problem for people: "Gay and lesbian stories abound in pop culture today. They're everywhere in an industry that once tried to hide a lesbian star's relationship with another actress, Anne Heche. So why would the tiny LGBTQ moments in Eternals evoke such an allegedly hostile reaction?"But if LGBT content is no longer a problem, why did Toto's publisher, the MRC, publish an attack on a bisexual Superman? Toto continued:
TheHill.com piece also notes that other MCU properties, including Avengers: Endgame and Loki, also feature LGBTQ characters. Has either one been "review bombed?" If not, why not?

Some of the early comments tied to Eternals could, in theory, reflect anger at the sexuality on display. Or, more likely, it captures an audience exhausted by woke virtue signaling in their favorite shows and movies.
So, if you redefine LGBT content as "woke," then you can justify hating said content. (Also, the MRC trashed "Loki" for being gender-fluid, putting another hole in Toto's theory of acceptance.)
Continuing to deny the reality of people hating LGBT content in films, Toto -- who also seems unaware that the MRC has additionally lashed out at non-heterosexual characters in "Supergirl" and "Batwoman" -- continued to play dumb: "Audiences eagerly embrace actors of all races, assuming they deliver fine performances in entertaining content. If the 'review bombing' phenomenon were as real and pernicious as we're told, we'd see it across the pop culture landscape."
By contrast, Toto was much kinder to a different Marvel film. A Dec. 18 review gave his "anti-woke" imprimatur to "Spider-Man: No Way Home" for not having "dabbled in wokeism" and for being a "course correction, a sequel that adores its audience, its lore and the ability to transport us for two-plus glorious hours." He did not mention the existence of any LGBT characters in the film, which presumably is the reason is "woke"-o-meter didn't go off.
Posted by Terry K. at 10:21 PM EST
Updated: Monday, December 27, 2021 11:10 PM EST