Does MRC's Promotion Of Bozell's New Book Violate Nonprofit Rules?
Topic: Media Research Center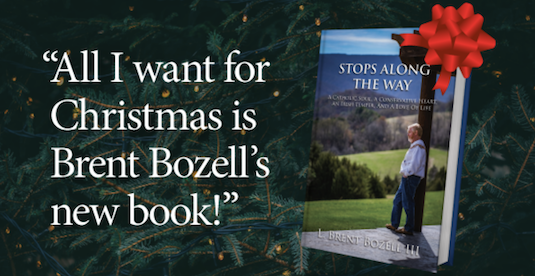 For the past few months, the Media Research Center has been giving aggressive promotion to chief Brent Bozell's new memoir, "Stops Along The Way," mainly in the form of numerous emails to the MRC's mailing list. One email, for example, has the usual conservative talking heads serving up blurbs for the book, though it didn't correct Pat Boone calling the MRC the "Media Research Council." The MRC's various websites have also run prominent ads promoting the book.
It's unclear, though, how this effort to soften Bozell's image meshes with the guy who's best known for calling President Obama a "skinny ghetto crackhead."
Those emails, though, usually state that they are "a product of MRC." But is that even legal? It's clear that Bozell's book is a personal memoir that's not tied to the MRC's mission -- which means the MRC could be violating IRS nonprofit tax law by allowing its assets, such as mailing lists, to be used for the personal use of another. We also don't know if Bozell has compensated the MRC for use of its mailing list for personal use or for the website ads. We asked the MRC about this in a message, but it hasn't gotten back to us.
Meanwhile, the MRC's NewsBusters has been shilling for Bozell's book in ostensible "news" items -- another use of a nonprofit's resources for personal use. An anonymously written Dec. 10 post linked to a 20-minute-long segment devoted to Bozell and his book by right-wing radio host and MRC buddy Mark Levin (with whom the MRC may or may not have a cross-promotion deal with), which got this mushy introduction:
"I thought now would be a perfect time to bring back one of the great American patriots on this program, one of the people who each and every day – mostly behind the scenes but publicly when he's called upon – is fighting for your liberty," Levin declared in his gracious introduction of Bozell. Levin added: "And in doing so, he is taking on the American media, because he knows that they've turned into a propaganda and tyrannical organization pushing an agenda and an ideology, but he knew it before most of us."
The rest of the interview was just as softball. Funny, we thought the MRC hated softball interviews.
Another anonymously written post, on Dec. 14, touted Bozell's book-shilling appearance on Newsmax with host Greg Kelly, with more promotional mush:
"There is Brent Bozell, he is the President and founder of the Media Research Center, and he is also the author of the new book, Stops Along The Way: A Catholic Soul, A Conservative Heart, An Irish Temper, And A Love of Life," host Greg Kelly introduced at the top of the segment. He then cited this "gem" form the book: "If a conservative is a liberal who's been mugged, then a right-wing nut job is a liberal who just survived a communist machete attack."

[...]

Kelly read another line: "It is that unflinching knowledge of both sides of any issue that makes a conservative out of a liberal. And it is the reason why conservatives always outscore liberals on political knowledge tests." He remarked: "Number one, I did not know that about the political knowledge."
Bozell might want to get right with the IRS -- or explain to us why he already is -- before he uses his MRC again to shill for his personal purposes.
Posted by Terry K. at 9:51 PM EST
Updated: Saturday, December 25, 2021 11:20 PM EST