MRC Complains Again That Criticism Of Soros Is Called Anti-Semitic
Topic: Media Research Center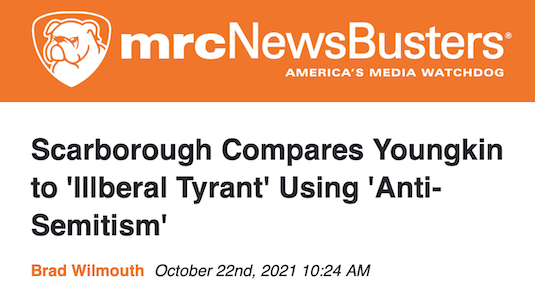 The Media Research Center's Brad Wilmouth complained in an Oct. 22 post:
On Wednesday morning, there was night a day difference in the way MSNBC and Fox News covered the gubernatorial race in Virginia as Morning Joe bolstered Democratic candidate and ex-Governor Terry McAuliffe as he attacked Republican Glenn Youngkin. Joe Scarborough even went so far as to compare the GOP nominee to an "illiberal tyrant" who is using "anti-Semitism" in his campaign.

[...]

After McAuliffe accused Youngkin of having a "tinfoil hat" for invoking wealthy liberal activist George Soros, it was Scarborough who went even further than his Democratic guest in accusing the Virginia Republican of anti-Semitism:

If he's talking about George Soros, that's the sort of anti-Semitism we see in the United States and across the world. That's what -- that's what illiberal tyrants like (Viktor) Orban do in Hungary. They just lie about a Jew -- they pick a Jew out -- George Soros is that Jew -- and so he's -- he's -- he's playing that old anti-Semitic trope as well.
Wilmouth didn't respond to Scarborough's criticism -- he simply complained that it was said. But he also didn't mention that the MRC itself has attacked Soros by invoking anti-Semitic tropes like "puppet master," -- which follows in the footsteps of the overall conservative movement in doing the same -- and has even gone throughgreat pains to establish that Soros is a Jew that conservatives are permitted to hate.
The MRC has previously praised Orban for supporting "free speech" in the form of criticizing "big tech" over purported "censorship" of right-wingers, even though Orban has a history of suppressing free speech by cracking down on dissent of his regime.
Posted by Terry K. at 10:51 AM EST
Updated: Saturday, December 11, 2021 12:29 PM EST