MRC Crams A Lot Of 'Big Tech' Victimhood Into A Single Post
Topic: Media Research Center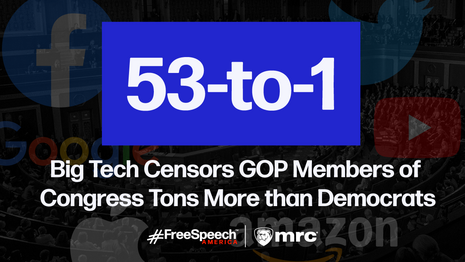 Alec Schemmel puts every bit of the Media Research Center's "big tech" victim narrative he could muster into a Sept. 21 post:
Big Tech overwhelmingly censors Republican members of Congress by a rate of 53-to-1 compared to congressional Democrats.

That censorship has hit Republican Senators Rand Paul (KY) and Ron Johnson (WI), Rep. Jim Jordan (OH) and other Republicans in Congress. Facebook and Twitter have used their censorship mechanisms at least 30 separate times against Rep. Marjorie Taylor Greene (GA), including five Twitter suspensions and the flagging of at least 24 tweets with some type of warning label. Democrats have had just one member from the last two U.S. congressional delegations censored.

YouTube has deleted content posted by Senators Rand Paul (KY) and Ron Johnson (KY) and suspended both their accounts.

But besides censoring those Republicans already in Congress, Big Tech has also reportedly taken measures that impact new Republicans attempting to join the legislative body. Republican candidates running for U.S. Congress have been censored at least 15 times since November of 2019. Free Speech America could not find a single example of Democrat candidates facing censorship.
As is usual for the MRC, Schemmel is being deliberately dishonest. Social media did not "censor" these people; they simply enforced their pre-existing rules, polices and terms of service on their users. (The MRC, normally a supporter of private property rights, has tried hard to avoid acknowledging that these are private companies that have the right to set policies and enforce them.) Schemmel offers no evidence to support his assertion mainstream conservatives are exclusively being "censored" for expressing mainstream conservative views. While he claims that "Free Speech America could not find a single example of Democrat candidates facing censorship," he provides no documentation to prove that FSA made any actual effort to find those examples. After all, the MRC has no interest in demonstrating ideological parity on this issue. It may very well be that, unlike Republicans, Democrats care about following the terms of service of social media operations -- something Schemmel has apparently not considered.
Further, Schemmel portraying Greene has a prolific "victim" of "censorship" is particularly dishonest. The MRC loves to do that while, ironically, censoring the extremist views and offensive behavior that repeatedly get her in trouble with social media. Again, it serves the MRC's narrative better to not to tell the full truth about her.
Schemmel went on to complain:
Facebook is aiding incumbent candidates, according to a Sept. 13, article. The Wall Street Journal uncovered internal Facebook files indicating the platform was keeping a so-called "whitelist" of powerful figures that it was "shielding" from its typical censorship procedures. "While the program included most government officials, it didn't include all candidates for public office," The WSJ reported, "at times effectively granting incumbents in elections an advantage over challengers."
Schemmel didn't mention that one of the chief beneficiaries of that Facebook policy was Donald Trump, who was repeatedly given a pass to violate the platform's rules until the Jan. 6 insurrection demonstrated his violaions could no longer be ignored -- something the MRC censored in a separate post on it. Also, it was later revealed that the Journal's source for this and other claims made about Facebook is Frances Haugen, whom the MRC is trying to denigrate for not being a right-winger.
And it wouldn't be the MRC if Schemmel didn't portray Donald Trump as the ultimate victim:
Big Tech began labeling virtually everything being posted by former President Trump and his campaign around the 2020 election. Platforms dispensed one of several censorship labels used to challenge and suppress information. The former president was eventually universally deplatformed by Big Tech and is still fighting to return.
Note that Schemmel is completely silent on the nature of the Trtump content that was "censored" -- because he knows that Trump was spreading lies and conspiracy theories about election fraud. Schemmel -- as MRC writers are wont to do -- conflates merely labeling a Trump post as false as "censorship," even though in most cases the original post could still be read.
A slight amount of comfort can be taken in that Schemmel didn't repeat the MRC-promulgated lie that Trump was removed from social media because he called for "peace" after the Jan. 6 riot (which he helped incite).
Posted by Terry K. at 9:16 PM EST