MRC Continues To Falsely Cry 'Censorship' Over YouTube Videos
Topic: Media Research Center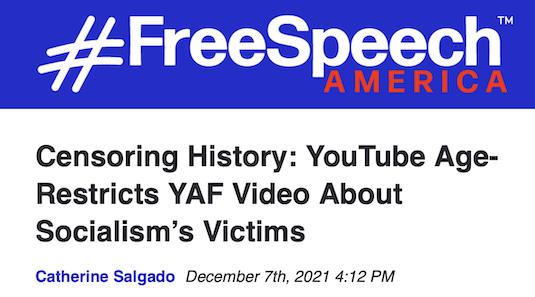 The Media Research Center just loves to cry "censorship" over thing that are not, in fact, actual censorship. Catherine Salgado complained in a Dec. 7 post:
Apparently history is too dangerous to teach children. YouTube has censored a Young America's Foundation (YAF) video about "Victims of Socialism," restricting the video on the grounds that it is not "suitable" for kids.

YAF said it was notified by YouTube that the "Victims of Socialism" lecture video "may not be suitable for viewers under the age of 18." The lecture or talk by retired Unitek Information Services, Inc. Chief Financial Officer George Harbison is now age-restricted and bears a warning that "This video may be inappropriate for some users."

Harbison warned in the talk about the rise of socialism's popularity in America, speaking on socialism's many tragic victims, "slain innocents," to explain why Americans should be alarmed by the trend.

Harbison's presentation included images of victims of socialist regimes, including children. YAF tweeted a purported screenshot of YouTube's censorship, saying, "Meanwhile, content featuring drag queens and transgenderism is available on-demand to viewers of any age."
First: Neither Salgado nor YAF provide any evidence that Harbison has any sort of special expertise on "the victims of socialism" -- he worked in finance, after all.Has Harbison's presentation been vetted by actual historians, or is it just a right-wing rant from a right-wing group? We don't know.
Second: Putting an age restriction on a video is not "censorship." We don't recall the MRC ever claiming that keeping children from viewing materials that are insufficiently hateful of LGBT people was "censorship." Nevertheless, Salgado went on to complain:
YouTube has a history of putting age restrictions on videos it dislikes. The preview for Fox News host Tucker Carlson's documentary series "Patriot Purge" about the events of Jan. 6 recently received age restrictions and a warning that the content "may be inappropriate for some users." Former ABC reporter John Stossel's anti-socialism video was age-restricted in 2018 by YouTube.
As with the YAF video, Salgado didn't explain why we should treat the work of a right-wing "reporter" like Stossel at face value. She also failed to prove her contention that YouTube adds age restrictions only on "videos it dislikes" -- which, in Salgado's biased telling, involves only right-wing videos; she cited only a couple of cherry-picked examples. Indeed, we didn't have to look far to find that a video referencing World AIDS Day had an age restriction placed on it, something we don't recall Salgado or anyone else at the MRC complaining about.
The MRC is more and more crying wolf by continuing to cry "censorship" when no censorship is actually happening.
Posted by Terry K. at 7:57 PM EST
Updated: Friday, December 24, 2021 7:58 PM EST