MRC Amplifies Its Lie About Networks Pushing Border Patrol Whips Claim
Topic: Media Research Center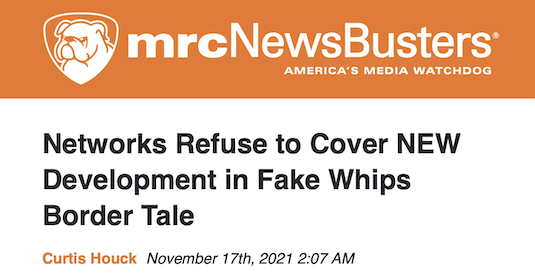 A while back, we busted Media Research Center writer Nicholas Fondacaro for falsely asserting that evening network newscasts reported that Border Patrol agents on horseback were whipping Haitian migrants -- despite the fact that none of the cliips he supplied ever showed anyone using the word "whips." Curtis Houc repeated thte lie in a Nov. 17 post:
On Tuesday night, the liberal major broadcast networks ignored on an important update to the investigation on the fake whips story along the southern border as the Department of Homeland Security's inspector general declined to investigate claims that Border Patrol agents used whips in September against Haitians illegally crossing into the U.S., passing the probe onto its Office of Professional Responsibility.

Of course, NewsBusters readers may recall that, when such claims were leveled on the week of September 19, ABC, CBS, NBC, and a whole host of fellow liberal outlets eagerly claimed without evidence that border officials were engaged in racism by whipping Black people longing to seek the American Dream.

And just as they've done with the Steele dossier, the media are refusing to admit their mistake.
Despite the fact that they have been debunked, Houck went on to link to Fondacaro's discredited posts to bolster his own bogus argument:
Flashing back to September, these networks were eager to boast of these debunked claims as if they were fact.

On ABC, World News Tonight anchor David Muir boasted on September 20 that they were "alarming images" and correspondent Kenneth Moton dubbed it "chaos and despair." CBS correspondent Manuel Bojorquez was similarly unconcerned about facts that day, claiming U.S. officials were "threatening" illegal immigrants "with what appears to be horses reins or ropes." Predictably, Telemundo also joined in the misinformation campaign.

The next night, the same two networks were up to no good while ABC kept up the lie into September 22.
Again: Fondacaro never quoted anyone from CBS or ABC using the word "whips."
Houck concluded: "If the liberal media admitted their mistakes, perhaps more people would trust them." How ironic that Houck made that statement while spreading a lie he will never admit telling, let alone apologize for.
Posted by Terry K. at 11:07 PM EST