MRC Lashes Out At CNN's Stelter For Criticizing Fox News On Its 25th Anniversary
Topic: Media Research Center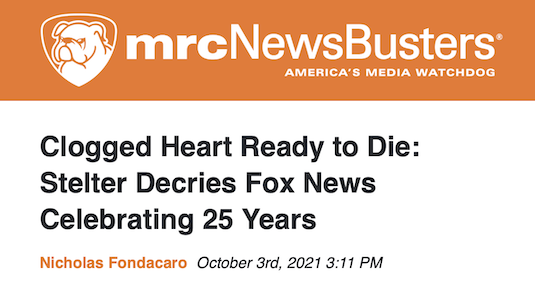 The Media Research Center's line on Fox News is that 1) it should never be criticized for having a right-wing bias, even though the MRC's stock in trade is attacking what it thinks is "liberal bias" in media, and 2) should never be criticized at all, unless it's by them for not being right-wing enough. So when Fox News marked its 25th anniversary in October, the MRC was ready to lash out at the haters -- particularly CNN's Brian Stelter, whose recent book on Fox News the MRC predictably trashed.
Nicholas Fondacaro was dishing out the Stelter haterade in an Oct. 3 post:
Invoking a tone one would expect a parent to use to inform a child of something tragic, CNN's Brian Stelter concluded Sunday's so-called "Reliable Sources" by informing his meager viewers that Fox News would be celebrating its 25-year anniversary the coming week. Warning them that they could see commercials for it, Stelter lashed out at his ratings superior by equating them to the diseased heart of the Republican Party, ready to give out at any moment. He even suggested Fox had torn apart families.

"You'll probably hear a lot about Fox News this week. The network is turning 25 and running lots of commercials celebrating its birthday," he announced in his clownishly sober tone. "But you won't hear any honest assessment of Fox on Fox of how the network has changed America."

After hawking his trashy anti-Fox News book, yet again, Stelter suggested Fox was about to have a heart attack, grotesquely whining about them being patriotic after 9/11, and bashing them for being pro-America:

[...]

The idea that someone with Stelter's physique would say Fox had "clogged arteries and weak muscles" was as rich as his favorite chocolate cake.
Because attacking your target's physical appearance is always a sign your underlying intellectual argument is sound.
When Stelter brought up Fox News' culture of sexual harassment as practiced and exemplified by founder Roger Ailes, Fondacaro went into paroxysm of whataboutism:
"But for all the fun, there's so much darkness in Fox's history," he sneered as he brought up Roger Ailes:

You won't see Roger Ailes in the retrospectives, but his abuse of women, his leg cam, his paranoia, his rage; it's what translated into the network that exists today. Full of rage, anger. It's the whitelash on TV, although, often delivered with a smile. Ailes also brought us Donald Trump.

Do you know what you won't see in any CNN retrospectives? How they helped Saddam Hussein peddle propaganda, how they tried to defame a teen as a racist and were forced to pay him money, how both Cuomo and Lemon were accused of sexual assault and weren't fired, how boss Jeff Zucker has torn down the company and its reputation, or how they've eviscerated journalistic ethics.
That would be the same Zucker who the MRC loves to tar with the vaguely anti-Semitic "puppet master" tag (Zucker is Jewish). The teen being referrred to there is Nick Sandmann, whose lawsuits agaisnt the media the MRC championed though it's not likely Sandmann received much more than token go-away money(and whose lawyer, L. Lin Wood, the MRC doesn't want to talk about anymore since he became the right-wing Michael Avenatti).
And Fondacaro wasn't done trashing Stelter:
And as he was wrapping up his vapid rant, Stelter equated Fox News to a tool of arsonists, declaring: "…the political science research is clear: Fox is not just a mirror, it's an accelerant." He then touted the coming release of another anti-Fox News book "The Brainwashing of My Dad and it's about exactly what you think." " For the families who feel they have been torn apart by Fox, this week is not a happy anniversary," he squeaked.

In reality, it's the leftist kids who just can't accept the fact that their parents had different opinions and were rabid enough to ruin their relationship over it.
Given that, again, the book had not yet been released, Fondacaro cannot possibly know its contents or that it's solely about intolerant "leftist kids."
Needless to say, Fondacaro's boss and fellow Stelter-hater, Tim Graham, wanted in on this action too, so he dedicated his Oct. 4 podcast to similarly dumping on Stelter fot committing the greivous offense of criticizing Fox News. He began by perpetuating the fiction that Fox News is "fair and balanced" -- to Graham, it meansuncritically repeating right-wing talking points -- and continued to refuse to admit it has any sort of bias, instead speaking in code that "we like Fox News precisely because it breaks the monopoly and monotony of the liberal media. ... They don't get to constantly put conservatives on defense and then have no idea what it feels like to have to go on defense."
Then it was Stelter-trashing and whataboutism time, starting with echoing Fondacaro's insult about Stelter's appearance, which Graham claimed to want to avoid but we doubt he ever disciplined Fondacaro for making it:
Now, I'm not going to go exactly where Nick Fondacaro went by mocking Brian Stelter's dieting habits and whether he has clogged arteries -- no fat-shaming here, I'm a llittle too fat -- but mocking the opposition channel that kicks your keister down ratings street on and daily, weekly, monthly, yearly basis is a really interesting analogy coming from CNN.

Let's have some fun with this. Let's sort of count the ways of what Stelter is saying is wrong. First of all, who is CNN to say another network is far too aligned with a political party? As usual, they have to fall back on the idea that almost every media outlet has clogged arteries for the Democrats. They're all pumping out liberal, partisan talking points. Fox seems alone, it somehow stands alone. It is the outliler so it is the Cloggy McCcogged-Heart. The overall sound you get from this is the liberals wishing ths conservative channel had never been born. They wanted it aborted like Ralph Northam took it outside, made it comfortable and then made sure it didn't happen.
When Stelter brought up Fox News founder Ailes' history of sexual harassment, Graham retorted with mroe whataboutism: "You can lament the way Roger Ailes treated women. But it's a little odd to find all the darkness over there, Brian, where there at your own CNN you have Jeffrey Toobin unpunished for spanking the monkey on a Zoom call in front of the females, you have Chris Cuomo and Don Lemon both accused of sexual harassment as well. Where's the darkness in CNN's history?" Note that Graham doesn't actally "lament" Ailes' harassment history, let alone criticize it. He then added to the whataboutism by blaming the media industry as a whole for patterns of sexual harassment.
Meanwhile, the MRC-approved, conservatively correct take on Fox News' anniversary came in Jeffrey Lord's gushy Oct. 9 column, in whcih he praised Ailes for having "combined an instinctive understanding of both television and American politics that proved to be an invaluable asset in the creating of Fox News" but being careful not to mention his history of sexual harassment.He too attacked Stelter for his book about Fox News that purportedly had "no self-awareness that it was CNN that spent the Trump era falsely purveying the Trump-Russia collusion hoax, a classic conspiracy theory endlessly pursued not just by CNN but the rest of the liberal media." Lord clearly didn't read the Mueller report.
He concluded with this glurgy tribute: "So on the 25th anniversary of Fox News, let it be said that the term visionary, exactly as Jonathan Swift defined it as 'the art of seeing things invisible' is exactly what describes Rupert Murdoch and his vision of the once invisible dream of Fox News."
That's what the MRC wants the entire media to sound like.
Posted by Terry K. at 1:19 PM EST