CNS Freaks Out Over GOP Launching 'Pride Coalition'
Topic: CNSNews.com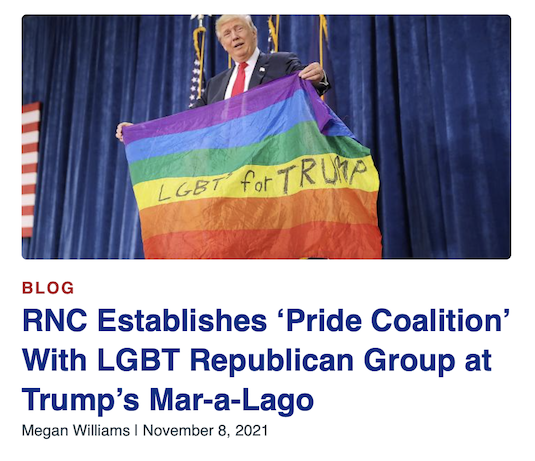 Earlier this year, CNSNews.com was angry that the Conservative Political Action Conference wasn't hating LGBT people to its satisfaction. Now it's mad that this failure to hate has crept into the Republican Party itself. A Nov. 8 article by Megan Williams startedo off innocuously:
The Republican National Committee (RNC) announced its partnership with the Log Cabin Republicans at Donald Trump's Mar-a-Lago resort this weekend, creating its first "Pride Coalition," which will invest in and mobilize LGBTQ+ communities ahead of the 2022 midterm elections, Fox News reported.

The Spirit of Lincoln Gala, held at Mar-a-Lago in Palm Beach, Florida was hosted by the Log Cabin Republicans, an organization representing LGBTQ conservatives and their allies, on Saturday night.
Williams balanced that with a couple right-wing gay-haters:
However, some conservatives have expressed their disagreement with the RNC's new partnership.

Daily Wire contributor Matt Walsh tweeted how the Republican Party was simply adopting the left's social agenda.

"If the Republican Party is going to fully embrace leftist sexual identity politics, then it officially serves no purpose," Walsh wrote.
Walsh, if you'll recall, was the homophobe CNS' owner, the Media Research Center, touted when he pretended to move to a county in Virginia for the expresed purpose of spewing anti-LGBT hate at members of the local school board.
By the end of her article, though, Williams had gone into full hate-editorial mode:
Other conservatives have often explained that there is no such thing as a "gay conservative," because homosexual behavior is contrary to Nature and the natural law, which follows God's design in the physical world. "So God created man in His own image, in the image of God He created him; male and female He created them." (Gen. 1:27)

Homosexual behavior and its acceptance and promotion contribute to the destruction of the entire natural order, and therefore cannot be conservative but always revolutionary.
This got the attention of the powers that be at CNS. In response, it published a Nov. 11 column by the Family Research Council's Tony Perkins attacking the party for creating the coalition while pretending he's not as homophobic as he actually is:
A good number of people, myself included, have no problem if people who identify as gay or lesbian want to join the Republican Party. What we object to is RNC leaders hanging a flashing neon sign over the entrance saying, "We support the LGBT cause," because we don't. The GOP platform made that abundantly clear in 2016 and again in 2020. And if prominent Republicans who live that lifestyle are saying "we're not going to make sexual orientation be the be-all, end-all, center of everything that we do," then what exactly is the point of this PR campaign? Certainly not to endear the RNC to parents, the GOP's greatest new ally, or longtime conservatives, who've been fighting for decades to keep this extremism at bay.

[...]

Obviously, there are Republican leaders, many of whom I know and respect, who haven't made their sexuality a defining issue. But the sad reality is, they can't help but open the door for others who will. History shows that statements like this -- even innocent ones -- have laid the groundwork for sweeping change. And while people at the Log Cabin Republicans or RNC may not have that intention, it will almost certainly be the outcome if more conservatives don't stand up and remind Republican leaders that we already have one Democratic Party. We don't need two.
That was quickly followed by an article from CNS managing editor and chief homophobe Michael W. Chapman rehashing Perkins' column and throwing in some additional hate from Walsh and bashing an openly gay GOP player:
Responding to gay Republican Richard Grenell, a former top Trump administration official who attended the Log Cabin gala, Walsh tweeted, "I'm not going to ask permission privately before stating my opinion. I think 'gay pride' is leftist sexual identity politics bulls**t and has no place in any conservatism I recognize. It also won't succeed in attracting the voters you're going after. But don't let that stop you."

At the gala, Grenell gleefully denounced conservative Pat Buchanan and his 1992 culture war speech at the Republican National Convention.

In that speech, Buchanan defended the family, real marriage, parental rights, religious freedom, school choice, the police, a strong national defense, and the right to life from conception to natural death. Buchanan also denounced abortion, pornography, and so-called gay marriage.
CNS has previously attacked Grenell, though it took a while because it was so reluctant to criticize anything Trump did. And Chapman failed to disclose that his boss, CNS editor Terry Jeffrey, worked for Buchanan's presidential campaigns in 1992 and 1996.
Posted by Terry K. at 1:30 AM EST