MRC Sad That Homophobic, Racist NFL Coach Lost His Job
Topic: Media Research Center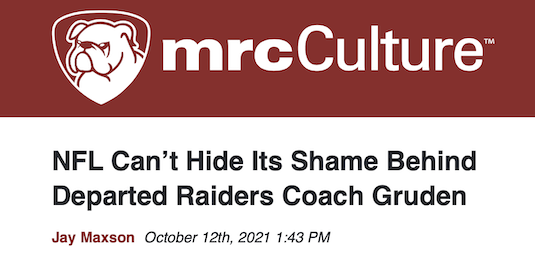 When Jon Gruden lost his job as coach for the Las Vegas Raiders after homophobic, racist and misogynistic remarks were revealed in a series of emails he sent several years ago, and the Media Research Center's sports bloggers are very sad about this development. First up was the mysterious Jay Maxson:
Who came off worse in the Jon Gruden controversy – the lightning rod former coach of the Las Vegas Raiders or the egg-faced National Football League? It may come down to a coin toss.

Gruden stepped down Monday after it was revealed, according t The New York Times, that he "used misogynistic and homophobic language for years, a review of his emails shows. He denounced the emergence of women referees, the drafting of a gay player and the tolerance of protests during the national anthem."

In one email after the then-St. Louis Rams drafted Michael Sam from Missouri, Gruden said they should not have been pressured into drafting "queers." The ex-coach also called NFL Commissioner Roger Goodell a "faggot" and "clueless anti football pussy." In light of cancel culture and the power the LGBT movement has to destroy careers over their word choices, those were reckless things to write down.

Gruden also criticized NFL Players Association President DeMaurice Smith for having lips the size of "Michelin tires." Smith is black and that was another very stupid thing to say. Gruden tried to excuse it away by claiming he uses the term "rubber lips" when he accuses people of lying.
Note that Maxson apparently doesn't think Gruden came off bad here, aside from the racism. But we know that Maxson is a fellow homophobe. Instead, he (or she) played whataboutism by reciting other scandals involving NFL players or coaches who apparently weren't (yet) treated as harshly, concluding by huffing: It's just another day, another shameful day for the NFL. Heads or tails on that coin toss?" Again: Maxson doesn't think what Gruden did was shameful, but that his punishment was.
That was followed by John Simmons also complaining about the punishment:
Last night, Jon Gruden saw his tenure as the Las Vegas Raiders head coach come to an end – because of comments he made 10 years ago.

The New York Times published a report that revealed a series of emails containing comments where Gruden used gay slurs and potentially racist comments to voice his frustration at executives, coaches, and things that were happening in the NFL from 2011 onward. One comment that was potentially seen as racist when he said that the Executive Director of the NFLPA, DeMaurice Smith, had "lips the size of Michelin tires."

Let me be clear: Gruden should not have said any of these things. If you read the report, you will see that he did use language that was unwholesome and made comments that a guy who is in a position of authority should not be saying.

But firing him for saying these seven years ago? That's absolutely absurd. It wasn't like he was saying these things to the press after each game, completely losing his temper and lashing out irrationally.

The most frustrating part of situations like this is that the person that was accused of saying racist things isn't given a second chance to better himself. It's a one-strike policy, with the scary part being they could dig up your past to invent a strike that gets you out.

What's worse, the NFL has an inconsistent and confusing standard for league personnel when they violate behavior policies.
Note that Simmons only specifically called out the racist, alluding only in passing to Gruden's homophobia and misogyny in passing, bizarrely claiming that hs remarks were "unwholesome." When has the NFL ever been known as wholesome?
Like Maxson, Simmons played whataboutism, then flip=flops on the whole wholesomeness thing: "If saying something crass or inappropriate a decade ago is a fireable offense, then you would not be able to find one player or coach who should have a job today. Football is a rough sport played and coached by rough individuals, so there should be at least a better understanding of what to expect from your personnel when they speak."
Simmons returned two days later to complain that Raiders quarterback Derek Carr "offered a solution to make sure this never happens again: initiate a witch hunt on every NFL coach and general manager and see what dirt they can find on them." Then it was lecture time:
If there is one thing that all of us are good at, it's messing up. We are bound to at one point or another (even those who think they are pious and righteous, like Carr and the Raiders' leadership), especially those in the world of football. The players and leaders of teams who make living organizing and playing a brutal and rough game are usually brutal and rough people. As such, it should be expected that you will hear people say things that make you cringe or that cross a line.

Flushing out the people who have said offensive things in the past will not solve this, and it will likely only replace these "offenders" with other offenders. At some point, players and coaches will have to accept that coaches will say hurtful things and that they must learn to move on.

The fact that players can't understand this has shown the lack of emotional maturity of those in the NFL – especially in Las Vegas. Carr's call to action seems to stem from someone who can't even fathom that there is such a thing as negativity or hurtful words in the NFL and that it can be – and must be - eradicated to make a safe space for people before they can continue living.
Simmons then whined that "Defensive end Carl Nassib, the NFL's first active player to come out as gay, took a 'personal day' after hearing that the emails came out, which apparently contained anti-gay language." The homophobes at the MRC have already taken it badly that an openly gay player exists in the NFL, with Simmons portraying his existence as the opposite of "faith-based, American-loving, conservative values." Which helps explain why he's not terribly bothered by Gruden's homophobia.
Posted by Terry K. at 6:46 PM EST