CNS, MRC Team Up to Promote And Defend Tulsi Gabbard, For Some Reason
Topic: CNSNews.com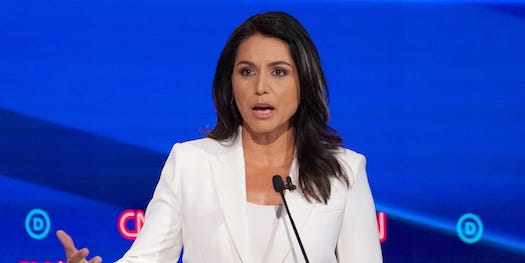 We've previously highlighted CNSNews.com's sudden love for Democratic presidential candidate Tulsi Gabbard, giving her opinions a platform now that she's attacking other Democrats and offering support to President Trump. That bizarre show of support has continued.
After the November Democratic debate, CNS granted Gabbard two articles by Melanie Arter despite her polling in the low single digits. In the first, Arter touted how Gabbard "criticized South Bend, Ind., Mayor Pete Buttigieg for comments he made about sending troops to Mexico to fight drug cartels, saying his comment speaks to the "inexperience" he has in national security and foreign policy"; in the second, Arter featured Gabbard's attack on Kamala Harris and accusing her of "trafficking 'in lies and smears and innuendos' after Harris took Gabbard to task for criticizing the Democratic Party."
Then, in a Dec. 20 article, Arter highlighed Gabbard's defense of "her decision to vote 'present' during the House's impeachment vote, saying she does not believe 'in good consciences' she could vote 'either yes or no,'" adding that "fhe congresswoman said Democrats have also not been impartial."
Allen West gushed over Gabbard in his Dec. 9 CNS column:
Then something happened on the road to [Kamala Harris] being christened. Her name was Tulsi Gabbard. Congresswoman Gabbard of Hawaii got to be on stage with Kamala Harris for the second Democrat debate and destroyed Senator Harris. And yes, it was a sin for which the left, the Democrat party, has not forgiven the now-described agent of Russia.

And how interesting, Gabbard is also a woman of color, US Army veteran, and articulate, but she was not the identity politic chosen one. What Tulsi Gabbard did was to expose the flaws and weaknesses of Kamala Harris, deficiencies she never overcame.
Meanwhile, CNS' parent, the Media Research Center -- which also promoted Gabbard as an excuse to indulge in a little Hillary Derangement Syndrome -- also continued to run to her defense:
In a Nov. 6 post, Kristine Marsh wrote that "The View" co-host Joy Behar "attacked Rep. Tulsi Gabbard when she came on the show Wednesday for daring to appear on 'state TV' Fox News, but Gabbard pushed back against Behar's nasty attacks," adding that she "slammed the notion that she worked for Russia as 'offensive' and 'outrageous'" -- even though a month earlier Marsh's MRC colleague Curtis Houck had pointed out how "Russian bots and Russian media have praised her."
Speaking of which, Randy Hall lamented in a Nov. 12 post that "when Hillary suggested Tulsi Gabbard was a Russian asset, PolitiFact wouldn't rule it was 'False.'"
On Nov. 21, Houck complained that "failed McCain/Palin campaign head Steve Schmidt" had "trashed her as 'just awful,' 'dishonest,' 'spectacularly bad,' and 'made a legitimate run" at "Prince Andrew, Jim Jordan and Devin Nunes' for being this week's worst person ever." Two days later, Tim Graham perked up over a blog post claiming that some critics loved Hillary Clinton wearing white pantsuits, but that Gabbard wearing one looked like a "cult leader."
In a Dec. 8 post, P.J. Gladnick huffed that one writer urged "the all white qualifying Democrat candidates to boycott the next debate unless the "candidates of color" are allowed on the stage even if it means including the one candidate he doesn't like who has actually displayed some diversity of thought by criticizing Hillary Clinton, namely Tulsi Gabbard who unlike either Booker or Castro is now just one poll away from qualifying for the debate."
And on Dec. 26, Graham cheered that CNN's Chris Cillizza put Hillary Clinton on his "naughty list" for criticizing Gabbard, but then attacked him for criticizing Hillary for harming Democratic Party unity: "CNN seems very concerned about damage to the Democratic Party, even from within. Democrat 'party building' is on their wish list."
Yet the MRC -- and its "news" division -- doesn't mind that Gabbard might be harming party unity with her attacks on fellow Democrats. Funny how that works.
Posted by Terry K. at 12:30 AM EST
Updated: Tuesday, January 14, 2020 12:38 AM EST