MRC Sports Blogger Won't Give Ex-Teen Criminal Credit For Rehabilitating Himself, Becoming Nike Exec
Topic: Media Research Center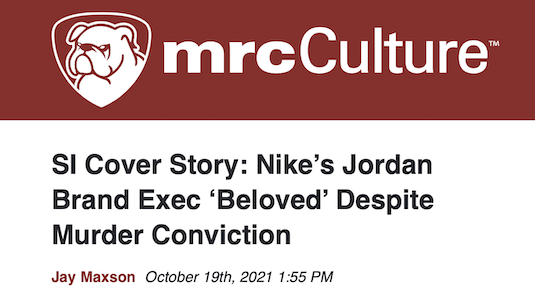 Conservatives normally love criminals who rehabilitate themselves -- but only if they become conservatives. If not, well, that crime is an irreversible scar that will be held over your head for the rest of your life. And that's what mystierious Media Research Center sports blogger Jay Maxson does in an Oct. 19 post trying to manufacturing outrage that the longtime manager of the Michael Jordan brand at Nike served prison time as a youth for killing another teen:
The inconsistencies in what's acceptable in sports are beyond bizarre. Las Vegas Raiders coach Jon Gruden just watched his career fizzle away over 10-year-old text messages on race and gender. Meanwhile, NBA and NHL players are being punished for not getting coronavirus vaccinations. Also, the man who's led Nike's Jordan brand for 40 years has been hiding a murder secret for 56 years, and he is "beloved."

In 1965, Larry Miller shot and killed Edward White in Philadelphia. Now 72, Miller has guarded this secret from Jordan, Nike founder Phil Knight and NBA executives. The black executive is spilling his guts in the book Jump: My Secret Journey From the Streets to the Boardroom, co-written with his daughter Laila Lacy. It will be published by William Morrow, an imprint of HarperCollins, next year.

Now living a life of luxury, Miller told Sports Illustrated writer Howard Beck he wants to share his secret on his own terms. How convenient for him! He says the book release "will free him to discuss his experiences with at-risk youth and people in prison, and perhaps help steer others away from violence and toward a productive life." Not to mention the advice he can give to young people convicted of crimes to dishonestly hide their secrets for half a century.
Maxson gives Miller no credit whatsoever for rehabilitating himself to become a successful businessman. Instead, he (or she) whines that "celebrating criminals is now normal for the NBA, whose players boycotted games last year in support of criminals like Jacob Blake who clashed with police," then once again runs to the defense of former NFL coach Jon Gruden, fired for bigoted and racist emails:
Then there's Gruden, whose NFL coaching career was quickly over because of remarks he made about people's lips and gender in 2011. Of the objects of Gruden's criticism, one is the president of the United States, one is the head of the NFL players union (DeMaurice Smith) and others are working as NFL game officials. Gruden's choice of words was careless, but he didn't murder anyone and then deceive anyone about it for half a century. The wild inconsistencies of sports punishments are utterly absurd.
Note that Maxson describes Gruden as merely "careless" and not hateful. Also note, since Maxson didn't that Miller paid his debt to society a long time ago, while Gruden's debt-paying has just started. Maxson clearly doesn't believe that Gruden should face any consequences at all for his hateful words.
Posted by Terry K. at 9:12 AM EST
Updated: Saturday, December 4, 2021 9:57 AM EST